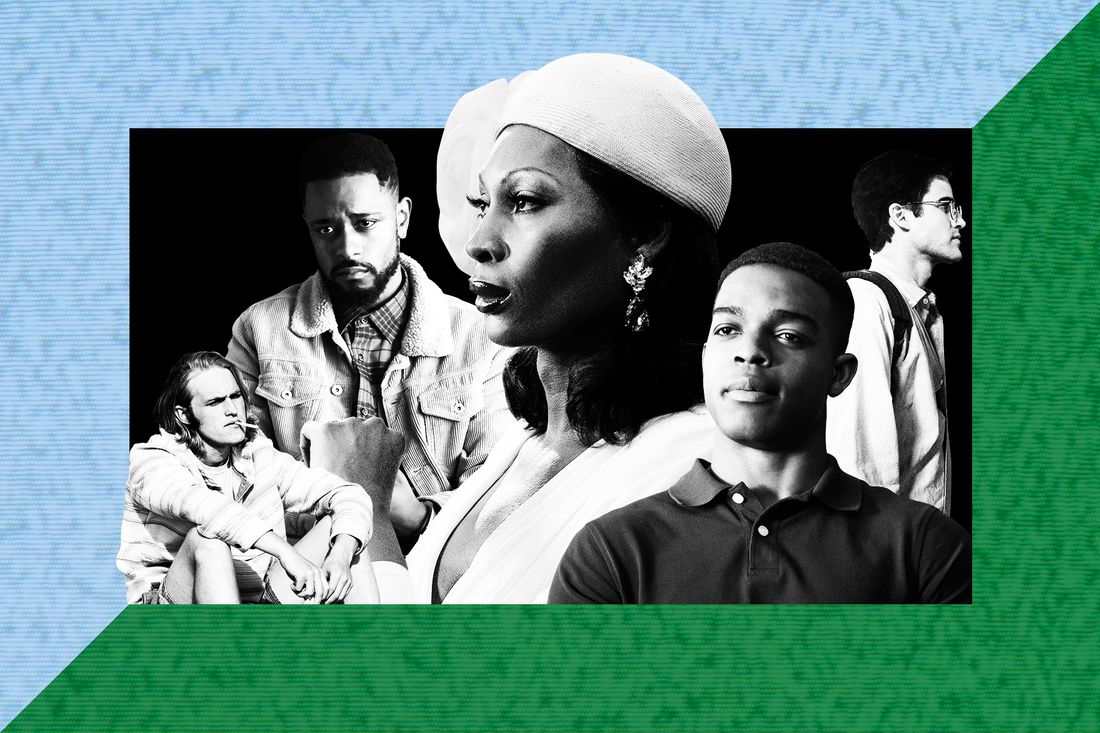 Photo-Illustration: Maya Robinson/Vulture and Photo by AMC, FX and Amazon
I probably watched more than 2,000 individual episodes of scripted TV programs this year. Because there was so much tonal and stylistic variation between my favorite shows, and so many different kinds of episodes represented within the context of a particular show's 2018 season, it was even harder than usual to whittle down to a list of ten. I tried to spread the wealth around by not listing more than one episode of a series (something I've done in previous years), and by listing episodes that stood out in my memory even though the series itself might have narrowly missed making my top ten shows list.
I also tried to avoid selecting episodes that felt overtly momentous, making a powerful emotional impact on the viewer through a major event in a character's life or by departing from the show's usual format through a drastic shift in tone. While those kinds of episodes are immensely satisfying, we tend to forget why they affect us: because the writers, actors, and filmmakers have laid the narrative foundation in less glamorous, housekeeping-oriented episodes that are doing the show's version of "the usual," but at a very high level of craft.
Written by Peter Ocko, directed by Michael Trim.
Fittingly titled, this is the penultimate chapter of Lodge 49's marvelous debut season. Choices made throughout the previous eight episodes have (mostly alarming) consequences here, and there are many indelible subplots and setpieces, including a vicious satire of an executive cruise and a gloriously ludicrous use of what should probably be called Chekhov's harpoon.
"Apogee" is available to rent on iTunes, Amazon, and Google Play.
Written by Marquita J. Robinson, directed by Lynn Shelton.
This one is as eccentric, charming, and hilarious as GLOW's best, but it's capped with a (literally) wrenching act of violence in the ring, as the resentment that's been building between Ruth (Alison Brie) and Debbie (Betty Gilpin) for two seasons finally erupts.
"Work the Leg" is available to stream on Netflix.
Written by Jack Moore, directed by Justin Simien.
A superior example of the self-contained bottle episode, "Chapter VIII" is a two-character play set entirely at a campus radio station, using composition, camera movement, and editing as well as dialogue to chart the shifting dynamics of a couple as they work through personal and political resentments.
"Chapter VIII" is available to stream on Netflix.
Written by David Wiener, directed by Sam Esmail.
Although other episodes of this military thriller were more conventionally exciting, this expository chapter exemplifies the series' cunning deployment of dream logic. The image of a dogged government investigator (Shea Whigham) navigating a storybook-gigantic document warehouse is an image worthy of Kafka.
"Optics" is available to stream on Amazon Prime.
Written by Alison Tatlock, directed by Deborah Chow.
Fans of this Breaking Bad prequel were left reeling by the fourth season finale, a cold shot to the heart, but this dramatic housekeeping episode — which showed a relationship disintegrating in a split-screen music montage, and a man being assaulted with a sandwich — was a more representative example of the show's quirky humanity and fullness of spirit.
"Something Stupid" is available to rent on iTunes, Amazon, and Google Play.
Written by Scott Brown, directed by Jean-Marc Vallée.
Epitomizing every chronology-shuffling stylistic tic that impressed fans of the show (and alienated everyone else), this hour, set mainly during the town's mythmaking Calhoun Day celebration, is a master class in how to bring a fictional community together around an event, advancing the story while deepening the sense of place.
"Closer" is available to stream on HBO and rent on iTunes, Amazon, and Google Play.
Written by Tom Rob Smith, directed by Gwyneth Horder-Payton.
Gay serial killer Andrew Cunanan, played with diamond-eyed avidity by Darren Criss, torments and kills one of his lovers (M*A*S*H's Mike Farrell), a much older businessman. A merciless depiction of American homophobia and self-loathing in the '90s, slowly zooming in on the psyches of killer and victim.
"A Random Killing" is available to rent on iTunes, Amazon, and Google Play.
Written by Donald Glover, directed by Hiro Murai.
Part twisted showbiz fantasy, part horror movie, part consideration of how parents fail and torment their children, "Teddy Perkins" is one of those episodes of TV that lodges itself permanently in the viewer's subconscious. You'll never look at soft-boiled eggs the same way again.
"Teddy Perkins" is available to rent on iTunes, Amazon, and Google Play.
Written by Joel Fields and Joe Weisberg, directed by Chris Long.
This Cold War spy thriller-domestic drama capped its six-season run with a finale that somehow managed to outguess every plot-guesser while remaining true to the show's characters, themes, and tenderly fatalistic vision of life.
"START" is available to stream on Amazon Prime and rent on iTunes and Google Play.
Written by Ryan Murphy and Janet Mock, directed by Janet Mock.
In a catharsis-heavy episode, Patty (Kate Mara) and her husband's lover, Angel (Indya Moore), work out their animosity over pancakes, leading Patty to take an AIDS test and confront her cheating spouse. Meanwhile, Pray Tell (Billy Porter) organizes a cabaret at the hospital ward where his lover died of complications from AIDS. This is the best episode of a magnificent series with no bad chapters, and a tear-producing machine with musical numbers, made all the more affecting by its determination to present each moment, no matter how piercing, as simply as possible.