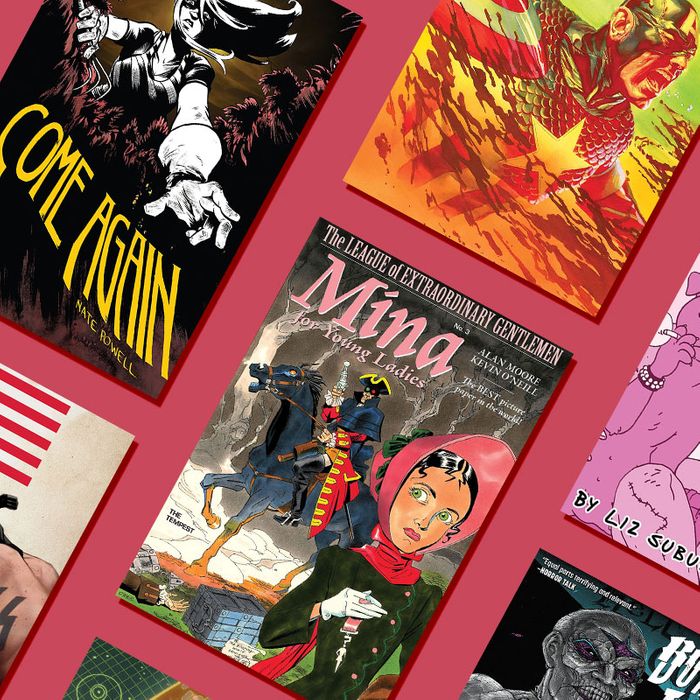 Goodies!
Photo: Courtesy of the publishers.
Each month, Abraham Riesman offers recommendations of comics media, including book-length graphic novels, comics-format nonfiction, ongoing series, and comics-related items in other forms. With any luck, at least one of them will be a match for you. Read last month's list here.
Thee Collected Cyanide Milkshake, by Liz Suburbia (Gimme Action)
Punk's not dead in this collection of DIY mini-comics from rising star Liz Suburbia. If you enjoyed her unsettling teen-drama graphic novel Sacred Heart, you're in for something of a surprise, as the comics inside Thee Collected Cyanide Milkshake generally eschew the serious in favor of the profane and goofy. There are stories about a recently broken-up couple surviving a zombie apocalypse with the help of mermaids, stories about sentient dogs getting into trouble, and a heaping helping of semi-obscene fake ads (I'm particularly fond of one with a mustachioed gent lying near an old computer with the ad copy "Let This Man Teach You HTML: How to Make Love"). Interspersed throughout are text columns where Suburbia gives the reader motivational speeches and recommendations on how to be a good person. It all adds up to a gleefully hard-core exploration of the human condition in big, fat Sharpie.
Border Town, by Eric M. Esquivel, Ramon Villalobos, Tamra Bonvillain, and Deron Bennett (DC)
One of the most hotly anticipated series of the year has finally arrived, and it doesn't disappoint. After years of disrepair and disregard, DC Comics' Vertigo imprint announced a relaunch earlier this year, and ever since, artist and Twitter expert Ramon Villalobos has been hyping his project with writer Eric M. Esquivel and color artist Tamra Bonvillain, Border Town. It chronicles the teenage struggles of a Latino kid who shows up in a, well, border town in the American Southwest and quickly learns that there's much more there than meets the eye. Before you can say "ruh-roh," ancient Mexican gods are bursting through from the underworld, and our protagonist has to band together with a motley assemblage of friends and enemies to combat the threat. Esquivel, a relative unknown, does a bang-up job of ratcheting up the tension and humor, and Villalobos and Bonvillain remain two of the best visualists in the comics hustle today.
The League of Extraordinary Gentlemen: The Tempest, by Alan Moore, Kevin O'Neill, and Todd Klein (Top Shelf)
It's fashionable these days to regard Alan Moore, the legendary writer of Watchmen, From Hell, and dozens of other canonical works, as problematic. The primary accusation is that he has an unhealthy fixation on rape scenes and other violence against women, and it's a fair criticism to lob his way. But I don't think we should throw Moore under the bus entirely. Moore and longtime collaborator Kevin O'Neill are, after two decades, finally wrapping up their mash-up of what feels like all fictional characters ever, and the series is just great. O'Neill is putting out some of the most evocative work of his career, as well as stretching himself into a variety of comics styles without losing his essence. And Moore? He remains obsessed with the way we hubristic humans interact with the stories we tell, especially the danger of obsessing over characters who are more cruel than kind (he reserves special ire for James Bond in this volume). Toss in the series's trademark dense back matter and you've got something well worth your hard-earned bucks.
American Carnage, by Bryan Hill, Leandro Fernandez, Dean White, and Pat Brosseau (DC)
As soon as Donald Trump uttered the words "American carnage" at his inauguration, I thought to myself, That sounds like the name of a Vertigo comic. Well, perhaps I willed it into existence, because Vertigo has just launched a series by that very name, and as you might expect, its aim is to dig into our country's present malaise. Trump doesn't make a direct appearance — rather, it's a story about a pair of FBI agents attempting to infiltrate the inner circle of a grinning demagogue whose anti-government message may or may not have inspired a suicide bombing. Leandro Fernandez and Dean White conjure up the ominous back corners of these great United States, and writer Bryan Hill is producing his best work to date, with nerve-poking thematics and word-perfect dialogue.
Ironheart, by Eve L. Ewing, Kevin Libranda, Luciano Vecchio, Geoffo, Matt Milla, and Clayton Cowles (Marvel)
"Those who move with courage make the path for those who live in fear." Those are the words of Riri Williams, a.k.a. Ironheart, one of the newest additions to the Marvel superhero pantheon. As far as guiding philosophies go, it's a solid competitor for, "With great power, there must also come great responsibility," and writer Eve L. Ewing's use of it is just one of the many things that speaks well of the series she's just launched with artists Kevin Libranda, Luciano Vecchio, Geoffo, and Matt Milla. It follows Riri, a teenage genius and former holder of the Iron Man mantle, as she navigates studies at MIT, a lonely personal life, and general hero-ing in the greater Boston area. The first issue is comprised of solid superhero writing and art, but I have a feeling the series will blossom into something more.
Die, by Kieron Gillen, Stephanie Hans, Clayton Cowles, and Rian Hughes (Image)
When Dungeons & Dragons was first released, it caused a moral panic about whether the role-playing game was endangering the minds and lives of young people. Tom Hanks even starred in a movie pushing that line. Die asks what might happen if all the horror stories that concerned parents imagined were true — and, hell, even worse than what they were imagining. In this new series from superstar writer Kieron Gillen and the eminently talented Stephanie Hans, a group of British teenagers hold an RPG session that goes horribly wrong; we then pick up 25 years later as they deal with the consequences of their adolescent incident. Gillen is always worth a read, and his love of D&D and its ilk makes this a delight even for noobs like myself.
Captain America, by Ta-Nehisi Coates, Leinil Francis Yu, Gerry Alanguilan, Sunny Cho, and Joe Caramagna (Marvel)
It seemed like almost too perfect a marriage: Captain America, the living embodiment of the United States, written by Ta-Nehisi Coates, one of the greatest living critics of that selfsame country. The results haven't been quite as transcendent as the expectations were, but the book is still really goddamn good. Here, Cap faces the consequences of a period when a doppelgänger became leader of the fascistic Hydra organization and conquered the nation. Distrust in him and in the institutions he defends abounds, and when a threat culled from the deepest recesses of the back-issue bin reemerges, the Star-Spangled Avenger faces crises both public and private. Of particular note is Coates's ear for the Captain's internal monologue and external dialogue, which feels as true to the spirit of the character and the tenor of the times as anything on the stands. Top that off with dependably lovely pencils from the great Leinil Francis Yu and eerie colors from Sunny Cho and you have little excuse not to give this sucker a try.
Come Again, by Nate Powell (Top Shelf)
Even the word balloons can give you chills in Come Again. In fact, they do so with startling regularity, looping and crashing across negative space, bearing letters that slip in and out of consciousness as the story unfurls. Nate Powell — a veteran of Representative John Lewis's award-winning graphic memoir March — here comes into his own and presents his first solo masterwork. In it, we are presented with a utopian community in the Ozarks during the 1970s, a time after the Pill and before AIDS, when love was given all too freely and consequences seemed like something for narcs. Secrets and self-deceptions undergird the ideal world the protagonists have built for themselves, and it is in their children's generation that the rot is revealed. "Every fantasy's just a high, anyway," the narration reads at one point, and this one, with its stunning visual swoops and verbal slaps, will really get you flying.