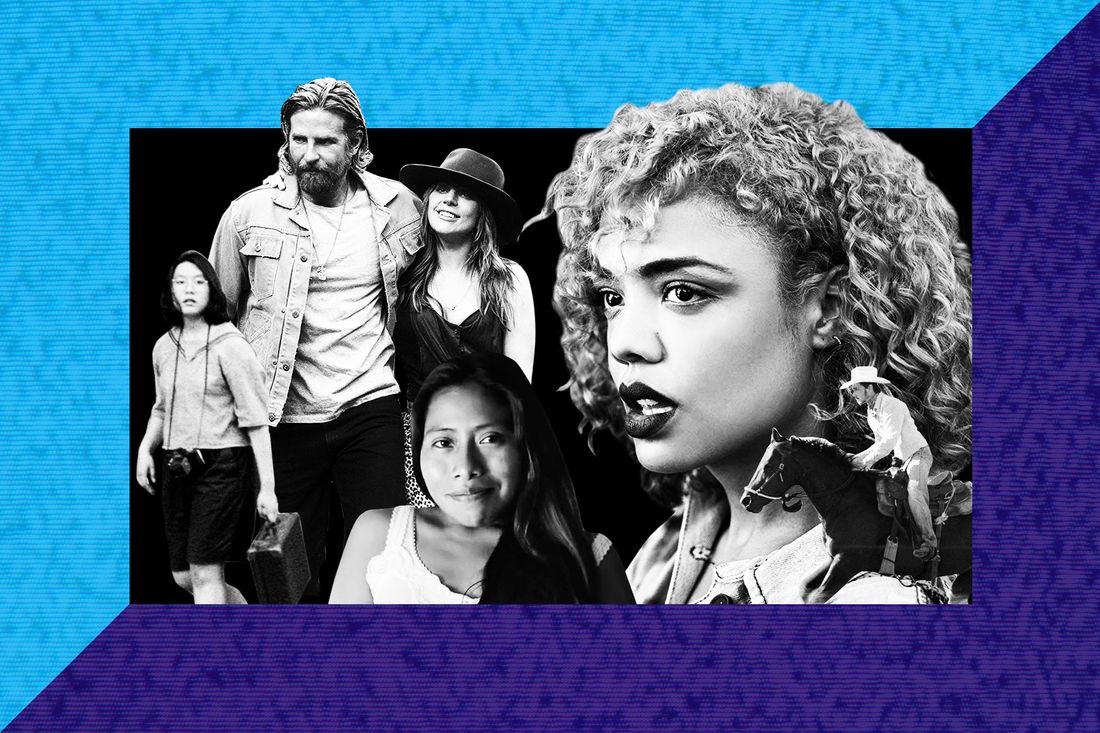 Photo: Maya Robinson/Vulture
There will be someone, somewhere, every year who will tell you that that year was an amazing year for movies, but I hope you hear and believe me when I say that 2018 was an amazing year for movies. What I loved about this year was a continuing feeling of freshness — there are four first-time directors on this list, from the idiosyncratic and long-time-coming (Sandi Tan's Shirkers and Boots Riley's Sorry to Bother You) to the Big Hollywood sweep of Bradley Cooper's A Star Is Born. There are so many rich and worthy films that didn't make this list — the gloriously romantic Cold War, the stunning end-of-career doc Ryuichi Sakamoto: Coda — and you know I tried every mental feat of gymnastics I could to find a way to fit The First Purge in. But I look forward to revisiting the films here and not here and mentally rearranging my rankings for years to come.
10. A Star Is Born
What would you have me do? There were perhaps "better" movies this year, but few better times to have at the movies than Bradley Cooper's shouldn't-work-but-does-anyway musical romantical celebrity tragedy. The 2018 Star Is Born is a rare conceptually nostalgic project that somehow doesn't feel like a watered-down facsimile in the moment. It feels both effortlessly contemporary and like pure, uncut movie, drawing from an era when the best special effects money could buy were two charismatic stars singing and gazing into each other's eyes. Lady Gaga's acting debut is every bit the home run it's been advertised as, as much for her predictably great vocals as for her visible connection to Cooper's already meme-immortal Jackson Maine.
Have a Nice Day is a 2-D animated feature, but it somehow feels even flatter than that, comic-bookish, all the intricate details of its rundown anonymous industrial town rendered in hyperfocus. In that sense, it's perfectly complemented by the bone-dry, Coens-esque script. But Liu Jian's interweaving tale of crooks and scammers paints in shades of cynicism generally inaccessible to American auteurs, relentlessly critical of the desperation and amorality of modern Chinese culture. The gags and the body count — both of them relentless and deviously underplayed — left me breathless.
Politically progressive cinema needn't be a preachy drag, and Boots Riley's directorial debut is proof of how much fun it can (and used to) be. The story of Cash Green's (Lakeith Stanfield) rise and fall in the ranks of a soul-crushing corporate behemoth goes to places most films would discard several drafts before the final, but in this case, the lack of self-consciousness is the film's best trait. Riley's film has a handmade feel to it, packed to the gills with visual jokes and art-department gems, but rather than the preciousness-for-its-own-sake of a Michel Gondry film (or Dongry, if you like), it's all there to ensure that its pro-union, punk-rock ethos is not soon forgotten.
7. Shoplifters
Like so many of Hirokazu Kore-eda's family dramas, Shoplifters lulls you into its easygoing, dog-eared pace, until it sneaks up on you with an emotional wallop less written and more suggested. The story of a ragtag, impoverished family living on the margins of Japanese society is set in motion when they kidnap/rescue a neglected child, but it's all built out patiently, each relationship, from patriarch Osamu (Lily Franky) to grandmother Hatsue (the late, great Kirin Kiki) getting individual attention along the way. By the time its revelations start dropping, Kore-eda has you primed for some gut-wrenching questions about what makes a family a family.
6. Eighth Grade
Watching Bo Burnham's directorial debut is like cracking open an old yearbook, telling yourself you're just going to flip through it for a second, and two hours later getting lost in it, equal parts horrified and heart-warmed. Resisting its pull is futile. Burnham's script is unsparing in its depiction of adolescent humiliations, and yet never mean. (The Welcome to the Dollhouse comparisons only go so far.) As Kayla, an awkward tween striver trying to find herself in the maelstrom of social-media-augmented adolescent terror, Elsie Fisher is a true find, and she somehow manages to make the words "Yeah, huh?" one of the best line readings of the year.
5. The Rider
The augmented-documentary drama has been in favor for a few years now among independent filmmakers, but rarely has it been as successful as Chloé Zhao's lyrical, intimate rodeo story. Brady Jandreau stars more or less as himself, a rodeo cowboy forced to set his career aside after a serious brain injury. But rather than just set up the camera and let the real people, places, and relationships do the work, Zhao manages to make Jandreau's very internal conflict palpably agonizing, in melancholic dialogue with the stunning vistas of the Badlands that Zhao knows so well.
4. Suspiria
An all-too-rare remake that uses its platform not to wink or kneel in deference to its source material, but uses it as a prompt — in this case, for a fever dream of violence and history and the dreadful and feminine. Plenty will call Luca Guadagnino and screenwriter David Kajganich's two-and-a-half-hour treatise on Dario Argento's giallo truffle indulgent, or worse, pretentious, but what fun is a nightmare without some heavy-handed symbolism and Jungian leaps of logic and chest-vaginas?
3. Shirkers
Sandi Tan's one-of-a-kind autobiographical documentary is impossible to describe without seeing; it's at once a mystery and a memoir, but it also feels haunted, uncanny in a way that's hard to put one's finger on. The inspiring, infectiously exciting story of a teenage Tan and her friends' would-be Singaporean punk-film masterpiece runs headlong into the pain of its theft by her mentor and collaborator, but each wouldn't have its power without the strength of the other. Tan's film is about what we put of ourselves into art, and what we gladly risk, especially when we're young and angry and willing to try anything.

Paul Schrader's rigorously realized morality play is, like so many of this year's films, about a character coming to terms with their place in the machine, and the agonizing deliberations that ensue. It seems impossible to make a film that converses in theology and genuinely grapples with the horror of climate change and have it not come off as a clunking mess, but Schrader's ascetic, methodical sensibility mirrors that of Ethan Hawke's Reverend Toller, and somehow it builds to something ecstatic while never taking its eyes off the void.
1. Roma
If this is the film Alfonso Cuarón has been working up to his entire career, what a thrill for it to come off with such soaring, symphonic mastery. The year in the life of a young nanny (Yalitza Aparicio) and the family she works for unfolds in big-screen, intricately choreographed panoramas that contain both the startlingly intimate and the sweepingly epic, often in a single shot. Cuarón has long excelled at portraying intimate human emotions within a broader context, and he's never used that more powerfully, letting the student protests of 1970 and growing, American-assisted counterrevolutionary force play out in the background until they merge with the lives and concerns of Cleo and Sofia. This is not a realistic, gritty historical drama, but an unfettered cinematic effort, aiming not so much for factual or visual accuracy as much as capturing what it feels like to be one person — with all the greatness and smallness that suggests — living in unfair, uncertain, endlessly changing times.