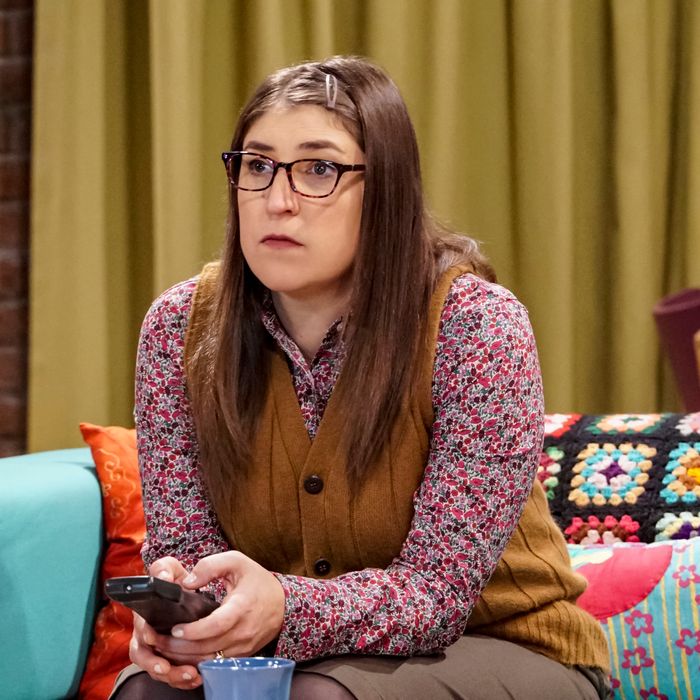 Well, give it up to Sheldon Cooper for being incredibly resilient in the face of what he'd considered a career-defining failure. Yep, so resilient. Reeeally resilient. Maybe too resilient …
Worse than the treacly scene that plays out when an old videotape of his football coach father giving a clichéd motivational speech to his high school team at halftime makes Sheldon emotional is that this final season episode of The Big Bang Theory wastes what would potentially have been a fine gimmick. Versions of tween Sheldon (Iain Armitage), his dad George (Lance Barber), and his older brother Georgie (Montana Jordan) — all from the heartfelt, Peabody-worthy TBBT prequel Young Sheldon — make the crossover to the future via the aforementioned videotape. They deserved better for having made the journey.
The story: Sheldon and Amy, but particularly Sheldon, have been moping around, doubting their futures in the scientific world (again, mostly Sheldon) since Leonard and Raj found an old Russian paper suggesting the Super-Asymmetry theory Shamy were banking their shared future on was, to use a Sheldon word, hokum.
Sheldon's staying in his apartment in his pajamas, so fragile that his friends come up with a list of words that sound anything like the word "symmetry" to avoid uttering in his presence. Amy is even woken up one morning by the chaotic noise coming from the living room as Sheldon listens to music, watches TV, reads a book, and eats veggies at the same time. Sheldon thinks he has to question every opinion he's ever had — maybe he actually likes jazz and asparagus, he suggests — all because his one theory isn't sound, according to one source.
The Coopers' reaction to the Russian paper has seemed rather extreme ever since Leonard told them about it. Sheldon is so arrogant, so confident in his intellect and his work, that it doesn't feel genuine that he would simply give up, and become so dejected about his future, without further research, further thought.
But it seems even more unbelievable that he would be so easily snapped out of his despair by a couple of minutes of a rallying sports pep talk, and a not particularly moving one, at that.
The tape is introduced courtesy of Leonard, who'd been keeping it in a safe hidden behind a whiteboard in his and Penny's living room. Sheldon gave it to him to bust out in case of an emergency, as it contains words of encouragement from the only person whose opinion Sheldon truly respects.
"[Stephen] Hawking?" Amy wonders. "[Richard] Feynman?"
"Himself," says Leonard.
But young Sheldon's words to older Sheldon — recorded in case of a future emergency in which adult Sheldon would come to doubt everything he believes in — are cut off at the most important moment, because George Sr. had long ago recorded over his son's message with game footage and a speech he made to his team during a game they were losing.
George Sr. tells his players, including Georgie, that they are almost certainly going to lose the game. But that's okay, he says, because you can learn more from losing than you do from winning.
It's a true enough sentiment, but not one as deep as this episode suggests, and certainly not one deep enough to draw sports-hating Sheldon out of his depression and resignation over the Super-Asymmetry paper.
And yet, it does. When George's videotaped speech ends with him telling his team they can give up or they can go out and "give 'em hell" for the rest of the game, Sheldon suddenly realizes he and his father are not as different as he (snootily) thought. They've both experienced failures. But George suggests you can bounce back from them. So Sheldon realizes he can, too! Why, he even suddenly thinks up a sports metaphor — the first one he's ever used in his life! — to make his point. "I've been acting like the game is over, but it's only halftime," he tells Amy. "There's a lot more physics left to play."
And this leads Amy to an insight: Sure, the Russian paper disproved Super-Asymmetry, but that was only one perspective. Maybe the theory is valid from other perspectives. Maybe it's not only still valid; maybe it's super-valid, because it may be valid from many other perspectives. Just like how Sheldon and his father are different from some perspectives, but alike from others.
As she runs out of the room to get her laptop so she and Sheldon can rewrite their paper on Super-Asymmetry from this new point of view, Sheldon looks at the freeze-frame of his father on the TV. "Thanks, Dad. We're gonna give 'em hell," he says.
Ugh, right? I love the idea that if Amy and Sheldon do have major success with this breakthrough theory, it will have come with a big slice of help from his father. And that Sheldon has finally learned some humility about his own place in the world. But this storyline and those words didn't earn that awakening for the Coopers, and as lovely as it is to tie TBBT and Young Sheldon together on the mothership series, the retro Coopers, again, deserved a better payoff for their videotaped trip to the future.
Meanwhile, another videotaped blast from the past sends Howard, a.k.a. The Great Howdini, on a quest to gain membership to the Magic Castle. Former child beauty pageant contestant Bernadette sees a tape of Howie performing as a costumed young magician whose dream was to join the world-famous club. She uses the aggressive tactics of her own pageant mother to help Howdini perfect a presentation that lands him a tryout at the Magic Castle. He attempts to wow this audience with a trick that involves a large wooden mallet and the borrowed Rolex of one of the judges.
The Rolex, like Howdini's chances of membership, does not survive.
Theor-ems
• Before Shamy decide to revamp the Super-Asymmetry paper, they burn it. At the advice of Leonard's mother (one of the only other people, besides himself and Amy, whom Sheldon respects) Leonard and Penny help Sheldon and Amy grieve the perceived failure of their theory by throwing it a Viking funeral. So they set it ablaze on a tray, and let it float in the bathtub. Of course, it floats right up to that periodic table shower curtain, which catches on fire.
• Penny's upset that Leonard didn't consider it a tape-worthy emergency when Sheldon declared his room a sovereign nation and waged a trade war against them. "His major export is talking … I didn't want that anyway," Leonard replies.