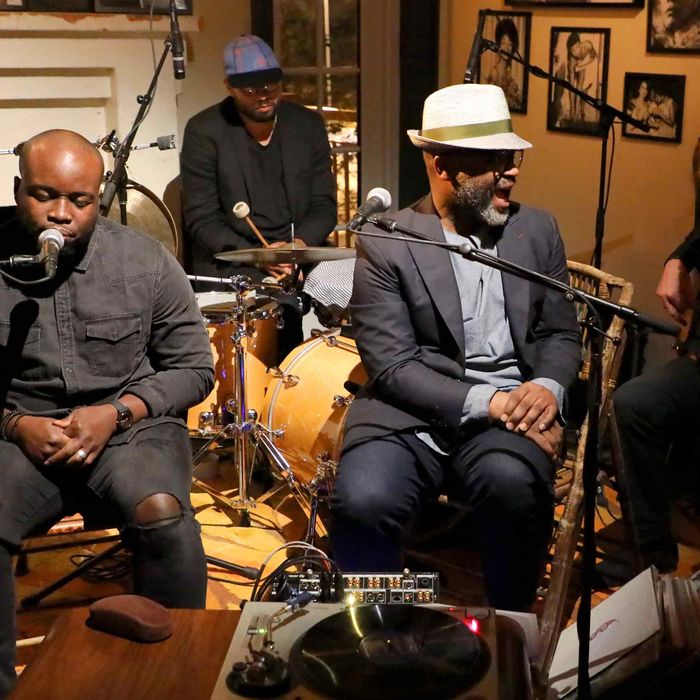 Theaster Gates and The Black Monks Of Mississippi.
Photo: Alexander Tamargo/Getty Images for Prada
Thursday night in Miami, artist Theaster Gates and his band the Black Monks of Mississippi performed at the pop-up club Prada Mode. In a small upstairs, tucked into the second floor of a poolside restaurant — a part of the understated hotel complex Prada took over for their three-night VIP nightlife happening, which was over by the time Friday arrived along with the non-VIP masses who were not on the list — Gates led the five-piece through a noisy and meditative free jazz-ish set. Hans Ulrich Obrist filmed it on his cellphone. Gates was barefoot.
The band was sitting down for most of the set and they weren't on any stage or raised platform. There was a rapt crowd huddled around them for the sprawling set that lasted hours, but people who weren't right in the front and couldn't see turned to talking and ordering drinks. At one point, Gates asked the audience, "Will you go to the bar and tell those motherfuckers to shut up."
The performance followed a dinner attended by Kanye West and Venus Williams celebrating the site-specific installation Gates created for Prada Mode, Black Image Corporation (and there's a version at the Fondazione Prada in Milan too). It's a celebration of black women featuring photography culled from Jet and Ebony magazines from the 1950s and '60s. Connecting the photo installation to the performance, Gates explains, "We're using Black Image Corporation as the kind of philosophical premise that allows us to make a new black music."
The photos up around the Prada Mode club, framed and hanging on walls as well blown up huge on side of buildings, feel in many ways a reversal of Gates's sculptural works that comprise bound editions of Jet magazine. These two works use overlapping source material, but one reproduces and circulates the content while the other values it but keeps it hidden. One of these Jet mag sculptures (it already sold) is on view at the White Cube booth at the fair.
Black Monks of Mississippi's performance on Wednesday had a deconstructed approach to music not unlike the way Gates approaches sculpture. Gospel, soul, rock, jazz, and artists like Sun Ra and Nina Simone are all references for what they're doing. But Gates explains that they're also just experimenting with sound. "What is the music before music? Is there a way to go backwards in time to start at an original point in sound?" he asks. There were many moments in the set that were guttural and pre-verbal, but there were also some poetic lyrics too, like If you love me, we will make new histories.
Gates first started the Black Monks of Mississippi in a reaction to an exhibition in Chicago curated by Charles Esche titled The Heartland and centered around practices working along the Mississippi River. "There were no black people in the show," says Gates. "I was like how can you have an exhibition about Mississippi and not have black people in the show?" The curator invited Gates to propose something and he came up with The Black Monks of Mississippi. "That was 12 years ago, Jesus."
Gates has a pretty expansive art practice and his urban redevelopment projects in particular push the boundaries of what is art, so this art band fits right into the mix. He notes though it gives him something, he doesn't get from some of his other work.
"When I'm making objects, I don't have to always be present," says Gates, "but with live performance you have to be all in with your body, and that just feels like a gift sometimes."