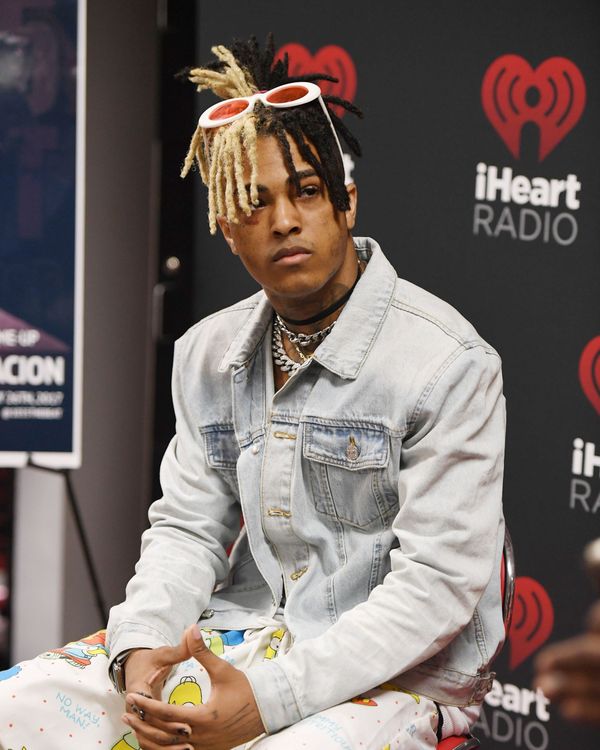 XXXTentacion.
Photo: Larry Marano/REX/Shutterstock
Once a year, on career day, Nick Catchdubs, the DJ, producer, and founder of the independent record label Fool's Gold, drives across the Hudson River to the New Jersey school where his mom teaches. He visits fourth, fifth, and sixth-grade classrooms and every year he asks his students the same two questions: "What music are you listening to? And how do you listen to it?"
He does it mostly out of curiosity, "Not in a vampire let me feast on the blood of the young way, but your life is totally different than mine," he says. They're teenagers from the suburbs; he lives in the city, and works within the music industry. This year they told him they were listening to XXXTentacion, 6ix9ine, and the Migos. And how do the kids find these artists? They just go on SoundCloud and search the phrase "sad music."
"The reality is that this shit blows up before anyone waves their wand and says, I allow you to blow up," Catchdubs says.
We've been creeping toward this reality for some time now. Spotify playlists have largely replaced musical genres with moods. Artists on SoundCloud can categorize their uploads however they want. At the same time, this new method of music discovery and the new paths to widespread fame for young artists feels like it's happening in some sort of parallel universe from how the typical music consumer over, say, 25, has found new music throughout their lifetime.
In the past, there were one or two ways most artists got discovered, and they're all basically the plot of A Star Is Born. The first: They'd build a local following, get some buzz, put out a song or two, and then someone, maybe their cousin or a friend, would know a manager, and they would join the music industry. The second: They'd tour relentlessly and soon fans, managers, labels, and A&Rs would follow. Eventually, in the lucky cases, fame would too.
Today it works something like this: a guy who's downloaded Ableton and a guy who writes raps (or wants to start rapping) meet at a local party, decide to "link and build," get together again at one of their houses, and record while huddled over a laptop. That night they upload the song on SoundCloud or YouTube. They turn themselves into a meme to start shit and gain attention on social media. Maybe the song ends up in the background of a Kylie Jenner Instagram post. It gets millions of listens literally overnight, and suddenly it's the most popular song in the country. Labels chase after whoever made it, and scoop up all of their musically inclined friends, too.
That is, generally speaking, how we've reached the current state of affairs, where a slate of controversial, divisive rappers have acquired millions of die-hard, infatuated fans and even more streams. These artists include the late XXXTentacion, who went from south Florida teen famous for participating in local fight videos to No. 1 on the Billboard charts, beloved for deeply honest and dark songs that delve into his struggle with depression. His first hit, "Look at Me," was uploaded to SoundCloud by his producer Rojas (they met at a hardcore rock show, and connected once they realized they were a couple of the only people there who also liked rap), while X was in jail on charges of false imprisonment, witness tampering, and the assault and battery of a pregnant woman, his former girlfriend.
His contemporary, Lil Pump, who is also from South Florida, has been contentious for his deep love of Xanax and successfully elevating his meme-ified life into a legitimate rap career. Lil Pump dyed his dreads red, filmed YouTube videos, staged viral Instagram pictures, and eventually started recording music. Pump's also had trouble with the law, announcing in September that he'll be going to jail for a few months after violating parole from an earlier arrest. Soon after, he performed on Saturday Night Live with Kanye West.
All those sad rap searches and streams have made it so that, increasingly, aging rap figureheads like Kanye and Nicki Minaj need someone like Tekashi 6ix9ine — who, in his first public run-in with the law in 2015, pleaded guilty to a charge of using a child in sexual performance — to actually get people to listen to their music. This summer, a couple of days after releasing her latest album, Queen, Minaj added their previously released joint song "Fefe" to help boost its streaming numbers and chart placement.
A couple of months later, the Manhattan DA's office recommended that a judge require 6ix9ine to register as a sex offender and spend one to three years in a state prison. That recommendation came after he allegedly grabbed a 16-year-old fan's neck at a mall in Houston after the teen tried to take a video of him (6ix9ine was eventually sentenced to four years on probation and is not required to register as a sex offender). But it turns out that was just the start. In late November, he was arrested on federal charges of racketeering and firearms possession related to organized gang activity, including armed robbery, conspiracy to commit murder, and drug trafficking. 6ix9ine released his sophomore album Dummy Boy from federal prison and awaits his trial in September.
But despite the artist's problematic pasts (and, for some, present), the labels have come running. That's because these musicians have acquired relevance and cultural cachet, but even more so because of their financial potential. They bathe in an ocean of endless streams, the most valuable currency in today's music industry. Lil Pump's "Eskeetitt" racked up over 22 million the first week it released this April. In June, X broke Taylor Swift's single-day streaming record on Spotify, collecting 10.4 million streams for "SAD!" compared to Swift's 10.1 for "Look What You Made Me Do." After a delayed release and just three days of tracking numbers, Dummy Boy still landed at No. 2 on the Billboard 200 chart the week of its release. This Friday X's estate will release his first posthumous album, Skins, with a feature from Kanye. It will, presumably, be huge.
For rappers like Minaj, perhaps, and more clearly for labels, the massive numbers that come along with working with these artists has superseded all of the darker associations attached to their names. X reportedly signed a $10 million single album deal right before he died. After voiding an earlier contract, Lil Pump signed a reported $8 million dollar deal with Warner Bros.
Despite the charges and the optics and the potential jail time, the gatekeepers aren't closing the gates. In fact, from the outside, it looks more like they're flinging them open and lining the entrances with cash, even altering the kinds of deals they'd normally offer to fit the needs of streaming-focused rappers who arrive with their own massive fan bases and the leverage that comes with them.
But as conversation boils online about how, and if, we should engage with these artists at all, what do the labels consider when thinking about signing them? Whenever we deal with troubling artists, their business relationships are often treated like a small, closed circle, but the reality is different: there are managers, distributors, A&Rs, a whole ecosystem that is complicit just by virtue of having to do their jobs.
The clout generation is altering the nature of what it means to work in the music business. So how has the music business responded?
SoundCloud rap moved from the more hidden corners of the internet into mainstream consciousness in June 2017. Three things happened that month: there was a prominent New York Times article introducing the scene to a more general audience. X's first hit "Look at Me!" jumped from SoundCloud and began climbing the Billboard and Nielsen charts (by August of that year, it would be certified platinum), and a video of him getting tackled on stage during a concert in San Diego, went viral. The ruthless, brutal knockout, followed by a connected stabbing later that night at the venue, was so sensational that it made it onto TMZ. He became a national source of fascination.
That night he got tackled, X's producer Rojas DJed behind him for the last time. "I got taken off the tour by the label I was with at the time for safety reasons," Rojas said. "The person that came and hit X ended up getting stabbed and my former label didn't want to be involved in none of that."
X, on the other hand, was in a more unsupervised situation. After his hit "Look at Me!" blew up there was a bidding war while he was still in jail for violating a house-arrest agreement stemming from being charged with aggravated battery of a pregnant woman, domestic battery by strangulation, false imprisonment, and witness tampering. "The labels that were willing to sign him were willing to take the gamble because we didn't know what was going to happen with the charges," says Orlando Wharton, an A&R for Atlantic who was one of the first to work with X and angling to sign him then.
The thinking goes that "With any business you have to take into consideration what can hurt your investment and, of course, jail time can hurt your investment," says Wharton. But not necessarily any more or less than figuring out if an artist has stage fright, or will they consistently show up to press events, and generally act responsibly. When it comes to his artists, he thinks of himself as a mentor and father-figure, "You try to help them. Try to make them mature. Try to build up your artist and try to give them a better platform so they can be better people. You have to embrace them and show them that there's a better way," he says.
But the majors, including Wharton, were only offering traditional six-album deals and X wasn't interested. He decided, instead, to sign a one-album contract with the San Francisco–based digital distribution company EMPIRE, where they would distribute his debut album under X's own imprint, Bad Vibes Forever. (This is the same arrangement for Skins). Throughout his short career, X only signed single-album deals, the price for each multiplying from one to the next.
Traditional major labels aren't built for these types of arrangements. They employ executive producers, managers, PR people, and A&Rs who all have a say in what an artist ultimately creates and how they release it.  The same goes for many independent labels, who don't have the money to keep up with increasingly common multi-million dollar deals, and are also more inclined to act as true creative partners, deeply involved in an artists development.
Younger SoundCloud musicians who have already built out a base and released successful music on their own don't want to bring on all the extra noise. When they partner with a label, they're looking for something different.
A whole new crop of not-quite independents and not-quite majors have risen to accommodate them. These in-betweens are often funded by the majors, but aren't required to buck to their oversight. They do, however, have access to their contacts and facilities if necessary. They prefer not to be called subsidiaries, even though that's mostly what they seem like.
The biggest of these labels, and the one most deeply involved in the clout game is called 10K Projects. It's run by the 20-something Elliot Grainge, whose father is Lucian Grainge, the chairman and CEO of Universal Music Group and No. 2 on Billboard's list of most powerful people in the music business. The younger Grainge has gone all-in on virality, signing 6ix9ine, Trippie Redd, a skateboarding fashion designer turned rapper named Lil Gnar, and a singer named Kristin Hancher, one of the most popular artists on the Music.ly app, who also traffics in YouTube makeup tutorials.
Another is Alamo Records, founded in 2016 by Todd Moscowitz, a 20-plus year music-industry veteran. Like 10K, it's a not-quite independent label with funding from Interscope. But Alamo takes a slightly different approach. While 10K has found success by signing artists with proven viral potential even if they are, at times, more ethically questionable, Alamo seems to be chasing the same goals while focusing on artists with a certain aura of authenticity. They work with the grandfather of SoundCloud rap, Smokepurpp, and rappers like Wifisfuneral. But after Wifi and Smokepurpp made XXL's Freshman Class cover this year — an early accolade that can sometimes portend big rap careers — they've been overshadowed by louder, wilder stars.
In addition to the not-quite majors, Soundcloud rappers are turning to distribution deals. While this used to be the territory of older artists who already completed the multi-album requirements of a major label deal and just want the flexibility of one-offs, the new generation, who prefer to release music on their own terms, have found an answer in these far more flexible arrangements. Instead of entering a creative partnership with a label that includes signing over rights and increased oversight, they can just hand in a finished product for the other end to market and disseminate to the world.
One of the most popular distribution services is Caroline, an arm of Capitol Music Group that works with 6ix9ine, Trippie Redd, and distributed X's second album. The second big player is the eight-year-old EMPIRE, founded by Ghazi Shami, which acts independently, but has non-exclusive distribution deals with both Universal Music Group and Atlantic. These majors use EMPIRE's services, which have proven vital in the streaming era. It's responsible for hit singles like DRAM and Lil Yachty's "Broccoli," Remy Ma and Fat Joe's "All the Way Up," and X's first album. In an interview with the New York Times, Shami said he wasn't concerned about X's public perception. "I know the person," he said, and echoed Wharton from Atlantic. "My job was to nurture him and let him be the best version of himself that he could be, not to villainize him." At the same time, with this kind of distribution deal, it's not clear how closely they worked prior to X handing in his albums.
To keep up, the majors are bringing on more and more imprints run by people familiar with the SoundCloud scene, hoping they might have an early eye on what artists are next and the language to communicate with them. Atlantic Records signed over an imprint to Adam Grandmaison (a.k.a. Adam22) the host of No Jumper, SoundCloud rap's premier podcast. He's also been accused of sexual assault and physical abuse by two women, both of which he denies. Through early interviews documenting the scene's rising stars and by organizing tours for many of the artists, Grandmaison became a mouthpiece for the entire movement. His involvement on the label side of things, though, is entirely new territory. Labels haven't handed out imprints to podcast hosts or journalists before.
A second version of this is Inzei Records, which falls under Capitol, and is co-owned by Rojas, X's former DJ and producer, and his former partner Alex "Loyalty" Gelbard. They were given an imprint because of Rojas's foundational connection to the scene and Gelbard's social-media marketing expertise. The two of them helped build Lil Pump's career using a method they now refer to as the "The Pump Plan." It's a ten-step program that guarantees transforming a local rapper or minor celebrity into a meme and then a viral sensation using a set of proven marketing tricks. It includes tactics like: social-media influencer campaigns, meme-ing the artist, Musical.ly placements, World Star promotions, and something called "controversy projects," which seems to mean planting feuds between artists and igniting drama to stoke controversy and online attention. They pitch it to new artists they're looking to sign.
Gelbard wasn't working with Pump at the time of the deal, but he speculates that when Warner Bros. was in the process of signing its first contract with Pump, the label might have been hesitant because of his relationship with drugs and his age — he was under 18. That was a couple of years ago. This summer Pump released a song called "Drug Addict," whose music video co-starred Charlie Sheen. "If you're a proven success, if you have proof of concept then they're going to stand behind you," Gelbard says.
"[Signing new artists] happens so fast and the labels don't want to miss out so they're just gobbling stuff up," says Amit Krispin, an entertainment lawyer who works with Lil Pump and Trippie Redd, among others. "They're finding people faster, blowing them up faster, signing them faster, it's all happening faster," he says. In the race to get in on an up-and-coming career, that might transform instantly from 1,000 streams to 100,000, there's little time for, hey, about those pending charges. "I don't know if record labels think it's negative unless it interferes with the bottom line," Krispin says.
And then there are the musicians with no outward-facing followings, but who the labels are chasing after to get ahead of the game. Take Dominic Fike. In a twist, he's a singer who plays guitar, not a rapper, his music closer to Jack Johnson than XXXTentacion. When he was signed in August, he had a couple of songs on SoundCloud, although none were viral hits. When Columbia signed him, they took all of the music down to officially release as an EP this October. Fike also signed to management with Tha Lights Global, the same team that works with Lil Pump.
If you Google his name you'll find a mugshot where he has a bleached blond buzz cut and a couple of face tattoos. It's unclear if the face tats and the mugshot were part of his initial appeal to labels, but either way there was a bidding war over Fike while he was still in jail. "It's a feeding frenzy," Krispin says. "He's going to get multi-millions and I'm sure the terms are amazing and that was based on industry buzz, not even a buzz with a fan base. Just within label buildings." Fike signed a deal in August and although the information isn't public, industry sites put it in the $4 million range.
From a contractual standpoint there are often safety nets to suspend a contract if an artist ends up incarcerated for an extended period of time, but beyond that, there's not much concern. "They're going to do meetings and some internet research and if they see red flags they'll bring it up, but I don't think they're hiring a private eye," says Krispin. It was a statement echoed by others who would only say it off the record.
Which brings us to 6ix9ine, whose court cases continue to play out in real time. His album Dummy Boy was scheduled for release on November 23, but after his most recent federal arrest, for which he's being held without bail and faces a minimum of 32 years in prison, it was put on hold indefinitely. Then, a day after its intended release, the album leaked. With 6ix9ine's fame and notoriety at its peak, Dummy Boy was going to be huge whether it ended up on Spotify or not. The album was originally planned to release through a distribution agreement between Caroline and Capitol Music Group, but according to TMZ, the two sides had a disagreement. Still, 6ix9ine wanted to cash in on a project that was already out in the world. Within days, he managed to sign a new distribution deal with Create Music Group, who he's worked with previously on publishing rights. Elliot Grainge has yet to comment on the ordeal and turned down multiple interview requests. Just one year after his first hit "Gummo" climbed the Billboard charts, the same things that made 6ix9ine go viral are leading him ever closer to never releasing music again.
When pushed back on working with controversial rappers, the loudest and most typical industry response has been: well, look at Chuck Berry and Jerry Lee Lewis and their relationships with underage women. And also Dr. Dre's history of domestic abuse. Or Gene Simmons's sexual battery. "Are things actually worse than the past or are we just now focused on it unlike we were then?" Moscowitz of Alamo Records asked me when we spoke in his office, pointing out the overall increased scrutiny on the private actions of public figures, not just in rap. X's team gave a similar response when Spotify briefly took his music off of their playlists. His representative sent a statement to the New York Times asking, "Will Spotify remove all the artists listed below from playlists?" and named everyone who's been accused in the past from 6ix9ine to David Bowie.
I spoke with TK Kimbro who manages some of the most promising rappers out of Los Angeles, a few of whom also happen to be faced with jail time. There's Drakeo, who's been in jail since March awaiting trial on charges of murder, attempted murder, and conspiracy that can land him a life sentence. And 03 Greedo who, in May, was sentenced to 20 years in prison for drug and gun possession.
Kimbro thinks the way labels consider rappers in jail is a human-rights issue. When we spoke over the summer, he was working on a pre-jail marketing plan for 03 Greedo. They're stockpiling records, planning music videos, all as he prepares to sit in jail. Meanwhile, Kimbro has labels reaching out to him about signing Drakeo to million-dollar deals while he's still behind bars.
"It's normal for them," he says referring to labels, likening how they think about jail time to the normalization of mass incarceration. "To sit and talk about release dates and lawyers while someone's in jail is crazy."
His case is different than X, in that his artists are not dealing with domestic and sexual violence. How most listeners confront and react to those charges is far different as well. Jail sentences like Greedo's, for drug and gun possession, have come to denote a sense of authenticity in hip-hop. Most people, as Kimbro notes, don't even think twice about it. In a 2017 interview with NPR, the rapper Vince Staples pointed this out, "You can't find a Vince Staples article where it doesn't say, "Ex-gang member.'" When it comes to hip-hop, people want to believe that all of the talk is genuine and credible. That the music and the artist is only good if that's the case.
Which just opens up more questions lurking under X's popularity: Is part of his appeal that he was so obsessed with darkness that he actually lived it?
And for 6ix9ine: Will public perception around him change now that his gang-affiliated charges have overshadowed those of using a child in a sexual performance?
Social media has also opened up a new layer to these questions of authenticity. SoundCloud artists have thrived on the controversy and conversation they're expertly able to build on platforms like Instagram. They start a beef, possibly do something illegal, wait until it goes viral, and then laugh it off. It was a joke the whole time. If you don't get it, that's your problem. It's a tactic that sows confusion for those who don't understand and an even deeper bond for those who feel like they're in on the joke together.
"People are not sure if that's them putting something on to be provocative or if they actually mean what they're saying," Moscowitz says. "Are the guns real or not? Are they trolling? It kind of confuses and blurs that line and when something actually happens people aren't sure whether that's reality or not. Maybe that's not the case when it comes to a domestic-violence charge, but the provocative behavior in general. The artists are like, oh that's gonna go viral and the fans are in on it tongue-in-cheek."
The biggest difference between Chuck Berry and Jerry Lee Lewis, Gene Simmons and Dr. Dre, anyone who's been accused of or proven to have participated in ethically questionable behavior in the past and what's going on today, is that now we basically all know about it — or can at least find out about it — right away.
Now, "It's front of mind for everyone," Moscowitz says. Everyone — fans, labels, friends, managers, publicists — have the capacity to learn about an artist and all their troubled pasts instantly. We're inundated with all of the information. And on top of that there's the blogs and Twitter and hip-hop pundits talking about it all the time.
Nick Catchdubs remembers DJing a party at Webster Hall last year when XXXTentacion's "Look at Me!" was at its peak, but the details of X's charges had recently come out and he didn't feel right playing the song. He just didn't want to bring that energy into the room. But the DJ after him didn't care and played it at the very beginning of his set. The crowd went bananas.
"People have to make personal decisions," he says. It's similar to how he won't play R. Kelly's "Ignition (Remix)" when he DJs friends weddings anymore. The music sounds the same, but it just tastes different. "I'm not judging people on how they chose to live their lives. But it is a personal choice. You can't be Switzerland."