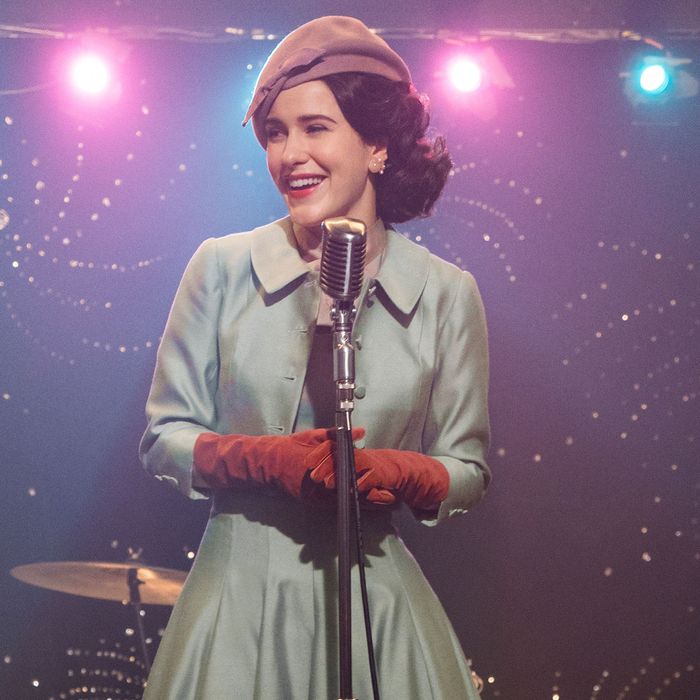 Photo: Nicole Rivelli/Amazon Studios
When you're on top, the last thing you should do is rest on your laurels. The Marvelous Mrs. Maisel and its plucky heroine, Miriam "Midge" Maisel, would do well to heed this advice, if the second-season premiere episode is any indication. Following its debut season's accolades, including a hefty Emmys haul, it was impossible for the Amy Sherman-Palladino-created series to enter its sophomore outing without high expectations.
Now, that doesn't mean Maisel isn't still marvelous, because it is. However, its return seems more concerned with showing off its Amazon-funded wealth than maintaining last season's momentum. Not ten minutes into "Simone," Midge (Rachel Brosnahan, still a delight in every scene) and her father, Abe (Tony Shalhoub, still stealing every scene), are jetting off to Paris in a contrived plotline concerning Rose (Marin Hinkle, getting to flex her acting muscles this season, and we're all better off for it), who has absconded to the City of Light to find herself.
Considering that Midge has just come off a triumphant stand-up gig at the Gaslight (it seems that only a handful of days have passed since the season one finale, placing us in December 1958), the last thing she should be doing is putting the brakes on her career momentum by taking her hat-and-matching-gloves collection on an emergency trip to Europe. But, hey, at least she gets to keep her skills sharp by recapping the first season via an impromptu comedy set at a French drag club.
If the new season tells us anything about The Marvelous Mrs. Maisel, it's that the secret to enjoying its greatness lies more in appreciating its visual splendor than in worrying about the narrative. The best parts of the show, especially in season two, are the elaborately choreographed sequences of otherwise mundane moments. No one other than Sherman-Palladino, who wrote and directed "Simone," could turn the chaos of a department-store switchboard room into a graceful ballet. (For those of you who like to see how the sausage is made, you can watch a far less fluid outtake here.) Set to Barbra Streisand's version of "Just Leave Everything to Me" from the 1969 film Hello, Dolly! (anachronisms aside, the Streisand tracks still work perfectly on Maisel), the episode opens by reintroducing us to Midge in her new job as B. Altman switchboard operator/den mother, swerving from girl to girl to offer a reprieve and a back rub without breaking a sweat or the rhythm of "B. Altman, where can I direct your call? I will connect you." Yep, we get the big news out of the way before the five-minute mark: Our Midge has been demoted from the makeup counter after her husband's mistress called her a tramp before a crowd of scandalized holiday shoppers.
But Midge has no time to bemoan her low status, because soon enough, she's left her children behind (again) with her parents' maid, Zelda, to chase after Rose. So, here's my take on this Rose subplot: It's a great idea, but like Joel Maisel's attempted stand-up career, the timing is all wrong. Rose is having a midlife crisis; a flashback shows her opening up to an indifferent Abe, saying that she's unhappy and feels her life has no purpose, so she's running away to Paris. Given how Abe doesn't even listen, I can see why Rose did it — and once you see her in her artist's hovel, speaking French with her adorable new dog, Simone, you'd be hard-pressed to encourage her to go back to New York. And her response of "I missed me, too" after Midge says how much she missed her? That is a powerful and refreshing statement coming from a woman who has spent her entire adult life making her husband think her face was perpetually made-up with cosmetics.
Unfortunately, this overseas jaunt weighs down Maisel's return, for two big reasons. First off, by sending Midge to Paris, Sherman-Palladino is now stuck searching for something for Susie Meyerson (Alex Borstein; criminally underused this episode) to do, which is just plain wrong. At least Susie is trying to maintain her client's momentum by giving an interview to The Village Voice, but she ends up getting sidetracked because Harry Drake — the talent manager Midge royally pissed off last season when she trashed his Number One client, Sophie Lennon, in her set — is still out to get her. A pair of goons are hired to rough Susie up, but once they learn she's from the Rockaways, like they are, the subplot turns into a rehash of the Danny Aiello/Mia Farrow section of Radio Days: They can't in good conscience hurt a local girl, but they do advise that Susie make things right with Harry, because they can't promise someone else won't come after her.
The second reason the Paris detour is problematic is that the necessary narrative action is jammed in at the last minute. The show needed to both address and move forward with its Midge/Joel will-they-or-won't-they problem, and while "Simone" accomplishes that goal, it feels forced. As part of an ambitious, cacophonous sequence at the aforementioned drag club, in which an accommodating American expatriate seamlessly translates Midge's impromptu stream-of-consciousness set into French, the audience finds out via flashback what happened between Midge and her estranged husband (Michael Zegen; still good, but the writers need to figure out what to do with his character) after he accidentally caught her set at the Gaslight. In short, he was shattered, handing over his wedding ring to Midge in the process.
A stroll along a Seine bridge filled with couples making out flips Midge's sentimental switch, and suddenly she's on a transatlantic call to New York, begging Joel to work things out. Joel has done a lot of dumb things in his life, but he begins his path to redemption by wisely advising his wife to embrace her career — and to let their marriage go. It's a sad conversation, but everything Joel says to Midge is right: "For us to be together, you'd have to give [comedy] up." He knows he's the butt of her jokes, and that she's "everything I wasn't up there." But to his credit, he's finally become enough of a man that he won't stand in the way on her road to success. Midge is leaving Paris with a broken heart, but as she walks off alone in the final shot of the episode, we know she's heading toward something much greater than a mediocre marriage: her destiny.
More Maisel Musings:
— Attention! Rose Weissman is eating bread! But don't hold out hope for a fundamental change in her personality: The only reason she wants baby Esther to visit her in Paris (when she's old enough) is so she can have a nose job: "The best doctors in the world are here for that."
— Speaking of Midge's kids: I know Midge can't forge a stand-up career if she's constantly looking after Ethan and Esther, but her (emotionally) neglectful treatment of her children continues to be upsetting. Even while she's in France she's itching to get back home — but more for the sake of her job than for that of her son and daughter's well-being. "I have to get back," she says. "I have work." Pause. "I have children."