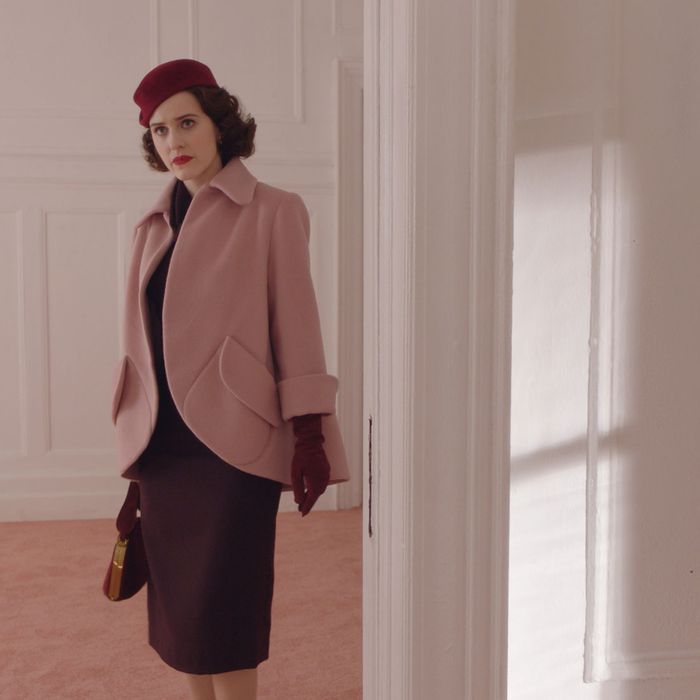 It's pretty darn tough to top a season premiere shot in Paris, so for the season two finale, The Marvelous Mrs. Maisel opted for an episode that feels like one long dramatic Instagram Superzoom sound. In other words, there are a lot of cliffhangers.
Don't get me wrong: The mark of an excellent finale is that it features just enough unresolved story lines to whet viewers' appetites for the upcoming season. But, in true "go big or go home" Maisel fashion, we are left with far too many unanswered questions as we now not-so-patiently await season three. On the plus side, organizing the events of "All Alone" by cliffhanger makes unpacking the episode far easier. So, let's dive in:
Question: Is Midge and Benjamin's engagement over before it even happened?
Answer: Unclear, though signs point to yes. I don't think writer-director Amy Sherman-Palladino would feature a rose-colored flashback to Joel's Broadway musical-caliber proposal if she felt a wedding was in the offing for Midge and her surgeon boyfriend. (Nor do I think she would close out the episode by having Midge return to Joel for one last night of passion before leaving on tour.) Regardless, I hope this isn't the end of Zachary Levi's character, because he sure didn't deserve this. Figuratively speaking, Benjamin is still waiting by the phone for Abe's permission to propose, and remains unaware of Midge's plan to leave town to open for Shy Baldwin for half the calendar year.
Question: Will Susie become Sophie Lennon's manager?
Answer: Maybe. Susie receives the shock of her life this episode when, after dishing out that brutal tongue-lashing, the top-drawer comedienne makes her a business proposition that's going to be very difficult to refuse. Now that Sophie has revealed herself to be a Yale Drama grad trapped in the fat suit of her own success, she is appealing to Susie to fight for her the way she fought for Midge. Adding to the tension is the fact that things still aren't quite mended between Midge and Susie following their argument over Sophie at the end of the penultimate episode, so it would make sense for Susie to consider the offer. As of now, she's supposedly going along with Midge on Shy Baldwin's tour. No word on whether she's bringing her new fur coat.
Question: What exactly was Abe up to during his activist years?
Answer: Whatever it was, it was the last time Abraham Weissman was fired up about anything — and I am dying to know more about it. Once Abe finds out that Midge's security-breaching joke was just about him using Ethan's potty-training record for his make-a-computer-sing project, he is filled with disgust toward his colleagues at Bell Labs, and, by extension, a government that uses quasi-Orwellian tactics on his family. Since he knew his standing at Bell Labs was already precarious, Abe delivers the 1959 version of the epic goodbye email. In a calm, measured speech, he references both his activist past and his newfound desire to reboot that part of his life. By doing so, Abe sets up his season three arc by warning his co-workers that they should be very, very afraid of what's to come — as soon as they buzz him out of the secure room.
Question: Are Abe and Rose going to be homeless?
Answer: Only if Abe follows through on his planned resignation from Columbia. In a complete role-reversal from the season's second episode, now it's Rose who has to pull Abe back into reality after he announces that he would rather give up his tenure at the Ivy League university than "spend my life just drifting along." The one snag with that plan? Rose reminds him that Columbia owns the Weissmans' apartment. Although I feel for Abe when he laments that he "used to have purpose" and that he "wants it back," it's a lot easier to have a purpose when you have a roof over your head. Hopefully Abe will realize he can change the world while accepting a paid sabbatical, even if it means he's been "put on a shelf."
Question: What kind of legal action does Abe have planned with Michael Kessler against Bell Labs (and possibly the United States government)?
Answer: Whatever it is, it's brought a spark back to Abe's eyes: "I'm spoiling for a really good fight," he tells his new attorney. Furthermore, I cannot wait to see how Midge is going to factor into this. Because this lawyer, Michael Kessler (Max Casella), is not only the son of one of Abe's, ahem, comrades, from back in the day — he's also the guy who defended Midge during her season one court date. (I'm assuming Abe found out about Midge's arrests through his relationship with Michael.)
Question: Are Midge and Joel ever going to divorce?
Answer: Who knows? It's not like Lenny Bruce's cautionary tale during his Steve Allen Show appearance about the couple who kept breaking up and getting back together for the sake of their kids made one ounce of difference to these two. And besides, Midge never stopped wearing her rings all season — even when she was dating and preparing to get engaged to Benjamin. On that note …
Question: Is their latest hookup really just going to be for one night, or is it another instance of the vicious cycle Lenny was talking about? 
Answer: You know what would solidify The Marvelous Mrs. Maisel as an unapologetically feminist show? Having Midge keep to her word about wanting to be with Joel to satisfy her basic emotional and carnal needs — and then going on that tour without looking back. I totally get her apprehension after she watches Lenny sing a more melancholy version of the same speech Declan Howell gave her three episodes ago: No one wants to live a life "all alone," so let her fall into Joel's arms again this one time before she faces the biggest challenge of her career.
Question: Is Midge going on Shy Baldwin's tour?
Answer: God, I hope so. Turns out Susie isn't the only one fielding impressive job offers this episode. The pop singer, blown away by Midge's off-the-cuff performance at the arthritis telethon, offers her a six-month tour as his opening act, half of the dates being in Europe. Without consulting Benjamin, her parents, or Zelda (who else will look after Ethan and Esther while she's overseas?), Midge first plotzes, then accepts. So I believe her when she visits Joel at his family's factory (which he still hasn't left, despite having been fired) and tells him she can't go back to making Jell-O molds or have a third child (well, that pressure was just coming from Imogene). By accepting Baldwin's offer, she's also accepted the fate that Declan Howell and Lenny Bruce have laid out for her: She's "going to be alone for the rest of [her] life." Like Joel, I think the jury is still out on that part, and I want to remain hopeful that she can find love. Maybe not today, maybe not in six months, but someday. But for all my criticism of Midge's parental neglect and her romantic flip-flopping, what I want for her now, more than anything, is for her to go on that tour. Because she's earned it.
She can figure out the rest of her life next season.
More Maisel Musings
• Joel and Midge doing the "Shall We Dance?" polka from The King and I should be required viewing for anyone planning a marriage proposal.
• The sliding baby drawer in the hospital where Imogene kept her third baby? Real thing.
• One of Maisel's biggest strengths is its continued spotlight on the atrocious double standard women faced in comedy in 1959. It doesn't matter how many big breaks Midge gets: She still lives in a world where the guy comedians can shoot their mouths off about "dick fungus," while she gets thrown offstage for using the word "pregnant." I found it rather fitting that the offended male booker (same guy from "Mid-Way to Midtown") couldn't even pronounce "obstetrician" correctly. I look forward to more of this in season three.