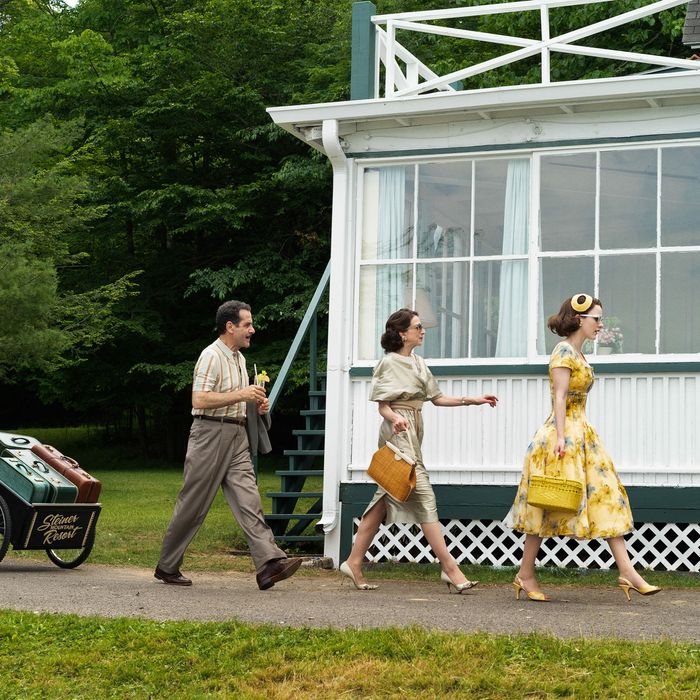 Photo: Nicole Rivelli/Amazon Studios
At long last, "We're Going to the Catskills!" is where Mrs. Maisel finally gets Marvelous again. This episode is the equivalent of eating a pastrami on rye washed down with a frothy, cold egg cream. (Sorry, kosher peeps; the show may be culturally Jewish, but it's never been big on the whole rules game.)
Even if I wasn't the product of two people who met Dirty Dancing-style (Mom was a guest, Dad was a non-dancing bus boy) at a Borscht Belt resort, I would still be in love with this episode, because "We're Going to the Catskills!" epitomizes what makes The Marvelous Mrs. Maisel such a satisfying viewing experience. Other than a few nags from Susie (career-oriented) and Rose (marriage-oriented), this episode pretty much tosses plotlines to the wind, and allows the audience to relax and enjoy the fresh mountain air and fur-coat lectures that accompanied a typical 1950s Catskills vacation for affluent Jews.
But I do have to get some kvetching in, too. First off, am I the only person here worried about baby Esther? I know it's well-established that Midge is not a hands-on mother, and her storyline would get boring if Maisel attempted to portray a real-world scenario where she was actually looking after her kids. And I've made my peace with Ethan's being whisked away by a camp counselor the second Midge and her family arrive at the Steiner Mountain Resort, never to be seen again for the season's two Catskills-set episodes. That's how things worked at those holiday paradises; the kids went to day camp while the adults played shuffleboard.
However, Midge's consistently ignoring Esther, who isn't even walking yet, has turned into something deeply upsetting, especially now that Maisel has made Midge's neglect of her kids a running gag. There are several jokes about how the baby was left in the car while the Weissmans checked in, and Midge literally asks one of the staffers to bring Esther along to their cottage as if she were a piece of luggage. Never mind the fact that Midge is on vacation and still finding excuses to throw this poor little girl over to around-the-clock babysitters. Yeah, I'm judging.
As much as I adore Midge, I continue to be frustrated by her inability to, well, grow up. Because she's not only behaving irresponsibly with her children, but in both of her professions (comedy and customer service). While it was commonplace for Jewish families to go to the Catskills for an entire summer, what makes Midge think that she can just slam the brakes on her stand-up career for two months? Fortunately, I don't need to go off on Midge about this, because Susie does it far better than I ever could. (But I'm still scratching my head over how Midge convinced Mrs. O'Toole to let her take that long of a vacation and still have her job at B. Altman when she returns in September — and then I remember this is an Amy Sherman-Palladino production.)
Anyway, let's set all that aside and get to the refreshing glasses of tomato juice: "We're Going to the Catskills!" is a visual stunner. Written and directed by executive producer Daniel Palladino, the episode opens with a shot-for-shot remake of the title sequence from the 1962 film adaptation of To Kill a Mockingbird, as a way of establishing the season's time-jump to the summer of 1959. (It's also part of a punchline involving Abe's meticulously crafted scale models of the family's suitcases and U-Haul trailer — just go with it.)
Then we arrive at Steiner Mountain Resort — known in real life as the upstate New York location of this breathtaking shot from Michael Zegen's Instagram — and before you can say "cribbage with the bubbes," we are swept into another one of those fantastically choreographed sequences I've been raving about this season. This time our POV is of the Weissman family's delectable cottage, as Midge and Rose delegate the arranging and rearranging of every inch of their summer home to no fewer than four bellhops, while Abe barks a steady stream of orders to his new gofer (leave now, Samuel, because you'll never be Jimmy). It's symphonic cacophony at its finest.
Midge gets in a few days of sunbathing, hair appointments, and dance challenges before she's being nudged back into both versions of the life she left behind in New York. I have to give Susie the assertiveness edge over Rose — who's gonna say no to a woman wielding a plunger? Not sure why it took her this long to realize that the Borscht Belt is a gold mine for comics (like, why wasn't she booking dates upstate once Midge told her she was "going to the Catskills"?), but at least Mrs. Maisel's enterprising manager is on the scene and working whatever weak leads she has.
But it's gonna be hard for Midge to shift her focus back to stand-up when she has Rose constantly chirping in her ear during bird-watching, biking, and table tennis about the nice man, a good catch she's found. This match almost seems too good to be true: Benjamin is a highly accomplished surgeon and opera fan looking for someone "weird" — and he's the spitting image of Zachary Levi.
And there's nothing more appealing to a popular girl than a guy who is indifferent to both her charms (Midge: "I'm Miriam Maisel." Benjamin: "You say that like I should know it") and her 22 years in the Steiner Fire Safety Captain's Club. So as outwardly infuriated as Midge may be at Benjamin's unwillingness to play along with their staged boating date (anything to get those meddlesome mothers off their backs!), it's not a spoiler to say this guy turns her on.
I'm not entirely sold on Benjamin, though, because anyone who looks that good on paper has to have a dark side swirling around somewhere. And the final scene of the episode hints that the good doctor may have something in common with the adulterous Joel Maisel. While watching fireworks over the lake, Joel — who is vacationing at Steiner with his soon-to-be-ex-wife and her parents, ostensibly so he can spend time with those kids we never see — bonds with Benjamin over cigarettes. The constant side-eye from everyone at the resort over what happened between him and Midge is taking its toll.
Benjamin, however, is not the source of comfort Joel needs, offering a rather cynical response to Joel's existential question about whether people are ever forgiven for their mistakes. "You still did what you did, right?" he says. "Nothing's changed." Sounds like Benjamin is speaking from experience, and he advises Joel that the best way to avoid another screw-up is to "stay away from people."
Oh, Benjamin — what did you do?
Too bad Joel has no idea that Midge is the person who will most likely convince Benjamin to open his heart again.
More Maisel Musings:
— We should all be so lucky as to see Tony Shalhoub in a calisthenics romper.
— Hospital attorney by day, lounge singer by night: That's New Amsterdam's Margot Bingham crooning standards in the Steiner resort dance scene. (She and Michael Zegen are also fellow Boardwalk Empire alums.)
— Ah, 1959, a time when it was perfectly okay for an old white dude to tell a woman he just kicked out of a beauty pageant, "On the bright side, you're free to load up on the rice pudding tonight." Oh, wait.