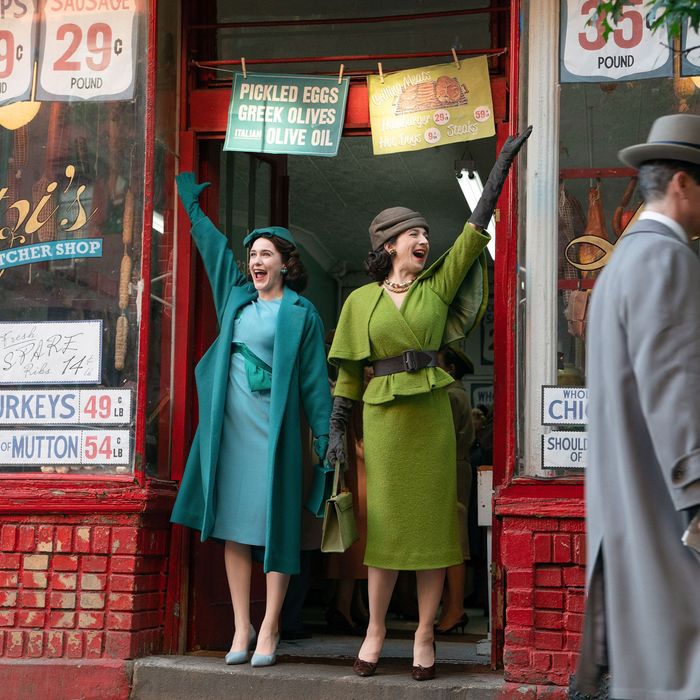 Photo: Nicole Rivelli/Amazon Studios
Strap yourselves in, everyone, because "Look, She Made a Hat" covers a lot of ground. If you can't keep up, then maybe you're not cut out for Amy Sherman-Palladino — who wrote the episode — at the top of her game.
Just make sure you've eaten before watching, or else you're going to be as confused and cranky as the Weissman-Maisel family at Yom Kippur break-fast.
It's the one-year anniversary of the day Joel walked out on Midge and her "whole life fell apart," which makes it a great time for both Maisels (who still haven't initiated their divorce proceedings) to reassess their lives. On the one hand, we have Midge, who is doing friggin' great: She's got a handsome doctor boyfriend who has somehow been reading up on the #MeToo movement 60 years before it happened, her stand-up career is going well, and she's back in the makeup department at B. Altman. Then we have Joel, who just bought the building that houses his family's garment factory and is celebrating by drunkenly bedding a string of nameless dress models. Look, I feel sorry for him, especially when he cries to his pal Archie (Joel Johnstone) about how badly he wants to be forgiven (you can tell his sorrow is from not being able to forgive himself; it's not like Midge is holding a grudge), but you brought this upon yourself, dude. At least he has his kindly spinster secretary Mrs. Moskowitz around to warn him about venereal disease.
Speaking of warnings, the vestige of that chat Midge had with Lenny Bruce two episodes ago (the one about Jell-O molds infringing on a stand-up career) could be rearing its ugly head soon. Sacrifices have to be made, and they could come in the form of her new romance. Because even when she's with Benjamin, Midge can't hide from the harsh realities that come from pursuing her art.
See, Benjamin is a total fanboy for the downtown Manhattan art scene, where he and Midge meet a guy named Declan Howell, "the most famous unknown artist in the world." And because this is Amazon, that means Rufus Sewell gets to Julianna Crain himself between a version of New York City where he's a high-ranking Nazi, and one where he's a drunken painter smitten with a confident Jewish woman.
It's not easy for someone like Zachary Levi to fade into the background, but it happens as soon as Sewell's character shows up, because Declan is there to illustrate for Midge, if not the negative side of an artist's life, at least the unvarnished truth of it. On the surface, he represents everything that Midge does not want to give up: There was a time when Declan had a family, but now he lives alone in a filthy studio, and is not immune to beatings from his landlord and his landlord's wife.
However, he also creates the kinds of paintings that render Midge speechless. In a fantastic scene in which Declan has Midge look at one particular work (the brilliance of this moment is that the audience never even sees the masterpiece), he lays out her options: "If you want to do something great, if you want to take it as far as it will go, you can't have everything. You lose family, a sense of home. But then, look at what exists."
If "losing family" means Midge won't have to deal with the utter chaos that breaks out between her family and Moishe, Shirley, and Joel at Yom Kippur break-fast, then I'd say the decision that awaits her is a no-brainer. (But then again, where else is she going to get such great material?) We know she barely cares about her children's well-being, so the only thing that would be stopping her now would be her falling in love with Benjamin.
Because this is a TV show and it's an unwritten rule that TV protagonists need at least one episode in which they juggle two big events in one night, Midge has to attend break-fast and then head down to the Gaslight so an important booker can see her in action. So naturally she makes the boneheaded decision to also confess her clandestine life to family members not named Abe or Joel — before anyone has eaten. Even Joel thinks it's a stupid idea: "You have a roomful of unfed Jews in there. That's a lot of desperation and rage in the air."
(Yeah, but at least they have cocktails. You try waiting on line to get into break-fast at the Brandeis University dining hall four years in a row, without booze, Joel. Then we'll talk.)
Though the reaction ends up being not so much one of rage — unless you count Abe's faux horror — as one of utter bewilderment. Marin Hinkle wins this scene for her ability to make a plumber gag go on for much longer than it ever needed to, and I'll forever be grateful for it. (Midge invited Susie to break-fast as an assist, and I'm still on the fence as to which is funnier: Abe's straight-faced "Hello, person I've never met before," or Rose's desperately trying to figure out why the Steiner plumber is also a talent manager.)
It couldn't be a better time for Midge to head out on tour — though, as I mentioned above, it might wreak havoc on her blossoming relationship with Benjamin. In the one time they find themselves on the same side, both Joel and Susie caution Midge against getting involved with the good doctor at this stage of her career anyway. Though Joel's obviously pushing her "to go where the work is!" because he just hates seeing her with another man. And Susie will take whatever support she can get, even from Joel: "That's right, listen to your husband!" she quips.
We cut to the Gaslight after Midge's latest sensational set. Turns out we didn't need to see this one either, because as she explains, "All I did was reenact break-fast word for word."
Remember how Benjamin told Joel that his modus operandi was to never get close to people? Looks like he's being set up for a brutal heartbreak now that he's let his guard down with Midge. Because in her post-mortem with Susie, Midge does not mention him once. What she does mention is how she wants "to be big. I want to be the biggest thing out there."
She's gonna create that masterpiece, no matter the cost. Tits up.
More Maisel Musings:
• Maisel kid update: While Baby Esther has been MIA since "We're Going to the Catskills!" at least Ethan got to appear, eat chocolate, and have some interaction with his parents in this episode.
• Though he probably wishes his family had left him up in the woods. First, Grandpa Moishe chastises him for not fasting on Yom Kippur, then he eats his Cheerios and steals the decoder ring prize. Because he would.
• Astrid is pregnant! Which is why she's the only person at the break-fast table asking the obvious question of, "Who stays with the children?" when Midge is at gigs.
• Midge miming all the safeguards she has in place to thwart sexual harassers will make you laugh through tears, because it's amazing. If only it were that simple …
• Susie wishing the rabbi a "good yontiff" is my everything.