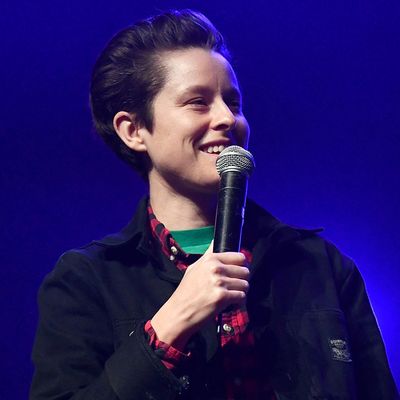 Rhea Butcher.
Photo: Scott Dudelson/Getty Images
The comedy podcast universe is ever-expanding, not unlike the universe universe. We're here to make it a bit smaller, a bit more manageable. There are a lot of great shows and each one has a lot of great episodes, so we want to highlight the exceptional, the noteworthy. Each week, our crack team of podcast enthusiasts and specialists and especially enthusiastic people will pick their favorites. We hope to have your ears permanently plugged with the best in aural comedy.
The Soft Spot — It's Safe Now, Everything's Lead Lined! (With Rhea Butcher)
Ahhh … What's that sound? The sweetness of preschool children playing? The crack of a bat on a warm summer day? Or a feel-good, positive podcast? With comedian Rhea Butcher on The Soft Spot, the first easy-listening podcast, you'll hear all of the above. Hosts Julian McCullough and Meg Molloy invite comedians to celebrate their favorite things and wrap their audiences in the comfiness of nostalgia — because, if you haven't noticed, everything's a bit awful right now. Butcher brings the perfect topic to dive into the past: Back to the Future. They take time to address BTTF's problematic gender roles and how those narratives impact kids. If you haven't already, you'll look at some old movies differently. But, hey, there's still plenty of fun to be had! Cozy up to the DeLorean's connection to Indiana Jones and the Crystal Skull, a secretly filmed scene on a home camcorder, and the beauty of a simple, fun movie! Plus, pay respect to Butcher's theory that BTTF created much of the way modern pop culture functions. If you're familiar with Butcher, you know they'll also manage to hit your soft spots for Ohio, baseball, malls, and Jo-Ann Fabrics along the way. —Anna Marr
Listen: Spotify | Apple | Website
Doug Loves Movies — The 12 Guests of Xmas #3
Like the fat, bearded man in the red suit, Doug Loves Movies' beloved annual clusterfuck known as the 12 Guests of Xmas always delivers in December. As in years past, Doug Benson has 12 of his favorite guests and friends competing for one lucky audience member who will win a prize bag of Oscar screeners, unwanted gifts, and items accidentally shipped by Amazon. It doesn't sound like much, but we're talking about misdelivered anti-fungal cream signed by John Hamm! Doug Loves Movies has always been more about the banter than its movie-trivia games, and this episode does not disappoint. No, really — there's an hour and 20 minutes of guest introductions before Doug even plays a single game. But that's what's so fun about these year-end episodes. And with a lineup of A-list stars like Hamm, Sarah Silverman, Zach Galifianakis, and comedians who deserve to one day be household names, like Amy Miller, you'll remember that spending time with the people who bring you joy is more important than the gifts. Even anti-fungal cream signed by Jon Hamm. —Pablo Goldstein
Listen: Spotify | Apple | Website
Gettin' Better With Ron Funches — Full Size Muppets (With Bobby Moynihan)
The acts of self-reflection and introspective thought can be mentally challenging, but it ultimately leads to great results. Gettin' Better With Ron Funches further pushes this notion as it continues to carve itself out as a niche podcast on the topic of self-care. If there's anyone who knows how much effort must go in to one's own metamorphosis, its comedian Ron Funches. This week, Funches welcomes SNL alum and full-size Muppet Bobby Moynihan. Although this is the first meeting between the two, their immediate chemistry gives off the illusion that they've been best buds for years. As is standard for any former SNL cast member who does a podcast, life at the show is a big part of the conversation. Moynihan shares tales about working with Dwayne "the Rock" Johnson, an inspiring visit from the Muppets, and some soul-crushing, but ultimately all too spot-on, criticism he received from Lorne Michaels. As the two touch on moments of self-reflection, they begin to talk about the added value given to their lives through their children. Moynihan, a relatively new parent, sums it up best: "Having a child doesn't make me feel like an adult. It makes me feel like a kid who knows better." —Tom Rainey
Listen: Spotify | Apple | Website
The Most Wonderful Pod of the Year — Beverly Hills Christmas (With Alana Johnston)
Hark! 'Tis December already in the blessed golden age of Netflix, Lifetime, and Hallmark Christmas movies. If you do not have the time or inclination to plumb that whole endless catalogue yourself, why not let two Christmas obsessives — Jackie Gonzalez-Durruthy (Sandy Wexler) and Ross Kimball (Love) — do it for you on The Most Wonderful Pod of the Year? They're serious about obscurity, too. A Christmas Prince: The Royal Wedding barely scratches the surface here. On the debut MWPOTY episode, our stockings are stuffed with Beverly Hills Christmas, an Amazon Prime selection set in the afterlife where purgatory is ruled by a white-suited Dean Cain and Christmas officially starts promptly at 9:45 p.m. And what better guest to dissect this deep cut than Alana Johnston, known as "The Knife" on Doughboys and henceforth as "The (Candy) Cane" in the Most Wonderful Pod universe. A jolly time is had by all. Whether you keep Santa sacred all year long or you're a classic humbug, "yule" surely enjoy this pleasant holiday diversion as we wrap up 2018 (brb going to die now). —Kathryn Doyle
Listen: Spotify | Apple | Website
My Favorite Murder — Lifestyle & Feelings
MFM hosts Karen Kilgariff and Georgia Hardstark kick off this episode with a rousing cheer for themselves and their recent kicking off of Exactly Right, their very own podcast network. (There are a handful of shows, like Do You Need a Ride? and This Podcast Will Kill You, that are now housed there, with more on the way.) After that, they get into what they do best: murder talk interspersed with jokes to try to make it not sound quite so grim, with a healthy smattering of F-bombs. Of the two tales shared, the one about a killer dubbed the Missoula Mauler gets pretty gory but ends with the last two intended victims turning the tables on ol' Wayne Nance. The second focuses on Todd Alan Reed, a.k.a. the Forest Park Killer, and is downright terrifying, what with all the stalking, raping, and murdering. Nonetheless, a hero emerges from this tale as well, with Shelly Harding, the only woman that managed to escape Reed's clutches, getting the chance to help put him behind bars forever years later. Kilgariff and Hardstark have been at this for a while, and it's still interesting to hear just how shocked they still get when recounting horrific crimes, even while cracking jokes. —Marc Hershon
Listen: Spotify | Apple | Website
Other Podcasts We're Listening To:
Doughboys Double — Irish Whiskey and American McRibs (With Erin McGathy)
Listen: Website
Star Wars Minute — Brain Torture
Listen: Spotify | Apple | Website
Off Book: The Improvised Musical — D'Arcy Carden in the Dr. & the Beast
Listen: Spotify | Apple | Website
Podcast the Ride — Three Broomsticks (With Zach Reino)
Listen: Spotify | Apple | Website
I Was There Too — Silence of the Lambs (With Brooke Smith)
Listen: Apple | Website
Alchemy This — Halloween at the Meebles
Listen: Apple | Website
Absolute Worst Podcast — Nat Strawn
Listen: Spotify | Apple | Website
Got a comedy podcast recommendation? Drop us a line at comedypodcasts@vulture.com.