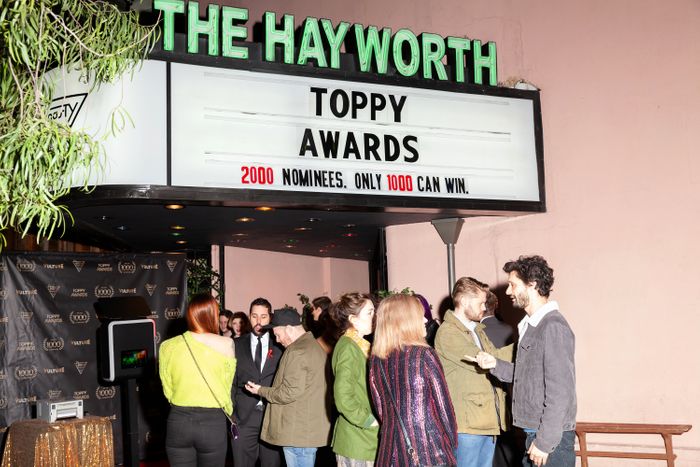 The Toppy Awards at Dynasty Typewriter in Los Angeles.
Photo: Maggie Shannon
Comedian Zach Broussard continued his annual tradition of honoring the "Top 1,000 Comedians" of the year over the weekend with a live, sold-out show at Dynasty Typewriter in Los Angeles, and Vulture was on hand to host a livestream of the event for all the comedians and fans out there who weren't in town to attend. If you haven't watched yet, you can check out the full show right here:
Of the 2,000 nominees announced last month, some big names earned winning spots on the list this year including Sinbad, John Mulaney, Whoopi Goldberg, Maria Bamford, Tiffany Haddish, Jerry Seinfeld, and Paul F. Tompkins. Additionally, several comedians earned special awards during the ceremony, including Jamie Loftus for Most Frequent Podcast Guest (she wasn't present to accept the award because she was busy recording a podcast episode), 26-year-old Brandon Wardell for the Lifetime Achievement Award, and Nikki Black for the No. 1 Comedian of 2018.
Broussard welcomes the guests and nominees to The Toppy Awards:
Nate Fernald performs as "The Masked Comedian," in which he reveals stand-up comedians' most protected secrets:
Nikki Black accepts the award for No. 1 Comedian of 2018:
Check out some tweets from attendees, nominees, and winners from the ceremony below:
Congratulations to all of this year's winners, and if you didn't make the list this time, just remember: There's always the Top 1,000 Comedians of 2019. Start generating your #buzz now!