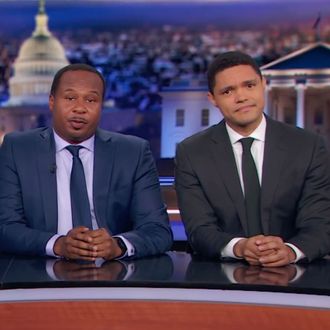 Roy Wood Jr. and Trevor Noah.
Photo: Comedy Central
Daily Show host Trevor Noah had a very long and busy weekend. He hosted the Global Citizen Festival: Mandela 100 in Johannesburg, then he taped a special episode of his late-night show from his South African hometown that included an interview with his grandma and a Cribs-style tour of his old home. It was so busy, in fact, that he ended up losing his voice. This complicated things when it was time for him to return to the U.S. to host another episode of The Daily Show, after his doctor ordered him to not use his voice unless he wanted to risk the possibility of surgery:
Thankfully, Noah got some assistance for last night's show from some of the Daily Show correspondents, who stepped in to serve as Noah's voice for various segments of the episode. First up was an intro and some news from Michael Kosta:
Roy Wood Jr. helped out for a segment on post-midterms voting issues:
Then Desi Lydic stepped in when it came to interviewing guest and recent SNL musical guest Anderson .Paak:
Finally, newest correspondent Jaboukie Young-White helped Noah close out the show ("I've been here three weeks and I'm already Trevor Noah!") and introduce the "Moment of Zen," but you'll have to watch the video of the full episode on the Comedy Central website to see it.
Congrats to the Daily Show team for this impressive example of teamwork — and to Trevor Noah for an impressive example of going to a hilarious extreme to avoid taking a sick day, considering the last time he did it, his substitute host ended up getting a late-night show of his own.