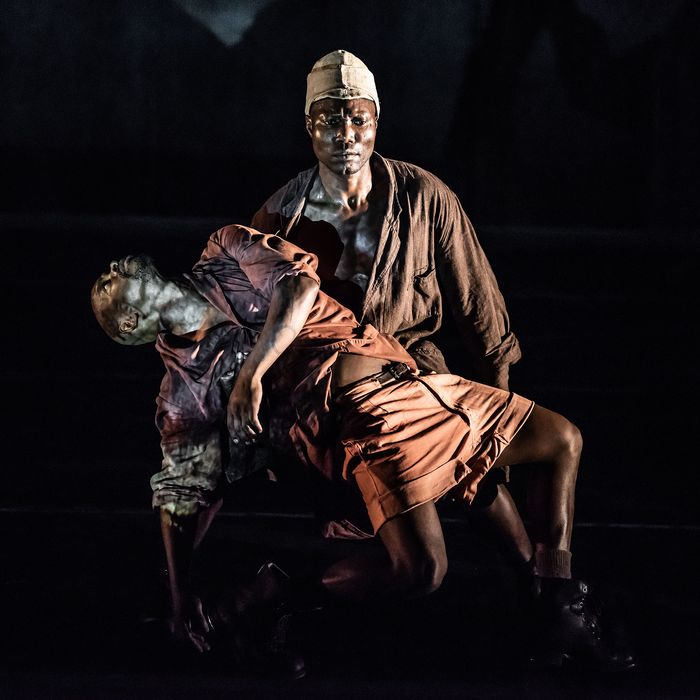 From
The Head and the Load
, at the Park Avenue Armory.
Photo: Stella Olivier
Westerners tend to forget that World War I was a world war and not just a horrific turf battle over a few blood-sodden Belgian and French fields. Well, the South African artist and theatrical magus William Kentridge is here to remind us that much of it was fought in Africa. Many of those who died there were African "carriers," men who hauled the supplies necessary for mass extermination on their shoulders and collapsed from exhaustion and disease. The Head and the Load, Kentridge's grand, sad, and ferociously disjointed spectacle at the Park Avenue Armory, tells that story, sort of, in a barrage of media: multilingual monologues, Dada nonsense, new and 100-year-old music intertwined, shadow play, live theater, dance, and projected drawings. It is a 90-minute collage that, if it doesn't rattle you into existential despair, may at least send you to consult a Wikipedia entry to see what the whole thing's about.
Every once in a while, the piece lands on a moving and simple moment, as when the gifted Guinean musician N'Faly Kouyaté plays a kora solo and sings, or when a corps of dancers performs a synchronized stomp across the extra-long stage. That catwalk brims with superb performers, like the singer Ann Masina who could blow fog away just by humming, and the magnetic actor Mncedisi Shabangu. Kentridge's dance of shadows, his charcoal landscapes, and animated maps all have his usual frenetic elegance. And the production team keeps all that talent and the profusion of spinning wheels coordinated with the aplomb of a Barnum ringmaster.
And yet I kept wishing the show would pause and let me savor a musical interlude without careering away into hectoring cabaret. The Head and the Load, a phrase that invokes everything that bends a poor porter's neck, explodes complicated history into so many urgent fragments that it feels like a frenzied dream. Evil colonists shout in overlapping streams of French, German, and Italian gibberish. Performers from a variety of African nations declaim what we're told are bits of Frantz Fanon in siSwati and Tristan Tzara in isiZulu, though I'll have to take Kentridge's word for that. I don't mind having the world deconstructed before my eyes in a nonlinear artistic experience, but when it feels like I'm supposed to be digesting a historical argument at the same time, my brain goes on the fritz.
The Head and the Load is at the Park Avenue Armory through December 15.