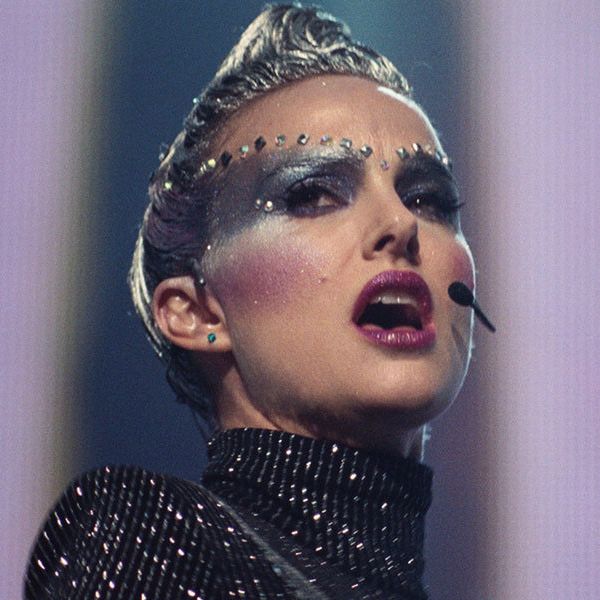 Natalie Portman in
Vox Lux
.
Photo: Killer Films
Vox Lux is an extremely American story that feels like it was produced wherever the farthest is one can physically be from America. Nova Scotia, maybe? The landscapes are as unplaceable as the accents, and yet we know its operatic rise-to-stardom narrative could only happen in the U.S.A. Director Brady Corbet's second feature is about the burden that both pop music and teenage girls bear in the face of national tragedy, but it feels fundamentally alienated from the human body — we see the brutality of its expectations and pressures, but we don't feel the pain. As a story of popular art born in the crucible of violent trauma, it's a fantastic, wildly ambitious idea; as a filmed drama with human characters, it's confoundingly executed at every turn. Vox Lux is a failure, but one I can't stop thinking about.
Thirteen-year-old Celeste (Raffey Cassidy) is an ordinary junior-high student in 1999 when a shooting at her school violently disrupts her and her small town's life. Recovering in the hospital, she and her sister Eleanor (Stacy Martin) pass the time writing a song for her fallen classmates, and when she performs it at a memorial service she becomes an overnight sensation, an emblem of hope for a grieving country. She's snapped up by an opportunistic manager (Jude Law) with a quickness and taken to New York City to be molded into a teen pop sensation.
If Celeste's breakout song has a familiar, melancholy, brain-sticky lilt to it (I can still hum it having only heard it once), that's because Celeste's songs in Vox Lux are courtesy of pop singer/songwriter Sia. As such, they are stunningly competent on paper compared to most fictional pop songs in movies, easily convincing as radio fare both in the year 2001 and later, when the film jumps to the present day. But — that humble debut perhaps excepted — in Corbet's frame they are rendered hollow, insidiously banal. Unlike the pop songs that anchor traditional musicals, or even more diegetic constructions like this year's A Star Is Born, the music does nothing to elevate the emotions and trauma swirling inside the protagonist. Rather, it serves as a stark contrast, a mockery of the idea that one could find comfort in a medium so compromised as the Top 40.
I suspect this is on purpose, and the fact that Corbet is able to stick a pin in the seemingly unconquerable sweep of a Sia melody is some kind of feat. But one thing that has already begun to be discussed regarding Vox Lux, and will continue to be to the extent that people see it, is whether or not it hates pop music. As with A Star Is Born, there seems to be an assumption that the answer would say something about the film's virtuousness or validity to speak on the subject at all — musical poptimism inserting itself on film criticism. It's a misguided question here, and one with a rather obvious answer: Corbet clearly holds pop music industry in as harsh, unforgiving light as he can find. A better question would be: what does he achieve through the film's disdain? What is illuminated through its attempted dismantling of the power of a solid bop?
Celeste gets pregnant after a tryst at an industry party, two commercial jets fly into the World Trade Center, and we are thrown 17 years into the future. Celeste, now played by Natalie Portman, is a hateful, fame-ruined vampire, decked out in harsh vinyls and severe eye make up and getting into it with the press and her daughter (now played by Cassidy) and her sister-turned-handler (still played by Martin, oddly) as she prepares to debut a retrospective megatour. It's here I feel that Corbet emphatically loses the plot, and not just because Portman's bizarre and jarring New England accent would break any cinematic spell cast up to that point. The film becomes so caught up in how unhappy and mean Celeste has become that it becomes any other cautionary tale about the price of fame, instead of the more subversive, ambitious narrative it was building up to that point.
In the film's final moments, a bit of voice-over from our narrator Willem Dafoe offers a bit of deus ex machina — or diaboli ex machina, if you like — hand-waving to explain what happened to Celeste and why. But in the face of all the hot potatoes Corbet has been juggling (9/11! Columbine!) it's weak stuff. I want cinema to explore how these modern American tragedies mean, beyond exploitative, Paul Greengrass–style faithful-reenactment fare. School shootings and the way they are digested by our culture is a subject that shouldn't be too hot to handle; it's just a great and important responsibility to handle thoughtfully and well. Vox Lux has all the pieces to do so at its disposal, but when Celeste's final performance lands with all its tinny, empty exertions, it comes off as just another "Hollywood is a lie" nose-thumbing. Yes, the poptimists will be mad, but worse, Corbet spoon-feeds them the ammunition to be.