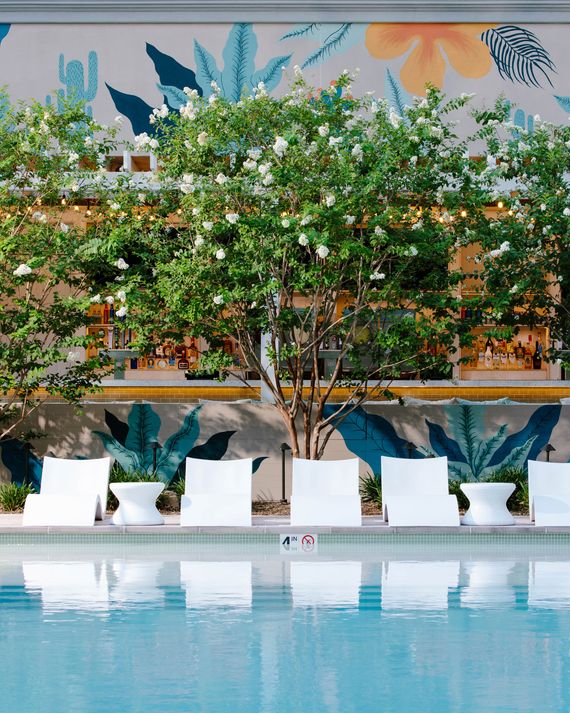 Photo: Courtesy of Park MGM Las Vegas
Before Lady Gaga hits the Hollywood award show circuit, where she's up for a few wins in her feature film debut, the artist will take up her "dream" residency later this month at the new Park MGM Las Vegas hotel. "It's been my lifelong dream to be a Las Vegas girl," she wrote in the announcement, promising a "brand new show." She'll perform two different concerts: "Lady Gaga Enigma," featuring her greatest hits in typical over-the-top Gaga style, and a more toned-down "Lady Gaga Jazz & Piano," where she'll sing at a piano.
We wanted to know more about the place that will house her performances … and found it to be a hotel of epic proportions. It contains not one but two hotels (Park MGM and the NoMad Hotel Las Vegas), plus a theater with 5,200 seats and a cornucopia of amenities so abundant that you could do something new here every day and night of the week. A city within a city, the hotel has multiple pools and poolside bars, shops, a champagne-stocked salon, spa, two casinos, a nightclub, and nearly a dozen restaurants including a new Eataly outpost. Here's what to do at Park MGM every day of the week, whether you're waiting for Gaga (her show opens December 28) or planning a trip soon.
Monday
To amp up a quiet Monday night, go to one of the hotel's buzziest restaurants for dinner: Best Friend, opening December 19. "It's Koreatown in a capsule," says its acclaimed chef, Roy Choi. "Kimchi to spaghetti, BBQ, and late-night food."
Choi's hugely popular Korean-BBQ L.A. food trucks introduced the world to Korean tacos and launched a culinary empire. To enter Best Friend, you'll pass through a colorful bar made to look like a corner liquor store, to an airy dining room.
Tuesday
Juniper Cocktail Lounge is the place to go if you love gin and tonics: it's stocked with the largest gin collection in Las Vegas. With the tagline "To gin…or not to gin," the menu offers drinks with or without the liquor of choice, but the best option by far (if you do like gin) is the "GnT," billed as a "choose your own adventure" cocktail. Bartenders give you a folded paper fortune teller to play with — and each flap determines a specific gin and flavor profile to determine what "GnT" they'll mix up for you.
The European-style garden pavilions and lounges at Juniper are open during the day and at night, plus there's champagne, bottle service, and special DJ performances after the city's pro hockey games.
Wednesday
Starting in December, Park MGM's gleaming lobby will feature "Art Walk Wednesdays" every week, where guests can tour the hotel and learn more about art partnerships throughout the public spaces.
For a mid-week dinner on Wednesday check out Eataly, the franchise's newest outpost that will open in late December. It will have all the high-quality Italian wines, pastas, gelato, and cannoli that people have come to expect from the popular restaurant.
Thursday
The French-American restaurant Primrose serves breakfast, lunch, and dinner at the hotel every day of the week, but Thursday night is the time to stop by for "Vinyl Thursdays," a special event where guests are invited to bring their own vinyl tracks to play for the crowd. DJ Eddie Mac leads the night every Thursday from 6-8 p.m.
Designed to look like a country house in the south of France, Primrose features open-fire cooking and plenty of vegetable dishes. Wherever you sit, make sure to walk through the many rooms: There is a drawing room, main dining room, lounge, outdoor terrace, and garden.
Friday
Bet on a sports game for dinner or drinks at Moneyline Sports Bar & Book, where live bands and performers play only on Friday and Saturday nights as part of the "Moneyline Live Series."
The place has duckpin bowling, a billiards table, and lots of betting options (straight bets, parlays, totals, and money lines), and griddled cheeseburgers and more bar food are served at the Side Betty, a neighboring quick-service restaurant. The cheeseburgers come from Hogsalt Hospitality, the same restaurant group that created Chicago's famous Au Cheval burger.
Saturday
Finally, for a cozy Saturday night dinner surrounded by beautiful books (20,000 of them), go to the NoMad Restaurant. Like its New York location, the restaurant serves a delicious roast chicken for two and fruits de mer, and drinks are by the award-winning bar director Leo Robitschek.
Like a jazz scene straight out of the 1920s, the restaurant is decorated with elegant old-fashioned lamps, 19th-century-inspired art, and the dark-wooden walls are paneled in velvet and leather. While you relax in what looks like the world's most luxurious library, tell your dining companion this fun fact: the luminous bookcases were designed to look like the Portuguese Reading Room in Rio de Janeiro.
Sunday
Have a restful afternoon at The Spa and Salon at Park MGM, where you can unwind in the jacuzzi, sauna, and steam room. The spa services include facials and body treatments, which you also can request poolside or in your room. At the salon, guests can have their hair or nails done while sipping rosé or a glass of champagne.
Finally: Bavette's Steakhouse & Bar is the place to look forward to all week — save it for your last night, and note that the hidden speakeasy parlor bar at the back is only open Friday through Sunday, and the entire restaurant is open for dinner only. The menu features high-quality steaks, lamb chops, and over-the-top tiered seafood towers — also from Hogsalt Hospitality.
This is paid content produced for an advertiser by New York Stories. The editorial staff of Vulture did not play a role in its creation.