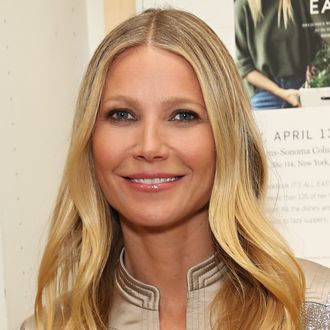 Gwyneth Paltrow.
Photo: Cindy Ord/Getty Images
Gwyneth Paltrow has many powerful friends. Guests at her recent conscious coupling/wedding to Brad Falchuck included Jerry Seinfeld, Cameron Diaz, Robert Downey Jr., and Steven Spielberg. But there is one mega-wealthy businessman whose friendship continues to elude her: Jeff Bezos, it seems, wants nothing to do with Paltrow. In an interview with WSJ. Magazine this week, Paltrow said that, while she can turn to people like Oprah and Disney CEO Bob Iger for advice, her repeated overtures to Bezos have gone unanswered. "I've emailed him," she told the WSJ. "He won't email back." A spokesperson for Bezos reportedly declined to comment.
This is not the first time Paltrow has made reference to wanting to speak with Bezos. Back in February, she told the Wall Street Journal that the Amazon founder is her dream dinner guest. "I just have lots of questions for him. Does he want to be the boss of the whole world or is there a beautiful, poetic strategy for the consumer? I'm totally fascinated — he's an enigma." Maybe she should try dropping his name in the Washington Post next time.
So why is Bezos ignoring Paltrow's emails? Do they go straight his spam folder? Or does he read them and start to respond, but then he gets caught up with this and that, and by the time he remembers to reply, two weeks later, it's already to late and he feels awkward so he just deletes them? Or, does he read her emails and, like Martha Stewart, think to himself, "Who's Goop?"