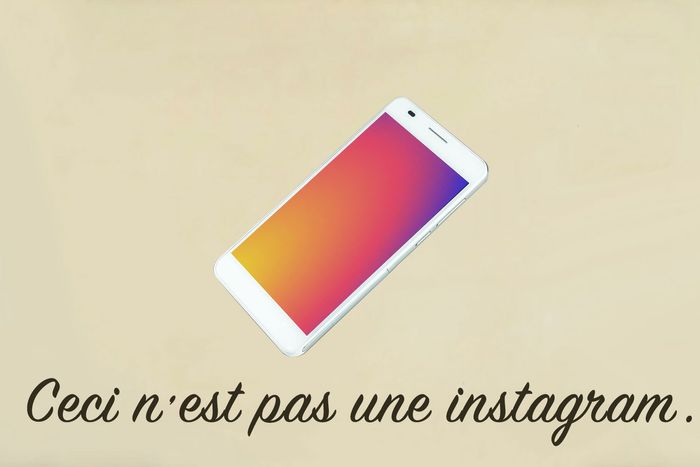 Photo-Illustration: Vulture and photo by Getty Images
The parties, the selfies, the beaches and, oh, yeah, the art. With Art Basel Miami Beach going on, this past week may have felt like an endless stream of champagne-infused Instagram Stories. I mean, if you weren't there posting away, getting your brand out there, are you even really a part of the art world? But some artists have chosen to opt out, as best they can, from web 2.0 self mythologization. They've decided to delete Instagram.
There is a long tradition of artists refusing to play the self-promotion game. Isa Genzken and David Hammons are famous for preferring not to talk to the press; Stanley Brouwn destroyed his early work and his own image. But in today's globalized art world, in which collectors buy work based on pictures scrolled through on their phones, isn't logging off forever rather self-defeating? Refusing to be an artist-as-public figure in the era of social media seems almost reckless — like willful career suppression, if not suicide. As one recent art school graduate put it to me, Instagram has reached the level of "infrastructure." And certainly, Instagram may at first seem like a boon to many artists — a form of social media centered on images. But artists are starting to feel that it's just become an addiction, devouring their creativity.
Brad Phillips is in many ways the poster boy for why artists should be on Instagram. Thanks to the platform, he got a book deal with a prestigious British publisher, mounted solo shows in East Hampton and Oslo, and made direct sales by DM (which means he didn't have to give a gallery 50 percent). He even met his wife, artist Cristine Brache, on the app. He catalogues these various successes in a Vice article from May 2016: "How Instagram Is Changing the Art World" (which is one of the first results when you Google "artists and Instagram"). But in the past two and a half years, Philips tells me that his feelings toward the platform have become more confused. "I don't like it. I don't like that I need it," he says.
Philips didn't join the platform until 2013 — underscoring that he wasn't even an early adopter of the app, which launched in 2010. In his late 30s at the time, the Toronto-based Gen X artist was already established, with solo shows in international art centers and major press under his belt. Once he joined, he quickly amassed a following of 34,000, which, for better or worse, now defines him to some degree. He points out that New York art critic Jerry Saltz, for example, has written about his Instagram but not about his art.
Despite all Instagram has done for him — though it's worth noting that most of his sales still happen through IRL galleries, not over DM — Phillips is quite ambivalent about the platform. "I think about deleting it daily," he says. Exposure, the mythic goal of social media, isn't always a good thing for an artist, according to Phillips. "I think that making artwork and not showing it to the world is liberating. Then there's the instant gratification of posting a painting and getting likes, but this to some extent spoils the work; it's been seen too much." Phillips is also worried about getting ripped off by other artists as well as corporate creatives at big fashion brands, something he's seen happen on more than one occasion. Still, like many of us, he can't help "slathering things all over the internet." Other artists have had more success with their attempts at refusal, though.
Like many millennials, artist Andrea Crespo grew up on the internet. His art, which has been shown widely, including at the Whitney and the Walker Art Center, as well as online via the New Museum, probes digital culture, creating characters from data and appropriating the URL aesthetic of sites like DeviantArt, attempting to unpack the weirdness of being online. All of which is to say, it makes sense that Crespo was initially keen on Instagram. He says he saw it not only as an "extension of [his] presence as an artist in the art world," but also as an extension of his art practice itself. He soon found that there was a double-edged aspect to being so online, and he became concerned by how much he was catering to the endorphin-boosting notifications. "Reward systems in social media were influencing my decisions while art making. I would think about what people would think based off of likes and comments," he told me via email. Because its reception came so fast, and came loaded with so many social and biochemical cues, Crespo began to consider social media activity as an evaluating metric "really bad for art." You begin making art not for yourself, but for the dopamine rush that comes as each double-tap lights up your phone.
It can be bad for art, but it can also be bad for artists. Crespo says Instagram was negatively affecting his spirituality and mental health. The reward systems are addictive. Artist Jake Borndal quit posting to Instagram when he quit smoking. A drug analogy might seem a bit played out, but biologically a "hit" of likes isn't all that different from a hit of nicotine. When you check your phone, a rush of dopamine floods your brain and that instant gratification can drive compulsive behavior. Social media addiction isn't a problem for artists alone, but if the role of the artist is to create, share, and contribute beyond existing boundaries, then the question of whether Instagram offers a new way to think or just produces new limits or anxieties is especially critical.
If an artist is supposed to propose new ways of seeing and creating, it's worrying when social media platforms feel like they're turning us all into sycophantic clones. Borndal describes Instagram as "an unctuous platform," with so many "pity likes." More than just being irritated by the self-promotion and ingratiation, Borndal found that seeing and sharing on Instagram began playing with his conception of the world around him. "I started thinking everyone was thinking the same thing at the same time, that everyone was becoming more similar. It was ultimately diluting my own thoughts."
Instagram is really "not a creative space," as Borndal puts it. It is a space bound by certain social, aesthetic, and user-agreement constraints, all of them prescribed either top-down by Instagram design or policy, or more amorphously by cliquish consensus among a segment of users, in turn shaping the kind of content that might be made and shared. But even when you know it's bad for your brain, it can be hard to quit.
Artist and writer Abraham Adams is now on his second extended absence from Instagram since he joined in 2011. Initially he left not because he felt addicted, but because he "wanted to look at things for a long time," something the app certainly does not predispose its users to. Though he rejoined briefly, he recently left again, and this time time he says he doesn't think he'll be going back.
Adams says his biggest misgiving with Instagram is that it seems to "represent a liquidation of marginal experience." Waiting at a crosswalk suddenly becomes a moment to be transformed into content (or to check in on how your content is being evaluated). There's less time to simply exist outside of production and consumption. Life becomes limned by phone-pickups and the buzz of notifications. "If you could say marginal experience is a kind of public good, then the whole thing seems like a typical piece of neoliberalism. It extends the possibility of instrumentalization to almost all waking moments." It reprograms us to seek out content to be recorded all the time, turning our minds into their own kinds of cameras, knowing that we could always be posting, hoping for the most likes. It also demands a certain immediacy, not only reframing how we see, but how we allow ourselves to process what we're taking in, possibly turning the artist into a half-baked influencer chasing abridged ideas and images. "It requires carrying the possibility of using it along as part of one's way of seeing all the time."
People leave social media for different reasons. They rage-quit. Their account gets canceled. They receive an intervention. Sometimes it's a refusal to perform the self to make unpaid content and uncompensated value for a company worth over $100 billion (remember, Instagram is owned by Facebook). Social media has exacerbated the push towards and refined the means of self-presentation into an art itself, such that being an artist can often seem to consist of making an artist-self on social media, rather than in making art. But when you delete the app on your phone or even your profile, it's never totally gone. They save all your data for that moment of weakness when you relapse. Refusal seems futile when there's no way to disappear completely.