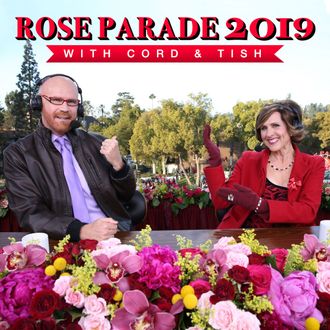 Molly Shannon and Will Ferrell.
Photo: Funny or Die
Will Ferrell and Molly Shannon's alter egos Cord Hosenbeck and Tish Cattigan are set to return next month with their second annual round of live Rose Parade coverage. Funny or Die announced today that The 2019 Rose Parade Hosted by Cord & Tish will stream live on Funny or Die's website and social platforms — including Facebook, Twitter, and YouTube — on New Year's Day starting at 8 a.m. PT/11 a.m. ET. Shannon and Ferrell also covered the Royal Wedding as Cord and Tish for HBO earlier this year.
"Once again, Tish and I are delighted to be participating in the grand tradition of the Pasadena Tournament of Roses Rose Parade. We are excited for the floats, marching bands, but not the horses because I am scared of them," said Cord of the news. "I'm looking forward to another gorgeous morning in Pasadena full of pageantry, camaraderie and laughter! And the horses really are a problem for Cord," added Tish.
Ferrell and Shannon's debut as Cord and Tish at last year's Rose Bowl, which was streamed live on Amazon, ended up baffling a ton of viewers, who left a pile of angry, confused, negative reviews for the livestream, not knowing that Cord and Tish aren't real people. "The hosts were awful not giving any facts about the floats or commenting on wat we were seeing," one reviewer wrote. "Instead they were harassing Tim Meadows about his time on Saturday Night Live (something he told them clearly on two separate occasions that he didn't want to discuss)." Here's to more negative reviews this year!