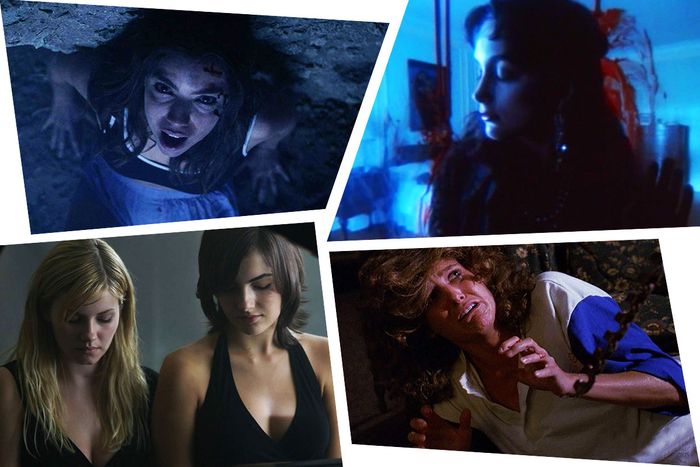 Clockwise from top left:
XX
,
Mirror Mirro
,
Slumber Party Massacre
, and
The Quiet
.
Photo: Magnet Releasing, New City Releasing,New World Pictures, Millenium PIctures,
In recent years, the release of successful woman-directed horror films like Jennifer Kent's The Babadook, Julia Ducournau's Raw, and Ana Lily Amirpour's A Girl Walks Home Alone at Night have often come with an implied air of "can you believe women even make horror films these days?" And even then, it is still somehow possible for major industry players like Jason Blum to claim women filmmakers aren't even interested in the genre (to his credit, he backpedaled pretty quickly in the face of the backlash that followed).
But not only are women horror directors far from uncommon today, they've been around for a really long time. Since the early days of cinema, women were making films about all sorts of spooky, dark things, be they home-invasion movies with split-screen effects that would make Brian De Palma blush, or surrealist experiments in the dark poetry of sex and death. As a companion to Vulture's 100 Scares That Shaped Horror, we've put together a beginner's guide that reflects the scope and longevity of women filmmakers and their work in horror.
A is for Mari ASATO
From killer clowns to queer coming-of-age video game adaptations, Mari Asato is the reigning queen of J-horror.
It's difficult to pick just one film by prolific J-horror director Mari Asato that marks the pinnacle of her craft; is it the bizarre Twilight Syndrome: Dead Go Round (2009), whose surreal killer clown makes Pennywise look like a Care Bear? Is it her punchy, creepy addition to The Grudge franchise, Ju-on: Black Ghost? Or one of her many experiments with film sequels — three in the popular The Chasing World franchise, or her one-two punch of Bilocation and its sequel Bilocation Ura, based on Haruka Hôjô's supernatural novel of the same name? As intriguing — and as diverse — as these all are, Asato's horror magnum opus remains her 2014 film version of the hugely successful video game Fatal Frame, which magically weaves the aesthetics of Peter Weir's Picnic at Hanging Rock, Peter Strickland's The Duke of Burgundy, and the mythology of the original game into a haunting queer coming-of-age story.
B is for BEDEVIL (1993)
The only feature film by one of Australia's most celebrated visual artists shares ghost stories handed down from her indigenous and European families.
Tracey Moffatt is one of the most internationally celebrated Australian visual artists working today. Her photography was recently showcased at the 2017 Venice Biennale and is housed in some of the world's most highly regarded galleries. Earlier in her career, she was also a narrative filmmaker.
After a number of extraordinary short films like 1989's Nightcries – A Rural Tragedy, she would soon make her only feature film — an anthology of three ghost stories called BeDevil. Playing at the 1993 Cannes Film Festival, BeDevil was inspired by stories she was told by both her indigenous Australian and European family as she grew up, and is likely the first feature-length horror omnibus directed by a single woman. (So much of women's film history has been lost from the archive, it's hard to say definitively.) Moffatt blends her striking, signature visual style — drenched in color and excess — with the intersecting cultural strands of the folklore she grew up with, in a film that deserves more recognition in both Australia and horror film history more broadly.
C is for Věra CHYTILOVÀ
What Daisies did for psychedelic female friendship in 1966, Věra Chytilová's 1997 film Wolf's Cabin does for alien slasher films.
A central figure in the influential Czech New Wave, Věra Chytilová was an avant-garde filmmaker who is best known for her 1966 experimental feminist masterpiece Daisies. But Chytilová was not afraid to experiment with genre film in order to speak about power and ideology in engaging, unforgettable ways. In 1987, she directed the sci-fi–slasher hybrid Wolf's Cabin, which brings an alien invasion angle to the tried-and-tested formula of the murdered-teen corpse countdown, using the genre to unapologetically attack the oppressive regimes that dominated her country's history. Chytilová would experiment with genre codes and conventions again in her 1998 rape-revenge film Traps, which — while not a horror film per se — does feature one of the most graphic pig-castration sequences you're likely to see on film.
D is for Germaine DULAC
The mother of surrealism reveled in the dark side, with an influence that would span almost a century.
French surrealist, feminist, filmmaker, writer, and all-round icon Germaine Dulac had no time for either conservative storytelling or heteronormativity. Based on a screenplay by Antonin Artaud (famous for his concept of the "theater of cruelty"), Dulac's film The Seashell and the Clergyman (1928) is broadly considered the first surrealist film and delves into the dark, deep recesses of her gothic fascinations with sex and death. Drenched with hyperpoetic imagery and a fierce spirit of experimentation, the film is marked by animated heads cracked open before our eyes. Reality slips away as our focus is blurred and corrupted, and dancers swirl and twirl in an almost violent, nightmarish frenzy. A masterpiece of experimental horror cinema in its own right, the influence of Germaine Dulac's The Seashell and the Clergyman on the work of David Lynch and Herk Harvey's Carnival of Souls is easy to spot.
E is for EACH TIME I KILL (2007)
Doris Wishman was more than just a sexploitation icon — she made a horror movie when she was 90 years old and dying of lymphoma.
The unchallenged queen of women's sexploitation filmmaking, Wishman also dabbled in horror throughout her career. Initially in her so-called "roughies" — grindhouse staples that were violence-heavy sex films, such as Bad Girls Go to Hell in 1965. But she turned more explicitly to horror in 1983 with A Night to Dismember. Despite the fact the title alone should have made it an instant success, Wishman's experience making A Night to Dismember was far from positive: half the original footage was destroyed, and over a number of years she was forced to cobble what remained into the film version that was ultimately released. She did not return to feature filmmaking for almost 20 years. Shot in 2002 but released in 2008, Wishman made Each Time I Kill just before she passed away from lymphoma at the age of 90. Including cameos by cult luminaries Linnea Quigley and John Waters, its story of a frumpy teen and a haunted mirror is a warm, charmingly twisted feminist fairy tale, the perfect end to an illustrious career.
F is for Luise FLECK
Evil hypnotists and vengeful ancestral ghosts; Austrian pioneer Luise Fleck had a horror movie for everyone.
Austrian director Luise Fleck is broadly considered the second woman to make a feature film after her more famous French colleague Alice Guy. With her husband Jacob, she co-directed two horror films: the ghost story The Ancestress in 1919, shortly followed in 1920 by Anita, whose title character is given endless grief by an evil hypnotist who — with his slicked-back hair and carefully trimmed facial hair — looks like he'd be as much at home in a contemporary tattoo parlor as an Austrian horror film from 1920. Luise co-founded Austria's first major film production company in 1910, and her other film credits include co-directing an adaptation of Jacques Offenbach's dark fantasy The Tales of Hoffman in 1911.
G is for GHOSTWATCH (1992)
The British Halloween teleplay that allegedly triggered suicides and cases of childhood PTSD is a powerful interrogation of the gullibility of media audiences.
Some people might be surprised to hear that one of the most controversial British horror films of all time was directed by a woman. But Lesley Manning's 1991 teleplay Ghostwatch remains one of the most notorious — and terrifying — events in British screen history. Created and written by Stephen Volk, Ghostwatch was a mockumentary that even in its title parodied popular "infotainment" programs like Crimewatch. Despite being a completely fictional story about an investigation into a supposedly haunted house that spreads, through broadcast technology itself, into the television studio, audiences en masse broke into wild panic as they saw popular British television celebrities under direct assault by the supernatural. Still scary as hell as a viewing experience today, and a powerful critique of the gullibility of media audiences, the original broadcast of Ghostwatch allegedly triggered at least one suicide and was supposedly linked to early diagnoses of PTSD in children.
H is for Ann HUI
Hong Kong New Wave figure who had a soft spot for spooky tales of the past and how they impact the present.
Ann Hui is a key figure in the Hong Kong New Wave, and her celebrated career largely stems from her films that focus on social issues, such as her Vietnam trilogy — 1978's Below the Lion Rock and 1981's The Story of Woo Viet and Boat People. But then there's the other side to Hui, the woman who made the 1980 horror-comedy The Spooky Bunch about a Cantonese opera troupe who find themselves caught up in an ancestral curse and a ghost called Cat Shit. Even more impressive is her 2002 horror film Visible Secret, following Hong Kong film superstar Shu Qi as a free spirit who can see ghosts and her investigations into the supernatural. It's a breathtakingly shot film, filled to the brim with striking imagery and unforgettable apparitions of the many spirits they see on their adventures.
I is for ID (2005)
If you think women horror filmmakers aren't interested in gore, you haven't seen the films of Kei Fujiwara.
Kei Fujiwara earned her rightful place in cult film history due to her role in front of the camera in Shinya Tsukamoto's iconic 1989 cyberpunk film Tetsuo, the Iron Man. But she's also a significant filmmaker. Fujiwara wrote, acted, and directed her horror feature-film debut Organ in 1996, a gore film about body harvesting. But as a filmmaker, it is her 2005 film Id that remains her unacknowledged masterpiece. Fujiwara again does not hesitate to indulge in her love of blood and guts in this gore-heavy film about two brutal souls brought together in an isolated Japanese village. Part psychological horror tale and part good old-fashioned splatter movie, there is still something genuinely haunting and wholly unique about Id, rendering Fujiwara an important but too often overlooked figure in the history of women's horror filmmaking.
J is for Amy Holden JONES
Jones staked claim for women filmmakers in the boys' club of slasher filmmaking.
Hand in hand with any mention of Amy Holden Jones's 1982 classic The Slumber Party Massacre is that now almost-clichéd descriptor, "feminist slasher film." It was the first in the franchise of woman-directed horror movies produced by cult legend Roger Corman, for whom Jones was an assistant after being plucked from film school by Martin Scorsese (who gave Jones her first real job in the industry). Famously based on a screenplay by novelist and lesbian activist Rita Mae Brown called Sleepless Nights, Brown's original script was more of an undisguised parody of slasher movies than the version that finally made it to the screen, much to Brown's disappointment, who considered the film far more regressive than her screenplay. But a rare slasher film with women in its key creative roles makes The Slumber Party Massacre an important entry in horror film history, regardless of how one wishes to read its politics.
K is for Gloria KATZ
Forget Howard the Duck; it's all about the dark, weird and, terrifying world of Messiah of Evil.
The late Gloria Katz's major claim to fame is as a screenwriter, working with her longtime partner Willard Huyck on both George Lucas's American Graffiti (1973) and Steven Spielberg's Indiana Jones and the Temple of Doom (1984). Less revered is Huyck and Katz's infamous 1986 commercial and critical flop, Howard the Duck: turns out a  movie about a horny alien mallard really pissed people off. Lesser known, however, is Katz and Huyck's 1973 co-directed horror masterpiece Messiah of Evil. For dedicated horror fans, Messiah of Evil is a bizarre, precious jewel; with little to no coherent plotline to speak of, what it lacks in narrative tautness it makes up for with its audacious visual style and some of the most terrifying horror vignettes ever produced within the genre. Two scenes in particular — one in a cinema, one in a supermarket — are representative of the poetry of low-budget horror at its finest.
L is for LURKERS (1988)
The grande dame of the grind house, from horror to porn and back again Roberta Findlay's ghostly tale is one of her best.
Grind house legend Roberta Findlay made her name with the Her Flesh "roughies" trilogy and the yeti film Shriek of the Mutilated, made with her ex-husband Michael. After Roberta and Michael split, she worked primarily in hard-core pornography, briefly returning to horror before quitting filmmaking altogether. Of her later output, among the horror films The Oracle (1985), Blood Sisters (1987), and Prime Evil (1988), lies 1988's Lurkers, a gloriously trashy ghost story that, despite its raw edges, boasts an intriguing premise about a young woman tormented by memories of her dead mother and visions of floating spirits — the "lurkers" of the film's title.
M is for MIRROR, MIRROR (1990)
The perfect gateway drug into the world of women's horror filmmaking, the protagonist of this '90s masterpiece even out-goths Winona.
The words "Mirror, Mirror" are like a secret password into a passionate feminist-horror fan clubhouse you might not even know existed. Co-starring cult queen Karen Black at her syrupy finest, the film's undeniable star is the enigmatically named Rainbow Harvest, whose angry goth girl Megan forms a powerful supernatural bond with the antique-looking glass of the title. Harvest had a short-lived career before all but disappearing, but in this one role, she made Winona Ryder's Lydia from Beetlejuice look like the wholesome, conservative girl next door. Director Marina Sargenti would later make the made-for-television horror movie Child of Darkness, Child of Light in 1991, and Mirror, Mirror would spawn three sequels, two directed by women: Mirror, Mirror III: The Voyeur (Virginia Perfili, 1995) and Mirror, Mirror IV: Reflection (Paulette Victor-Lifton, 2000). While the later films deteriorated into clumsy soft-core, the first remains as strong as ever, with its unforgettable interrogation of gender, identity, power, and the desperate lengths we can sometimes go to fit in.
N is for Mika NINAGAWA
Master fashion photographer turned filmmaker brings the rise and fall of a teen idol vividly to life.
With her signature flair for bright colors and intricately detailed compositions, internationally renowned Japanese fashion photographer Mika Ninagawa proved her ability to move from still photography to the moving image with her glorious debut feature, 2007's geisha drama Sakuran. But even for those who already admired her work, little could prepare them for Ninagawa's turn to darker genre territory when in 2012 she adapted Kyouko Ozaki's horror manga Helter Skelter to the screen in the film of the same name. Starring famously outspoken actor-model-musician Erika Sawajiri in the lead role as Lilico, on paper, Helter Skelter is a fairly typical rise-and-fall-of-a-young-superstar tale. But it's Sawajiri's unflinching performance that, when combined with Ninagawa's passion for cinematic excess, makes Helter Skelter so special: part Perfect Blue, part A Funeral Parade of Roses, Ninagawa made Helter Skelter something uniquely her own.
O is for OFFICE KILLER (1997)
In Cindy Sherman's only feature film, Carol Kane dazzles as the downtrodden office worker with a taste for blood.
Celebrated American visual artist Cindy Sherman's impressive list of achievements is almost dizzying: her photography has received a near-endless list of awards and fellowships around the world. In 1997, she released her only feature film, the horror movie Office Killer starring Molly Ringwald and Carol Kane, and co-written by Todd Haynes. The film as much belongs to Kane as it does Sherman; her character, Dorine, somewhat accidentally finds herself embarking on a killing spree. Along with her other notable horror performances, including Karen Arthur's brilliant 1978 The Mafu Cage, Kane reminds us of her often underrated skills as a horror actor.
P is for Gaylene PRESTON
The New Zealand filmmaking legend renowned for her documentaries turns to the supernatural.
Alongside perhaps only Jane Campion, Gaylene Preston is one of New Zealand's most significant women filmmakers. On the surface, her 1985 film Mr. Wrong (released in the United States as Dark of the Night) is the story of a haunted car that has strong echoes of Stephen King's 1983 novel Christine (made into a film of the same name that same year by John Carpenter). But Preston brings her own, distinctly feminist vision to the tale of a young woman who buys a Jag on impulse as she tries to adapt to city living after an anxious move from the country. Preston would return to the supernatural again in 2003 with Perfect Strangers, a stalker tale with a perverse, unexpected twist starring Sam Neill and Rachael Blake.
Q is for THE QUIET (2005)
Contemporary suburbia explodes in Jamie Babbit's gothic incest nightmare.
Jamie Babbit started as an intern for Martin Scorsese and a script supervisor for David Fincher. After the success of her 2001 short film Stuck at Sundance, she would find international acclaim as the director of The IttyBitty Titty Committee (2007). But a rhyming queer comedy about breast size was not all Babbit had up her sleeve, and as recent work on series such as Santa Clarita Diet and Ghosted suggest, she has a distinct taste for the dark side. This is nowhere more pronounced than her 2005 feature film The Quiet, starring Camilla Belle, Elisha Cuthbert, Edie Falco, and Martin Donovan, which exemplifies her skills with more brooding subject matter.
Following Belle's deaf-mute teen Dot, who suddenly finds herself living with her godparents and their daughter, dark secrets explode in a range of horrific acts of violence. Vicious, tragic, and heartbreaking, The Quiet is contemporary suburban gothic at its bleakest.
R is for Debbie ROCHON
The hardest working woman in horror moves from in front of the camera to the director's chair with her feature debut, Model Hunger.
One of the great B-grade scream queens of the late 20th century, Debbie Rochon is prolific: As an actor, her extensive filmography reads like bad mad-libs with gleefully trashy titles like Santa Claws (John A. Russo, 1996), Tromeo and Juliet (Lloyd Kaufman, 1996), Head Cheerleader Dead Cheerleader (Jeff Miller, 2000), Witchbabe: The Erotic Witch Project 3 (Terry M. West, 2001), Corpses Are Forever (Jose Prendes, 2003), and Dr. Horror's Erotic House of Idiots (Paul Scrabo, 2004). But don't let the silliness of these titles fool you; Rochon is one of the hardest-working women in the industry and has credits on more than 200 independently produced feature films to prove it. In 2016, she made the transition to the director's chair with her feature-film debut, Model Hunger. An intriguing movie that uses horror to tackle questions of age, gender, and power head-on, it stars fellow scream queen Lynn Lowry as a supposed "has-been" model who refuses to leave her profession to make way for younger talent without a fight.
S is for A SHORT VISION (1956)
Co-directed by Joan Foldes, this British short film shocked a nation with its graphic, animated gore and its powerful warning about the effects of thermonuclear war.
Although uncredited (as women collaborators — particularly wives — often were), co-director Joan Foldes collaborated with her husband Peter on the shocking 1956 nuclear-scare animated short A Short Vision that screened on the Ed Sullivan Show, horrifying audiences with its images of melting flesh and exploding eyeballs. The film was based on a poem Peter had written while traveling in Australia two years previously, and the couple made the film in their kitchen with funding from the BFI's Experimental Film Fund. With its gory flesh-melting details, the animated film does not soften the intensity of its subject matter, which had real-world meaning for those living under the constant threat of nuclear attack that marked the Cold War.
T is for Wendy TOYE
This British filmmaker, stage director, and accomplished dancer made one of the best "haunted painting" films ever.
British artist Wendy Toye had little time for failure. As a ballet dancer, she had performed on the stage of London's celebrated Royal Albert Hall by the time she was 5, and choreographed a ballet of her own that was performed at the London Palladium before she was 10. While broadly establishing her professional reputation later in her life as an opera and theater director, she also developed an impressive résumé as a filmmaker. Her first short film, The Stranger Left No Card, played at the Cannes Film Festival in 1953, earning the praise of figures like Jean Cocteau. Toye would direct seven feature films which, while mostly comedies and dramas, also included the 1955 horror anthology, Three Cases of Murder. One of three directors involved on the project (or four if you include an uncredited Orson Welles), Toye's segment "The Painter" is a master class in the classic haunted-painting subgenre.
U is for UNDERWORLD: BLOOD WARS (2016)
Five films in, and Underworld finally got a woman director. It also, coincidentally, gained a much deeper mythology.
Like most horror franchises, you'd be forgiven if by the fifth instalment of the long-running Underworld series you'd all but given up. It was 15 years ago, after all, that Kate Beckinsale's Death Dealer Selene took her first tentative steps into the increasingly complex world of vampire-lycanthrope political tensions. Blood Wars was the first Underworld film since the lackluster 2012 3-D effort Awakening, and welcomes Beckinsale back to the familiar role, with both vampires and Lycans on her trail; and the film finally brings a sense of real depth to the mythology previously hinted at but never fully fleshed out. The feature-film directorial debut of German-born filmmaker Anna Foerster, her background in cinematography, working on films such as Alien Resurrection (Jean-Pierre Jeunet, 1997) and Godzilla (Roland Emmerich, 1998), can be felt in the film's near-intuitive understanding of how to balance spectacle and narrative.
V is for THE VELVET VAMPIRE (1971)
The sexy world of sexy vampires made sexy in a way never seen before or since Stephanie Rothman's sexy, sexy horror classic.
Cult exploitation filmmaker Stephanie Rothman is often linked to iconic producer Roger Corman, although her influences trace back to more highbrow filmmakers such as Ingmar Bergman, Georges Franju, and Jean Cocteau. The first woman to receive the Directors Guild of American fellowship for student filmmakers, she began working with Corman in the mid-'60s and worked her way up to directing. Her first work in horror was Blood Bath in 1966, which she co-directed with Jack Hill, but 1971's The Velvet Vampire is her magnum opus. Her genre filmmaking skills came memorably to the fore in a vibrant tale of a young naïve couple who find themselves ensnared in the extremely sexy clutches of Celeste Yarnall's undead seductress Diane.
W is for Lois WEBER
The filmmaker whose foundational use of split screen in 1913's Suspense would endure throughout horror for the next century and beyond.
A pioneer of American filmmaking, Lois Weber's silent 1913 proto-home-invasion film Suspense is an extraordinary accomplishment in both the history of horror cinema and filmmaking in general, with its early (if not first) use of split screen. Weber was the first woman in the United States to run her own film studio, and she not only directed and acted but also wrote screenplays and produced over 100 movies. Beginning her career with the support of French filmmaker Alice Guy, many critics have compared the significance and quality of her work to male counterparts like D.W. Griffith. Suspense is an oft-cited entry in Weber's filmography, primarily due to its historically significant use of split screen, but it is an often overlooked — if not outright ignored — important early film in horror history. And its central tale of a woman who hears a man break into her house while her husband is working late is compelling on its own.
X is for XX (2017)
The acclaimed all-woman directed horror anthology that proved once and for all that the days of the boys'-club omnibus feature is well and truly over.
Despite the caliber of its cult superstar actors turned directors, few remember the 2008 horror anthology Prank, with segments directed by Heather "Nancy" Langenkamp of Nightmare on Elm St fame, and Danielle Harris and Ellie Cornell, who starred in Halloween IV and V. The 2017 all-woman directed horror anthology XX fared better, premiering at the Sundance Film Festival in 2017 and demonstrating that audiences and critics alike were hungry for woman-helmed horror movies. A veritable showcase of some of the most talented filmmakers working in the genre today, it included segments directed by Karyn Kusama (Jennifer's Body, The Invitation, Destroyer), Jovanka Vuckovic (The Captured Bird, Self Portrait, The Guest), Roxanne Benjamin (Southbound, Final Stop), and rock goddess Annie Clark's (a.k.a. St Vincent) debut film. The anthology is beautifully framed by an animated dollhouse wonderland brought to life by Sofia Carrillo. But the highlight is Kusama's "Her Only Living Son," a moving reimagining of the evil-child trope.
Y is for YOGA (2009)
K-horror director Yun Jae-yeon's eerie interrogation of the pressure on women to maintain their attractiveness, told through the story of an evil yoga clinic.
South Korean filmmaker Yun Jae-yeon directed the K-horror film Yoga in 2009, following her success with the third part of the popular Whispering Corridors horror franchise, Wishing Stairs, in 2003. While Whispering Corridors brought her widespread attention, it was Yoga where she got darker and much, much weirder. When home shopping hostess Hyo Jung (Yoo-jin Kim) suddenly finds herself out of a job, she turns to self-care and enrolls at a yoga center that guarantees eternal beauty after a intensive one-week course. Under the control of their mentor, Na-ni (Su-yeon Cha), things rapidly spiral out of control as a series of increasingly strange demands are placed on the participants. Dark, strange (and did I say weird?), Yoga is an oddly compelling film about gender, identity, and control.
Z is for Silvana ZANCOLÓ
Italian horror is all about male directors; women like Silvana Zancolò show the other side of the country's genre output.
Italian horror is almost synonymous with male directors: Mario Bava, Dario Argento, Lucio Fulci, and Riccardo Freda. Outside the undeniable influence of iconic actor and screenwriter Daria Nicolodi, when we think of women, the names tend to be those who appear in front of the camera — iconic figures like Edwige Fenech, Barbara Steele, and Florinda Bolkan. Even the most dedicated Italian horror fans might be pressed to name Italian women horror filmmakers, a fact that women including Silvana Zancolò and Luna Gualano seek to challenge. In 2007, Zancolò's English-language feature, The Shadow Within, revealed a director, writer, cinematographer, producer, and editor who embodies the DIY spirit of women's filmmaking. Adapted from Pascal Françaix's 1998 book Les meres noires, The Shadow Within is an evil-child story with a twist, brought to life through striking images and dominated by an overwhelming sense of gothic claustrophobia.