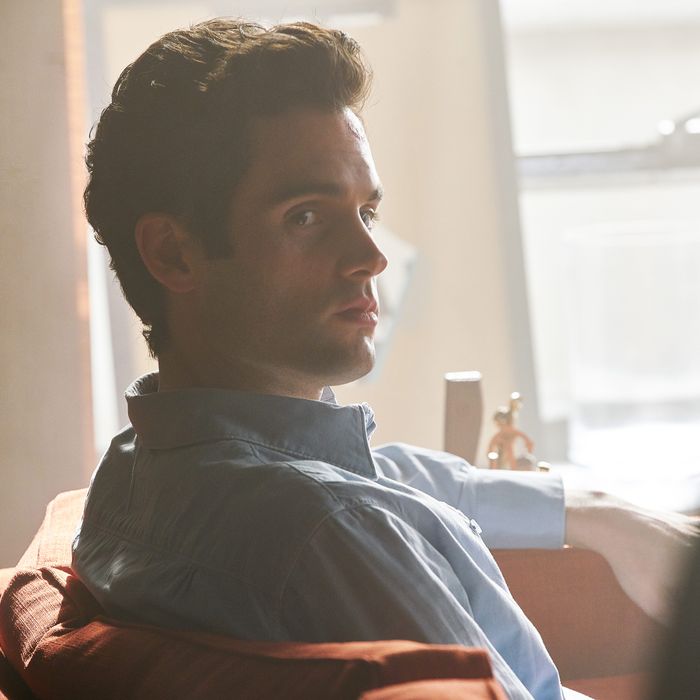 Photo: Courtesy of Lifetime
Spoilers below for You.
You and Penn Badgley's creepy psycho Joe Goldberg have officially found a new home on Netflix. And even though no one knew Joe was homeless — Lifetime backed out of airing the drama's second season — co-creator and co-showrunner Sera Gamble thinks Netflix is a perfect fit, saying You was "always built to be extremely binge-able."
The show's move to Netflix was announced Monday morning, just a few weeks before the first season will become available on the streaming platform. (The show already airs on Netflix internationally.) Lifetime had picked up You for a second season well before its September premiere date, but the show's low ratings convinced the network to change its plans.
After the news broke on Monday, Gamble spoke to Vulture about why she and co-creator and co-showrunner Greg Berlanti are excited about the move to Netflix, how closely season two will follow Caroline Kepnes's second novel of the series Hidden Bodies, and why "the landscape of basic cable will look very different" in a few years.
Last time we spoke, Lifetime had picked up the second season before the first one premiered. When did things change?
Lifetime were fantastic partners for season one and we're really grateful that they made the show with us. I understand season two didn't work for their business model. We had been talking about the show with Netflix the whole time. Internationally, the show has been a Netflix original from the get-go. We made that deal pretty early with them. So they have been creative partners for us all along and really luckily for the show and for all of us, Netflix really digs the show and wanted the show. This just feels like a really great story to tell with the Netflix model. It was always built to be extremely binge-able.
When did you find out that Lifetime was backing out?
A little before it became public. But I think the stars have aligned for the show in that there was no pause for us creatively. We had been full steam ahead for season two. We just switched tracks to Netflix, and I think that's healthy and good for the show.
How far along in the writing process were you when you found out?
Pretty early in the process. I think this happens differently in every case, but I don't think it's that rare anymore for shows to move homes. In this case, there's something kind of intuitively right about being on Netflix. It always felt like that kind of show.
But I do really want to stress that I had a really good time working with our executives at Lifetime and they really stretched for the show. It's a little bit of an unusual show for them in a number of ways. Most obviously, it's about a single male lead. To their credit, they were really [accepting] of some of the risks that we wanted to take, even though in some ways the show was moving and telling a story in places that weren't typical for that network. So I have a lot of gratitude for that.
Are you excited about Netflix also because creatively you can do more? Will Joe get even crazier now?
The show will stay fundamentally the same. Yeah, we can take a few things to the next level, but I do think that we have been telling the story we set out to tell. This is the exact level of crazy we want to be at going into season two. And moving to Netflix is not suddenly going to become some crazy free-for-all where we just do the most shocking thing over and over again every episode. We don't really do shocking things for their own sake on this show. We're telling a story and we're putting a lot of thought into each move that Joe Goldberg makes. Although not having to count the number of times we say the word "fuck" will be fun.
Certainly you can play with the length of the episodes.
You and the other show I've been working on, The Magicians, have had to stick strictly to time [formats] because they air on networks that have commercial breaks. Every now and again, there's an episode that we work really, really hard to do, tell the stories as perfectly as we can in that exact window of 43 minutes, and a couple of more minutes wouldn't have hurt. I don't know that we'll be making these endless 63-minute episodes, necessarily, but having wiggle room creatively takes a little bit of pressure off. If it improves the episode, then great.
All we know about the second season is that Penn Badgley will return and Joe will move to L.A. Are you following Carolyn Kepnes's second book, Hidden Bodies, closely?
We are planning to diverge a little bit more from the second book than we did from the first, which was a very tight examination of this one relationship. But in order to tell that story for TV, we made some changes along the way — and every time a butterfly flaps its wings in season one, by season two there's a tsunami. We continue to discuss our creative direction with Caroline Kepnes, who wrote the book and also wrote an episode in season one. So we're thinking really deeply about how to hold onto the spirit of the second book.
There was a big surprise at the end of the first season: Joe's ex Candace is alive. Does that mean she's part of the second season?
Candace does indeed have a role in season two. I can say she's not feeling particularly disposed to be nice to Joe. Joe wasn't very nice to her, and she's not feeling all that charitably toward Joe.
Some of the basic cable networks that delved into original scripted programming are now withdrawing from that. As a producer who has a successful show on basic cable, you're on both sides. One of your shows is going strong on cable and the other got saved by a streaming giant that is profoundly changing the industry. How do you feel about that?
It's certainly a time in this business where things are changing very quickly. If we talk again in a couple of years, the landscape of basic cable will look very different than it looks today. I think the only thing you can do when you're inside of a system like this is try to make the absolute best TV shows that you can where you are. And I've been so fortunate in the last few years to have really passionate creative partners who work on basic cable. So our specific case this morning aside, there has never been a better time to be a storyteller on TV, especially when you say the word "TV" and that word encapsulates streaming services.
It feels like there is room for more diverse storytelling, more niche storytelling, edgier storytelling. There are less restrictions every day on content and I don't think that's to be celebrated just because I happen to like to say the word "fuck." It should be celebrated because being able to tell the story you're burning to tell in as honest a way as possible is really cool. So I try not to get caught up in the minutiae of what is new today. I was thrilled to tell the story on Lifetime. And I'm super thrilled that we get to tell the story on Netflix. You put your nose to the grindstone and tell the story and try not to think about the rest of it whenever possible.
And those who missed season one on Lifetime will soon be able to binge it on Netflix.
I'm really excited that people will get to binge it right after Christmas when they're on the couch and they can't move because they ate so much food. All of the writers on the show, and certainly Greg Berlanti and myself, we talk a lot about how influenced we are [by] the model of storytelling that's prevalent on Netflix because we're consuming so much on Netflix. They have so many great shows and we also discover so many great shows when they come on Netflix. To me, that binge model of storytelling often involves such a crazy, delightful, delicious cliffhanger at the end of each episode, you have to keep it rolling right into the next one. And, organically, as we were working on season one, the stories just broke that way. I'm still very trained and very mindful of an episodic structure where each episode is something that can stand alone as a story, but the cliffhangers kind of wrote themselves. So I think the binge model is perfect for the show.
And Joe really embodies the Christmas spirit.
Oh my God, you're so right! Yes! The perfect Christmas gift to yourself. Such a great guy!