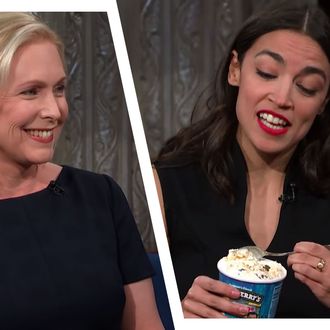 Alexandria Ocasio-Cortez.
Photo: CBS
Having already conquered social media, Representative Alexandria Ocasio-Cortez is proving to be just as big a draw on television. Per Nielsen, the first-year congresswoman from New York delivered a massive ratings bump for The Late Show With Stephen Colbert last night, helping the CBS late-night show match its best numbers for a Monday ever. AOC's appearance on Colbert lifted The Late Show to a 3.1 rating, tying two previous Monday records (December 4, 2017, with Billy Bush and August 14, 2017, with Anthony Scaramucci), according to preliminary overnight numbers for major U.S. cities. Ocasio-Cortez easily improved upon her numbers for her first Colbert appearance last summer (2.6 rating) and, even more impressively, managed to generate bigger overnight ratings than a slew of other recent high-profile politicians who've visited The Late Show in recent weeks.
As part of what's been dubbed the Colbert Primary, a parade of potential 2020 Democratic presidential contenders have been stopping by The Late Show to boost their visibility. But so far, almost none has drawn as big an overnight audience as AOC. California senator Kamala Harris came closest, scoring a 2.9 rating on January 10, a bit better than last week's visit by New York senator Kirsten Gillibrand (in which she officially announced her 2020 candidacy) and Vermont senator Bernie Sanders. The latter two politicos notched a 2.8 household rating. Also dropping by Colbert over the past six weeks: California congressman Adam Schiff (2.7 rating) and former Obama administration Cabinet official (turned presidential candidate) Julián Castro (2.4 rating), who appeared with his congressman brother Joaquin. (Worth noting: The Castros and Schiff weren't lead guests the night they visited, while the other aforementioned politicians were.) The only political figure to outperform AOC with Colbert viewers? Former First Lady (and current best-selling author) Michelle Obama. Her November 30 visit to The Late Show notched a 3.4 rating. Obama, however, has flatly ruled out a presidential bid.
To be sure, comparing all of these visits is a bit tricky. Like other late-night shows, Colbert's numbers go up and down for a number of reasons, including what night of the week it is, what airs in prime time as a lead-in, and who's booked on other shows. But even accounting for such variables, AOC's performance stands out: CBS didn't do particularly well in prime-time last night, with ABC and NBC easily outperforming the network from 8 p.m. to 11 p.m. And while CBS's 10 p.m. program Bull did win the hour with viewers, it did so by a much smaller margin than usual and with a reduced audience versus last week. Nonetheless, The Late Show jumped 10 percent last night versus last Monday's overnight ratings. Nielsen will issue a more precise total viewer number for AOC's appearance later this week.