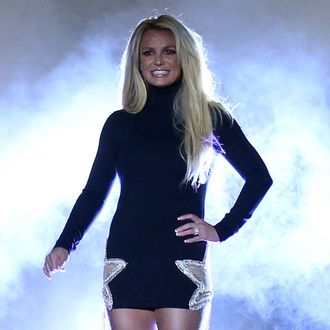 Photo: Gabe Ginsberg/FilmMagic
After deciding to extend her time in Las Vegas with a new, massive-payday residency, Britney Spears is packing up and leaving the city due to unexpected family circumstances. As revealed on her Twitter account this afternoon, Spears has canceled all of her upcoming Domination shows — set to debut in February — in order to look after her ailing father. While she didn't clarify if she'll make up the dates in the future, all tickets will be refunded to those who purchased them.
"I don't even know where to start with this, because this is so tough for me to say. I will not be performing my new show Domination. I've been looking forward to this show and seeing all of you this year, so doing this breaks my heart," she wrote. "However, it's important to always put your family first … and that's the decision I had to make. A couple of months ago, my father was hospitalized and almost died. We're all so grateful that he came out of it alive, but he still has a long road ahead of him. I had to make the difficult decision to put my full focus and energy on my family at this time. I hope you all can understand."
Spears's first Vegas residency, Piece of Me, ran between 2013 and 2017 at the Planet Hollywood Resort & Casino. It's estimated that the Park MGM lured Spears to remain in the city with a cool $500,000 per Domination show. Sad you won't be able to see her anymore? While unfortunate, it's a good thing there's another Vegas diva who can fill that pop void in your heart.