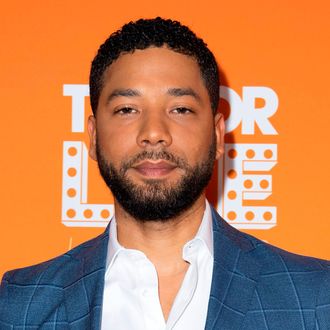 Jussie Smollett.
Photo: Valerie Macon/AFP/Getty Images
Jussie Smollett was hospitalized after an attack in Chicago late Monday night, according to TMZ. Two people wearing ski masks reportedly approached Smollett, who is openly gay and plays a gay character on Empire, outside of a Subway, beat him up, called him "that f—got Empire n—" and put his head in a noose. According to a statement from the Chicago Police, the attackers also "poured an unknown chemical substance on the victim" during the assault and later fled the scene. According to TMZ, the attackers yelled "This is MAGA country," though a Chicago police spokesman told Vulture, "We don't have any information about what the offenders were saying at that time." "We are taking the allegation seriously and we are investigating it very seriously," the spokesman added. "We're treating it as a possible hate crime at this time, but the detectives are still currently working to gather the video and identify potential witnesses and establish an investigative timeline."
Smollett self-transported to Northwestern Memorial Hospital and is in "good condition." ThatGrapeJuice.Net posted a photo of racist and homophobic hate mail Smollett previously received, implying that the attack may have been premeditated.
"We are deeply saddened and outraged to learn that a member of our Empire family, Jussie Smollett, was viciously attacked last night," 20th Century Fox TV and Fox Entertainment said in a statement. "We send our love to Jussie, who is resilient and strong, and we will work with law enforcement to bring these perpetrators to justice. The entire studio, network and production stands united in the face of any despicable act of violence and hate — and especially against one of our own."
In an Instagram post, Empire co-creator Lee Daniels said, "It's taken me a minute to come to social media about this, because Jussie, you are my son. You didn't deserve, nor anyone deserves, to have a noose put around your neck; to have bleach thrown on you … you are better than that. We are better than that. America is better than that. It starts at home. We have to love each other regardless of what sexual orientation we are." Co-creator Danny Strong, meanwhile, tweeted, "The terror of racism and homophobia has no place in our society, it is the most indecent way to live … whoever did this, do not forget that you are nothing but hate filled cowards while Jussie's talent and activism will continue to shine a bright light on to the world for decades to come."
Update, 7:22 p.m.: According to Chicago police spokesperson Michelle Tannehill, detectives spoke to Smollett this afternoon and the actor recalled that the suspects had said, "This is MAGA country now," before they fled the scene. Detectives have now filed a supplemental report. Additionally, police confirmed to Vulture that the actor still had the rope around his neck when police arrived on the scene.
Update, 1/30 1:40 a.m.: Chicago police announced on Twitter that they have expanded their search area and are reviewing video footage in their search for suspects, but have had no luck so far.
Update 1/30, 6:40 p.m.: Authorities are looking into "potential persons of interest" in the attack on Smollett after a surveillance camera captured people potentially linked to the crime.
Update 1/30, 9:20pm: Authorities have released images of persons of interest caught on surveillance video who they say were in the area, and are interested in questioning them.
Update 1/30, 9:28pm: Variety is reporting that Smollett's manager Brandon Z. Moore was on the phone with the actor when he was attacked. He confirmed Smollett's account that the assailants yelled "MAGA country" during the attack. "I heard that clearly. I heard the scuffle and I heard the racial slur," he told Variety, though he refused to elaborate further due to the active investigation.
Update 1/30, 3:58pm: Smollet's family put out a statement decrying the attack on him. "In the early hours of Tuesday morning, our beloved son and brother, Jussie, was the victim of a violent and unprovoked attack," it reads. "We want to be clear, this was a racial and homophobic hate crime." The statement continues:
Jussie has told the police everything from the very beginning. His story has never changed, and we are hopeful they will find these men and bring them to justice. Our family thanks everyone for their prayers and the huge amount of love he has received. We are thankful to our village for your immense support during this trying time. We are so grateful that God saw him through this cowardly attack alive. Jussie is a warrior whose light cannot be dimmed. We want people to understand these targeted hate crimes are happening to our sisters, brothers and our gender non-conforming siblings, many who reside within the intersection of multiple identities, on a monthly, weekly, and sometimes even daily basis all across our country. Oftentimes ending fatally, these are inhumane acts of domestic terrorism and they should be treated as such. They will continue to occur until we hold each other accountable. Make no mistake, words matter. Hateful words lead to hateful actions. Radical love is the only solution, but passivity will be our downfall. We, as a family, will continue to work for love, equity and justice until it reigns supreme in our nation and all over the world.
The Chicago police, meanwhile, have said that Smollett had refused to give over his cell phone to the investigation to provide records of the call with his manager during the attack. "The detective are still investigating, but at this time he has refused to turn over the cell phone," said Chicago police spokesperson Michelle Tannehill. Smollett has not explained why he doesn't want to give police his phone, she said.
Maria Elena Fernandez contributed reporting.