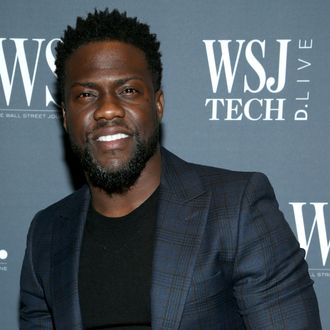 Kevin Hart.
Photo: Phillip Faraone/Getty Images for The Wall Street
Update, 5:51 p.m.: Ellen DeGeneres confirmed that the interview did indeed take place. However, she tweeted that the Kevin Hart Interview will air Friday instead of Monday.
Following his decision to step down as the host of this year's Oscars, it looks like comedian Kevin Hart is set to appear on The Ellen DeGeneres Show, according to the Daily Beast's Matt Wilstein. The choice is notable, considering Hart recently came under fire for his old homophobic tweets shortly after it was announced he'd been selected to host the Academy Awards. Meanwhile, Ellen DeGeneres once literally received an award from the president for, among other things, being one of the first television stars to come out over two decades ago. She also currently has a stand-up special out where she shares quite a bit about the experience. So, it looks like Hart may be trying to rehabilitate his image for 2019, or maybe this will just be really, really tense.