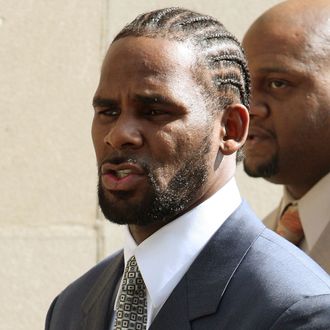 R. Kelly.
Photo: Scott Olson/Getty Images
A criminal investigation has been opened against R. Kelly in Georgia, and it's reportedly because of the interviews featured in the recent Lifetime docuseries Surviving R. Kelly. Per TMZ's sources, the Fulton County District Attorney's Office has been reaching out to several women who dated the rapper and shared their harrowing and disturbing stories on the show, claims that ranged from sexual harassment to sexual abuse. One of these women is Asante McGee, who earlier this week was doxed by Kelly's fans when they created a public Facebook page in an attempt to discredit her, and other women's, claims against Kelly. (The page has since been removed.) The family of alleged victim Jocelyn Savage says they were also contacted by the DA days after the movie aired and asked to provide a list of witnesses to an alleged event that took place at Kelly's Georgia residence in 2017. Additionally, the county's investigators have been "flooded with calls" since the show premiered, although it's unclear if these calls are from new or previously known accusers.
At a Chicago press conference Tuesday night, Cook County State's Attorney Kim Foxx also urged any survivors and witnesses of Kelly's alleged abuse to contact her office to help the county build a criminal case against Kelly. "Please come forward. There is nothing that can be done to investigate these allegations without the cooperation of victims and witnesses," she said. "We cannot seek justice without you." Foxx confirmed that, since the broadcast, her office had heard from two families in the Chicago area who were concerned about a relative's recent contact with Kelly, but did not confirm there's an active criminal investigation into Kelly in Illinois. Kelly's lawyer, Steve Greenberg, called Foxx's plea for help "ridiculous," per CNN. "There's nothing there. When you fish for this kind of stuff the riffraff come out and you end up with wrongful accusations," he said. According to TMZ, at least one alleged victim and the families of two other alleged victims plan to present the Chicago DA with evidence they believe is enough to prosecute Kelly for sexual abuse. No charges have been filed thus far.
On Wednesday, two women contacted both the Cook County DA and the Chicago Sun-Times alleging inappropriate contact by Kelly. One woman said the incident occurred in the mid-1980s at her grandmother's home on Chicago's South Side; the other said her incident happened at Kelly's warehouse studio in Chicago in 2002. In a statement to the Sun-Times, the DA's office said it had received "calls related to this matter" since Foxx's press conference and they are under review.
TMZ also reported on Wednesday that Chicago police visited Kelly's Chicago studio due to its depiction in the documentary as a hub for Kelly's alleged "sex cult," however, the studio was vacant; according to Cook County records viewed by the Sun-Times, Kelly was evicted from the studio on Monday following an ongoing lawsuit filed by the building's owners alleging Kelly owed them rent. Chicago PD will reportedly continue to patrol the area. TMZ reports that police were also called to a Chicago nightclub on Wednesday night, where Kelly was throwing a party for his birthday, after being told there was a warrant out for his arrest. Contact was reportedly made with Kelly, but there was no legitimate arrest warrant and he was permitted to keep on partying.
Kelly has yet to offer a comment on Lifetime's docuseries, and this week's biggest bombshell about the rapper perhaps doesn't even stem from the small screen: Don Russell, Kelly's long-standing manager, reportedly has a history of threatening and intimidating people connected to his client's alleged victims, and even the alleged victims themselves. This comes after the Blast obtained a police report filed by Joycelyn Savage, who claims to have suffered from Kelly's abuse while she lived with him. Days before Surviving R. Kelly premiered, Russell allegedly called Savage's father and said if their family continued to publicly speak about the singer in a negative way, he would "ruin him, his reputation, businesses, and family, because it would show him a liar." That case is also being investigated.
This post has been updated throughout.