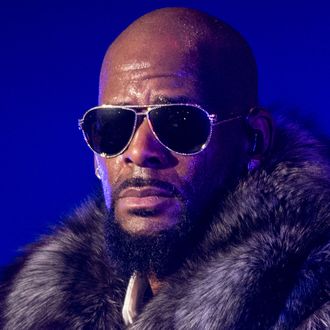 Kelly.
Photo: Noam Galai/Getty Images
R. Kelly's Chicago-warehouse recording studio, which was depicted in the bombshell Lifetime doc as a hub for his alleged "sex cult," will undergo an inspection by the city. On Friday, a judge granted the city an emergency motion to enter the studio following an anonymous 311 complaint that people had been living there. Police visited the studio earlier in the week after it gained notoriety from the doc, but found it was vacant. According to Cook County records, Kelly was ordered to be evicted from the studio on Monday and pay $167,000, stemming from a lawsuit from the building's owners, according to whom Kelly owed back rent. As part of the inspection, the city is seeking to find out if Kelly illegally converted the warehouse space into a studio and residence — complete with a built-in kitchen — without obtaining the proper permits. If so, he'd be in violation of city zoning laws and face up to $1,000 in fines per day per violation.
The inspection is not directly related to the ongoing probe into Kelly's alleged sex crimes (it's also not a search warrant), but the studio has been the subject of controversy as questions remain over whether or not Kelly held women there against their will. According to reports from a bizarre press conference in response to the judge's order, in which Kelly's lawyer, Melvin Sims, ducked out on the media without acknowledging any of their questions, Sims merely said: "There is no truth to any of the specious allegations regarding that premises." The inspection will take place on January 16. Meanwhile, Kelly, who still hasn't said a word about any of this, is supposedly suffering from panic attacks and reportedly contemplating fleeing to Africa amid the ongoing fallout from the doc.
Update, January 17: During their hour-long inspection on Wednesday, city officials did indeed find that R. Kelly violated zoning laws by using the recording studio space as a residence. The city inspectors will next present an itemized list of the violations at a court hearing on Tuesday, after which it will be determined if Kelly has to pay $1,000 in fines per day per violation. Kelly's lawyer, Steve Greenberg, said that the violations do not prove anyone was living there and that "it should not be surprising that it included places for sleeping or taking breaks." He also added that the sexual abuse allegations against his client have not been proved. City inspectors did not detail the specifics of what they found or observed inside the studio. Hours prior to the inspection, one of Kelly's associates was seen removing boxes and computer equipment from the building. It's unclear what exactly that person took and why.
Update, January 22: Following a new hearing, a Cook County judge has determined that Kelly violated 67 zoning codes by converting the warehouse into a studio and residence. New photos and details of evidence reveal that the space had bathrooms with toiletries in it, bathrobes on hooks, piles of clothes and mattresses on the floor, as well as a wet bar, sauna, pool table, and lounge area. "It looks like people are living there, and that's not good," Judge Patrice Ball-Reed said in her ruling. "It's a recording studio. It shouldn't be a party place." Ball-Reed has ordered that Kelly must shut down the second-floor living quarters, but may continue to use his recording studio only during business hours (9 a.m. to 5 p.m.). Kelly's lawyer, Melvin Sims, maintained that what was found proves nothing: "A facility [bathroom] on the premises does not a residence make. A couch on the premises does not make it a living room." The court will now decide how much Kelly must pay in fines; he could face up to $67,000 for each day he was in violation of the codes.