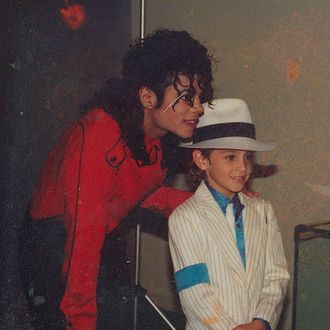 Photo: Courtesy of Sundance Institute
A documentary about child sex-abuse allegations against Michael Jackson premiered at the Sundance Film Festival Friday morning and it is already causing controversy. Leaving Neverland, directed by Dan Reed, features extensive interviews with Wade Robson and James Safechuck, two men who have accused Jackson of sexually abusing them as children. (Per the festival's description: "In separate but parallel stories that echo one another, two boys were each befriended by Jackson, who invited them into his singular and wondrous world … Through gut-wrenching interviews with the now-adult men and their families, Leaving Neverland crafts a portrait of sustained exploitation and deception, documenting the power of celebrity that allowed a revered figure to infiltrate the lives of starstruck children and their parents.") Hours after the doc's premiere at Sundance, someone hacked into Leaving Neverland's IMDb page, changing the title to Liar Liar 2: The Wade Robson and Jimmy Safechuck Story.
The IMDb page's trivia has also been updated to reflect details that seem to undermine Robson and Safechuck's allegations. ("Both of the accusers featured in this film have previously repeatedly denied that they were abused by Jackson. Their civil case and claims against Jackson were dismissed by a judge without trial in 2017," reads one piece of trivia on the movie's page.) In Jackson's 2005 trial, Robson testified under oath that the pop star did not sexually abuse him; Safechuck declined Jackson's request to testify. As adults, both men say Jackson sexually abused them until they reached puberty.
After the premiere, Robson, Safechuck, and Reed sat for an audience Q&A, where there were reportedly health-care professionals on hand.