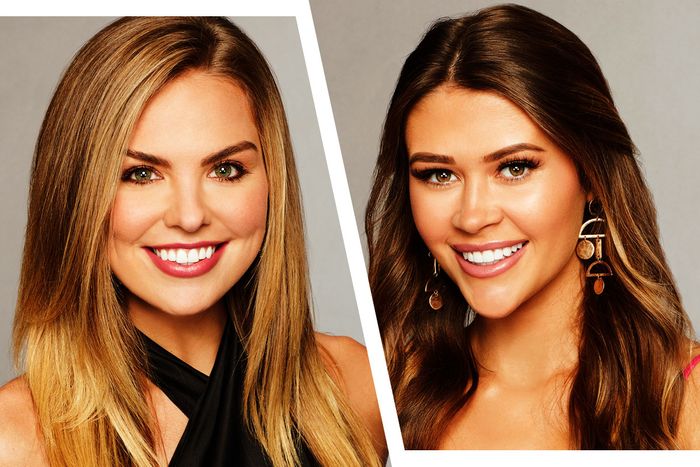 First Miss USA, now
The Bachelor
.
Photo: Craig Sjodin/ABC
We're only a few episodes deep into Colton Underwood's proverbial "journey" to find a fiancée on The Bachelor, but right on cue, the show's producers are feeding us a feud that could've doubled as a B-plot in Miss Congeniality. We're, of course, talking about Hannah B. and Caelynn, who competed against each other as Miss Alabama and Miss North Carolina, respectively, at last year's Miss USA pageant, and whose rivalry has become the glittery reality-TV accelerant for a falling out between the ex-friends and roommates.
The Bachelor has leaned heavily into a sore loser narrative of the women's history, given that Caelynn finished as Miss USA's first runner-up, while Hannah B. didn't place above the top 15. However, upon speaking with two people with close ties to Miss USA, Vulture has learned of a more complicated backstory that sheds light on what actually happened between them.
As a brief recap of how The Bachelor is presenting this feud: Caelynn has said in numerous confessional interviews and private conversations with Colton that Hannah B. was "mad that she didn't place for sure … she wasn't happy." Meanwhile, Hannah B. has been getting an increasingly unfavorable edit from the Bachelor producers — due, in part, to being the first woman to mention her past to Colton — and hasn't minced words about her feelings toward Caelynn. "It's lies that are not true," she told Colton. "Just freakin' trust me, I'm telling the truth."
Austin Ryde, a makeup artist and photographer who's worked with numerous Miss USA contestants — and who says he was Caelynn's friend for nearly a decade before a recent falling out — believes Hannah B.'s defense, and said there wasn't one "incident" that severed the women's friendship. Rather, it was a culmination of "personalities clashing" after the 2018 pageant ended, when Hannah B. sent Caelynn a text message to express her disappointment in how she behaved throughout Miss USA.
"When Miss USA was over, Caelynn came to stay with me and my girlfriend in Los Angeles," Ryde said. "She had just gotten a text from Hannah, which I saw. I can't recall the exact wording, but the general idea of the text was Caelynn made it a very difficult time for Hannah at Miss USA, and Hannah, in a very nice but direct way, said, Congratulations, you placing so high is a huge deal, but I need you to know you weren't a nice person and not very positive, and that took away from my experience. That was the falling out."
Ryde also believes Hannah's comments on The Bachelor are accurate in describing Caelynn's off-camera personality. "I never met Hannah, but the way Hannah describes Caelynn is exactly how I would describe her," he said. "It's unfortunate that people are assuming Hannah is just jealous — I should clarify, she might be, you never know. I don't think she's overreacting, but she made a big mistake being the first person to say something, because that's always the first person to get in trouble."
A third Miss USA contestant who competed alongside Hannah B. and Caelynn in the 2018 pageant, and who requested anonymity to speak freely on the subject, corroborates Ryde's account. "My roommate at Miss USA was good friends with both of them. One of them would come into my room all the time talking bad about the other girl while I was trying to sleep," she said. "The feud didn't start because Caelynn was the first runner-up, that has nothing to do with it. That's a topic that the [Bachelor] producers are taking and running with. That's literally the complete opposite of how it really went down. I think Colton is kind of stupid if he can't really see the difference between the two. One is genuine and completely herself, and the other is manipulative."
The contestant also claims Hannah B. and Caelynn knew each other before rooming together at the pageant. "At the end of the day, Miss USA is a competition. We all know one girl wins. It's not as catty as the producers on The Bachelor are making it seem to be. I think Hannah and Caelynn have known each other for a very, very long time and it started way before that. It started way before the competition," she said. "The producers are making Hannah look crazy, and she's not. She's just goofy."
Like any good pageant contestant, neither Hannah B. nor Caelynn has publicly trashed the other since Caelynn's near-victory — and neither has responded to Vulture's interview requests — but they had to see each other quite a bit in the months that followed Miss USA, owing to all those requisite philanthropic commitments. Their Instagram accounts are now relics of the friendship that was, speaking to a simpler time when they would don silky sashes and glittery crowns in broad daylight just for the hell of it. Because why not!
This story has been updated throughout.