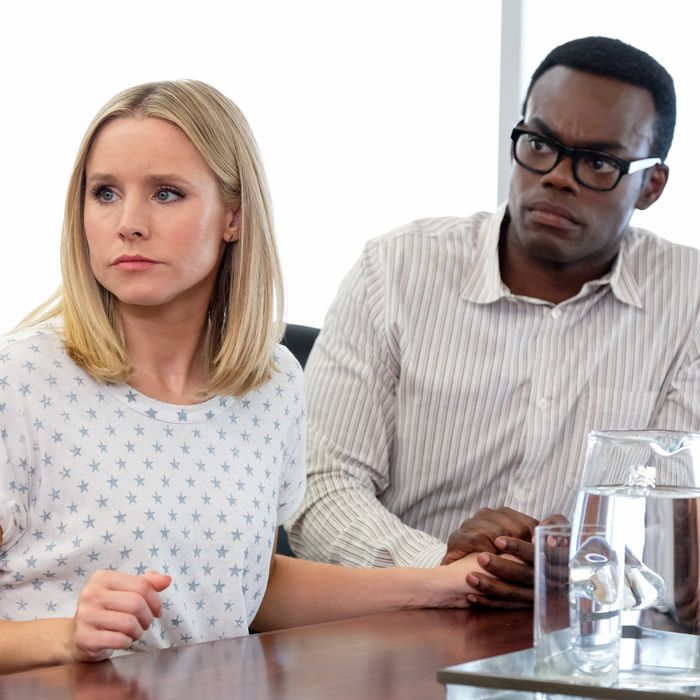 Photo: NBC/Colleen Hayes/NBC
This season's penultimate The Good Place chapter is titled "Chidi Sees the Time-Knife," which is a pretty apt description — of one scene, anyway. About halfway through the episode, while the gang's sitting inside an Inter-dimensional Hole of Pancakes that Judge Gen has refashioned to look like a corporate boardroom, Chidi accidentally steps through a gap in space-time, and is reduced to a tiny version of himself, zipping through the meta-planes of existence. When he returns, he gasps that on his journey he saw trillions of realities folding onto each other like thin sheets of molten metal. "Yeah, yeah, the time-knife," Michael shrugs. "We've all seen it."
A better title of this episode, though, might've been "Rule of Three," named for the comic principle that says jokes are funnier when delivered in the tried-and-true tripartite list format: mention an expected thing, add another expected thing, then throw in a big switcheroo. The Good Place has always leaned heavy on the Rule of Three, because it's a good way to give context to the show's many mind-bending science-fiction and philosophical concepts. (Like, y'know, the time-knife.)
This week, though, the characters return repeatedly to the Rule as a way of clarifying the mundane awfulness of our world. Describing the relative paradise of Michael's original neighborhood, Eleanor and her pals suggest that maybe they became better people after they died because in the afterlife there's no rent, and no racism or sexism … and no awards-show gift-suite publicist infighting. (That last one's Tahani's contribution.) Later, considering the kind of people who'd be a good fit for another one of Michael's neighborhoods, Gen insists, "No serial killers, no dictators … no one who managed a boy band." In a variation on this, Eleanor identifies the worst of the worst as "murderer, war criminal … Instagram DJ."
Look, this kind of gag just works, pretty much every time. It's the Rule of Three: bing, bang, boom. But here, it also suits what this show's really about. One of The Good Place's major points is that we don't need to go to Hell to be tortured. We do it to ourselves every day: with how we treat each other, and what we subject ourselves to voluntarily. We don't always notice how crummy Instagram DJs can be until someone like Eleanor casually files them next to murderers.
In "Chidi Sees the Time-Knife," Michael makes a last-ditch bid to Gen to reconsider how modern humanity gets judged, arguing that the world today is so lousy and so complicated that even people trying their best still get sucked into the muck. With the help of Jason's anecdote about his friend, "Big Noodle" — who was always late to dance team practice because he had three jobs supporting four grandparents — Michael makes the case that nobody has time anymore to figure out what the most cruelty-free tomato in the supermarket might be. (Besides, Jason adds, in Jacksonville "it's illegal to possess a non-fried vegetable.")
The Judge is only fully persuaded, though, once she spends some time on Earth herself. With mounting horror, she describes how down on the mortal plane she immediately Googled "big juicy natural tomatoes" and was directed straight to porn. She says our planet is "hot and crowded … but also somehow cold and lonely." ("Also, I guess I'm black? They do not like black ladies down there.") She did enjoy Hawaii — "although I barely left the resort" — and agrees with Eleanor that it's unfair to blame anyone for indirectly supporting homophobia by eating Chick-fil-A sandwiches, because they're delicious.
The end result of all this politicking and fact-finding is that the forces that govern the universe — including, reluctantly, the Bad Place's Shawn — decide to try another experiment, testing to see if a different random batch of newly dead humans will improve when removed from a broken society, in which, as Michael puts it, there are "plenty of awful people, and thoughtless jerks, and I guess Nazis again, somehow." (Rule of Three!) A fully powered Janet uses her Derek-building skills to create neutral residents for a new Neighborhood, in the backyard of Mindy St. Claire's Medium Place. Meanwhile, the stress of this project begins to overwhelm Michael, as Shawn taunts him with his plans to let Vicky — in a Michael costume — torture Eleanor, Chidi, Jason, and Tahani when the new Neighborhood fails.
"Chidi Sees the Time-Knife" is a busy episode, setting up the finale with a plot that ranges from the outer reaches of the universe (which, according to an appalled Tahani, looks like "a Diane von Fürstenberg pattern … from spring 2013!") to a semi-ordinary exurban backyard. But this chapter also finds time for some quiet moments. Jason asks Janet if she'll date him "if I don't double-die." Janet tells Jason not to feel threatened by Derek, who she created as her combination "son" and "rebound booty call." Eleanor has Janet recreate her old, hideous clown house in the new Neighborhood, so she and Chidi can re-experience the place where they fell in love.
Because The Good Place always has so many different potential avenues to explore — a whole time-knife's worth, really — ending such an eventful time- and space-hopping season by simply returning to the Neighborhood may seem like a cop-out. But the softer romantic scenes between the characters are a reminder of the larger story being told in this ambitiously offbeat sitcom. Eleanor and her friends may be headed straight to perdition once Michael's new plan flops. For now though, they're still together, and realizing more and more how friends make it easier to endure the universe's ridiculousness.
In the Neighborhood
• Not every "list" gag in this episode strictly follows the Rule of Three. Shawn only needs two examples to prove humanity's terribleness: "Limp Bizkit. Slavery." ("Solid rebuttal," Gen nods.)
• Michael calls on another classic comedy construction — the chiasmus — when he tells Shawn that rather than torturing humans with penis-flatteners and bees with teeth, he should try teeth-flatteners and bees with penises. Shawn scoffs … then writes those ideas down.
• The universe is a dangerous place! Even leaving aside Shawn's many bothersome Bad Place bees, just traveling from one dimension to another leaves Tahani with a slimy green creature called a "need-noggle" draped around her neck. Gen helpfully alters Tahani's perception of the beast, though, making it look like "a cute little scarf." But she still shouldn't touch it.
• Michael warns the humans that at this IHOP, "If you eat anything, you will literally explode," to which Jason says, "Yeah, I know, it's IHOP." High fives all around.