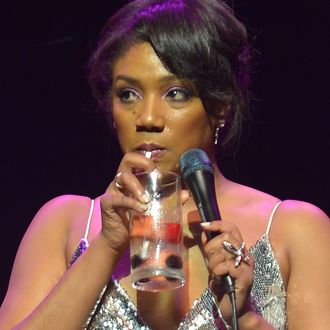 Tiffany Haddish.
Photo: Johnny Louis/Getty Images
Tiffany Haddish may have settled on her New Year's resolution in a very public way. After posting an Instagram video in which she talked about partying until 7 a.m. the night before, Haddish went on stage at the James L. Knight Center in Miami and seemed to forget a lot of her material. According to Deadline, lots of fans walked out of the show in frustration, as Haddish lamented that, "This is gonna be on TMZ or whatever like 'Tiffany Haddish Ate a Bag of Dicks on New Year's Eve!'" Shortly afterwards the Night School star copped to the sub-par performance in a tweet.
Luckily, several fellow entertainers spoke up in her defense on Twitter, noting that bombing is pretty normal. We just don't usually get to see it happen on camera.
So, Tiffany Haddish will probably be fine, at least compared to all the people who did embarrassing things on New Year's Eve who don't have Chrissy Teigen and two Wayans brothers defending them.