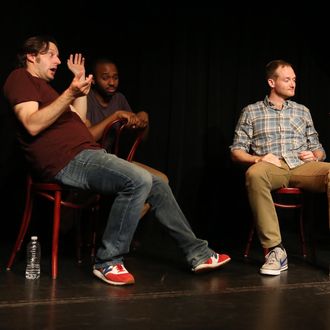 Upright Citizens Brigade.
Photo: Johnny Nunez/WireImage
UCB East, the East Village outpost of the Upright Citizens Brigade Theater, will close on February 9, according to an attendee of an all-theater meeting on Wednesday night. The East Village location opened in 2011, following two years of construction and a small amount of neighborhood drama over a sign declaring the name of the venue's bar: The Hot Chicks Room. However, last month, the organization announced layoffs in an attempt to "streamline our business entities." In addition to the staff layoffs in December, on Wednesday the theater's technical director of almost 15 years, Pat Baer, announced on Twitter he will also no longer be employed by UCB after February 9.
According to the meeting attendee, some running shows from UCB East will move to East Village venue SubCulture for the time being, with UCB co-founder Matt Besser emphasizing the need for strong attendance by audiences. The UCB continues to operate a theater in Hell's Kitchen and an improv and sketch-comedy training center, but its annual improv festival, the Del Close Marathon, has also ended its time in New York.
Update, January 10: UCB has released the below statement on the closing of the UCB East theater to Vulture:
UCB FORMS COLLABORATION WITH DOWNTOWN JEWEL, SUBCULTURE, MOVES TO CLOSE UCB EAST THEATRE




UCB announced today its new collaboration with SubCulture — the unique, independent performance space in NoHo — bringing UCB shows to a new home. Dubbed "UCB at SubCulture," performances kickoff Friday, February 15th with shows regularly running Friday–Sunday.




"SubCulture was created as an intimate home for artists to explore and take risks, and I have long dreamed of a comedy residency at SubCulture. From the start, we have welcomed New York's top talent to our stage to create unforgettable performances that are the stuff of New York legend," said Marc Kaplan, Founder of SubCulture. "Our new collaboration with UCB will ensure that we are bringing the best talent in comedy to our stage three times every week." "This new collaboration with SubCulture lets us continue with our mission with the added benefit of allowing us to return to our underground roots," said UCB4. "We are thrilled to work with Marc Kaplan at SubCulture in their incredible space, and we can't wait to perform there!"




As a result of the extreme costs UCB will close its East Village location, with the regular full schedule ending on Saturday, February 9th. "Due to the long-term cost of rent, property taxes, and other expenses associated with operating a second venue in NYC, UCB has created this new experience at SubCulture to reduce the financial impact," said UCB4. "This move allows us to continue to offer a second venue to our performers and audience. We are forever grateful to the incredible staff, performers and countless dedicated UCB-ers who have committed so much time and effort into making it possible for us to perform and view alternative comedy in NYC."