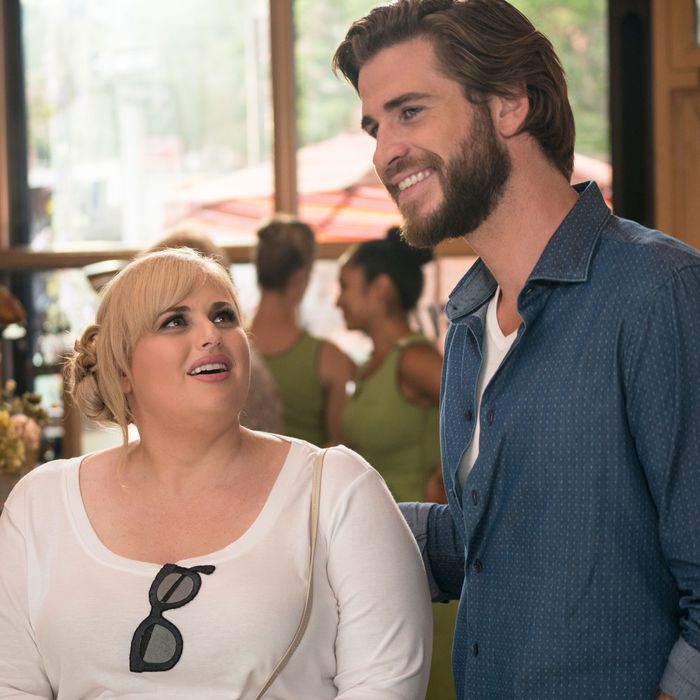 Isn't It Romantic
Photo: Michael Parmelee/Warner Bros.
What's a person to do on Presidents' Day? With the exception of car-dealership sales events and the customary minute-long pensive stare at the nearest American flag, there aren't really any traditions to keep us occupied. Frigid temperatures preclude all-day BBQs in the fashion of Labor Day, too. No better time, then, to kill a few hours with a trip to the movies!
Vulture has gone ahead and whipped up this handy viewing guide for the upcoming long weekend, so that viewers of every preference can find something to entertain and challenge them. Action fans can watch Liam Neeson snowplow his way through small-town criminals, Mads Mikkelsen square off against Mother Nature, or a technologically augmented Rosa Salazar punch a hole in the future. Horror aficionados may select their nightmare of choice from a menu that includes "hotel-room murder gone awry," "infinite time loop of death," or "child bent on consuming your soul." Plenty of indie fare to peruse as well, from informative documentaries to a tough-to-classify but utterly captivating new feature from American treasure Steven Soderbergh. Get reading, and give some hail to the chief:
Arctic
"Can a movie be both enjoyable and excruciating?" That was the question on David Edelstein's mind in his cautiously positive review of this survival tale stranding Mads Mikkelsen in the barren, frost-choked terrain of the far north. He conceded that the grueling, methodical sequences of basic human functioning in extreme conditions "would normally be intolerable," but found a pair of saving graces: "(a) The settings are stunning and the Arctic might not be around too long if the temperatures get much higher, and (b) it's Mads." You'll thank your lucky stars that you've never had to worry about fending off a polar bear hungry for your delicious shank-meat.
Alita: Battle Angel
Robert Rodriguez's big-budget anime adaptation freaked out many moviegoers with the oversize, insectoid eyeballs of cybernetic heroine Alita, played by Rosa Salazar. Emily Yoshida was not among them, instead finding an improbably captivating quality to the film's high-sheen weirdness. Despite some flat characterization and hokeyness, she stated that "the only reason any of this works at all is Salazar and, I hate to say it, those goddamned big eyes. They're the windows to the soul, after all, and this ungainly, lurching cyborg of a would-be blockbuster has more of that than meets the eye."
Piercing
Nicolas Pesce's take on a sexy, sadistic Ryu Murakami novel got its hooks into David Edelstein, who praised the "alternately alluring and repellent" quality of this deadly pas de deux. Christopher Abbott is a family man harboring an unrelenting urge to kill; Mia Wasikowska is the sex worker he's hired to play out his deranged fantasy. Of course, not all goes according to plan, and soon both damaged souls have been sealed in a violent yet playful game of power exchange. Equal parts seductive, horrifying, and wryly funny, Edelstein called the actors' showcase an "an unnerving mix of loveliness and lunacy."
The Lego Movie 2: The Second Part
Emily Yoshida applauded the building-block franchise's ability to grow up along with its primarily intended audience, writing that "five years is a lifetime in kid years, and the first proper sequel … will meet young fans of the original at a time when they feel significantly more grown-up than the little kid they were when they first met Emmet and friends." As a side effect, the new installment is "more cynical," with "the childlike, free-associative playfulness now underscored by a palpable hunger to be the cleverest and coolest kids' movie on the block." Kids — you blink and suddenly they're deconstructing pop-culture tropes.
Everybody Knows
In her report from the Cannes Film Festival, Emily Yoshida appreciated the melodrama of the big opening-night selection, the latest effort from Iranian master Asghar Farhadi. The Spain-set saga of kidnapping and buried secrets contains "enough intrigue to fuel a year of soap-opera episodes," but she was mindful to unpack the comparison. "It's tempting to use the word soapy to describe Farhadi's film," she wrote. "But the joke's on anyone who would read that as a slur: They may not change your life, but soaps are a great way to spend an hour or two." The genre gets a Dangerfieldian lack of respect, but Farhadi's theatrical flair for hot emotions could help change that.
The Prodigy
Another horror flick about a demonically possessed grade-schooler may sound been-there-done-that, but Nicholas McCarthy's "cruelly well-made" film zags where its forebears have zigged. David Edelstein noted that "McCarthy's beats are always in unexpected places," and "grisly revelations are mercilessly drawn out but then come swiftly, so swiftly that even if you're prepared, you're not." He also reserved some space to sing the praises of Taylor Schilling, who's a "fiercely credible" mother to the demon seed. Setting aside a conclusion that Edelstein denounced as "dumb" and "formulaic," miles of style from McCarthy see the production through.
To Dust
Following the death of his wife, a Hasidic cantor is seized by an all-consuming need to know what's happening to her decaying body. So he does the only thing and simulates the process of biological decomposition with the help of a sympathetic science teacher. In his grossed-out yet impressed review, David Edelstein had to hand it to director Shawn Snyder: "I have a great deal of respect for a director who can take a one-joke setup like this and stick with it, scene after icky scene, flouting not just Hasidic law but the strictures of mainstream comedy." Anyone capable of suppressing their gag reflex is in for a good time.
The Gospel of Eureka
In the city of Eureka Springs, Arkansas, a flourishing LGBTQ community peacefully coexists and overlaps with the devoutly Christian citizenry. This uplifting documentary quietly paints a portrait of harmony in the deep South, where drag balls and same-sex marriage aren't seen as incompatible with New Testament plays and Sunday services. Bilge Ebiri celebrated the film's spirit as "meditative and fabulous in equal measure," singling out the "easygoing tone" as what "distinguishes it from many other documentaries about timely social issues." A desperately needed salve for Trump-era division, it inspires a little flicker of hope that we might still be able to get along.
Happy Death Day 2U
David Edelstein had just as much fun with this serial-killer spin on Groundhog Day the second time around, writing that "the new film repeats some of the original material but with even more madcap permutations." Unlucky coed Tree has fallen into another time loop in which she's repeatedly murdered (and on her birthday, no less!), but in this sequel, she tumbles into a complicated multiverse of adjacent dimensions. She's in a "world that's a variation, for better and worse, on her old one," and it opens up a host of ways to play with its core premise that kept him engaged up to the climax he likened to Scream.
High Flying Bird
Courtesy of Steven Soderbergh, this verbose account of an attempt to end a fictitious NBA lockout and restore negotiating power to the players' union intermittently left David Edelstein behind. "High Flying Bird is an unshapely piece of storytelling," he wrote, "there are gaps in the plot, and it never locks into a rhythm." But the overall sentiment was one of admiration for the "righteous resentment" of Soderbergh's script with Moonlight scribe Tarell Alvin McCraney. He describes the tone as "chill, bordering on mournful," and then adds that "that mournfulness and resentment seep into you." It's the only basketball drama to end with recommended reading for reorganizing institutional power structures.
Horror Noire
Specialty streaming platform Shudder has performed the invaluable public service of housing this film essay chronicling the influence of black artists and culture through more than a century of horror film. Drawing on Robin R. Means Coleman's book of the same title, the film offers penetrating insights on everything from the inhumanity of Birth of a Nation to the sleek pride of Blackula and lots of underseen titles in between. Bilge Ebiri described it as "an excellent example of how to make cinema history accessible, informative, and even moving for a broader audience." If that's not enough to sell you, it's also "a lively, occasionally powerful history lesson, and an essential reclamation project."
Isn't It Romantic
"The world certainly doesn't need another romantic-comedy spoof," wrote Bilge Ebiri about Isn't It Romantic, starring Rebel Wilson as a woman who — what else? — hits her head and finds herself trapped inside a romantic comedy. Despite the well-worn territory, Ebiri enjoyed the film overall, writing that it "nestles a playfully meta rom-com satire inside what appears to be another rom-com, and in its deconstruction of the genre hides the suggestion that, maybe, such movies still have their place." He added, "It's the Inception of rom-coms. Sort of."