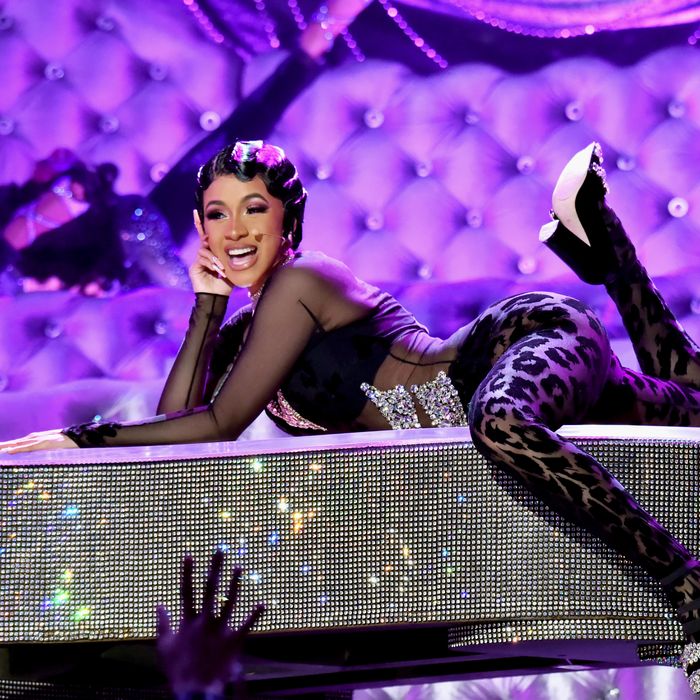 Photo: Lester Cohen/Getty Images
It is not possible for the Grammys to exist without some form of controversy. This year, outgoing Recording Academy president Neil Portnow, no stranger to exactly the kind of controversy we mentioned in the previous sentence, took up a lot of valuable airtime with a tribute to himself, at the expense of longer speeches from award winners. Mention of 21 Savage, who is currently detained by ICE, was largely nonexistent, Drake had some choice words for the Recording Academy, and there was plenty of pre-show controversy as well. All that aside, this was the, uh, vibiest Grammys that we can remember, due in no small part to Alicia Keys extremely laid back hosting technique. Here are your highs and lows of the 2019 Grammys. Congrats to Kacey Musgraves on her well-deserved Album of the Year win.
HIGH: Gaga calling out Seacrest's crap interviewing skills.
In today's lesson on how not to ask a question without asking it, here's Ryan Seacrest on the red carpet with Lady Gaga not asking her if she's performing "Shallow" with Bradley Cooper at the Oscars but instead simply presenting it as fact and then shoving a microphone in her face for a reaction quote. And here's Lady Gaga immediately schooling him on why that's just bad interviewing, dude. -Dee Lockett
HIGH: This Pink tweet and Instagram.
Rudely, Pink lost her 20th Grammy tonight but, per usual, no one could care less about it than Pink. In fact, she celebrated the loss in style by nursing her baby back to health and receiving a homemade tinfoil Grammy from her daughter, which I think we can all agree is worth more than that hunk of gold. -DL
HIGH: "Build Bridges Not Walls" during Camila Cabello's opening performance.
The Grammys don't typically like to get political but Latinx acts Camila Cabello, Ricky Martin, J Balvin, and Arturo Sandoval didn't give a damn what the Grammys like in their opening performance. They snuck in a message directly aimed at Trump and his proposed wall at the Mexican border. Did you catch it? -DL
LOW: Cardi brought Offset as her date.
Now that their "split" has apparently been Gorilla-glued back together, Cardi B brought her once-estranged husband, Offset, as her Grammy date. The two were seen tonguing each other down on the carpet, he was seen wagging his tongue at her while she performed, and she could be heard not letting his name roll off her tongue once during her Best Rap Album acceptance speech, opting instead for the more fitting "you, husband." Meanwhile, during the show, Offset used footage of Cardi giving birth to sell his new album. Ohhhh … you. -DL
HIGH: Ariana Grande celebrating her Grammy win in her Grammys dress at home
What do you have to say for yourself now, Ken? -DL
HIGH: Michelle Obama saying "Motown."
Are we so starved for any reminder of the Obama years that the mere presence of Michelle Obama and utterance of literally any word will collectively render us stupefied? Ugh, yes. Help! -DL
LOW: Joy Villa is back on her bullshit.
Who is this and why is she doing this? -Sam Hockley-Smith
HIGH: Janelle Monae's Performance.
HIGH: Alicia Keys, literally high.
All cards on the table: at the beginning of the show, I was sure that Alicia Keys would bring low energy to the entire ceremony. Her initial speech was a master class in calmly saying a whole lot of nothing in front of an entire faction of the entertainment industry. But as it went on, it started to feel like Keys was hosting a party at some '70s mansion that probably had at least one circular bed and at most 15 opulent fish tanks. In other words, I'm not going to say that Keys was actually stoned — who could know for sure? — but she certainly was channeling the energy of a blasé dinner party host for the entire four hour runtime of the Grammys. When Cardi B threatened to harsh the mellow of the show by having real emotions, and joked that "maybe I should start smoking weed," it was hard not to imagine Alicia Keys pulling a woven basket of jazz cigarettes from that red cape she was wearing as soon as Cardi B walked out of the frame. Award shows are about spectacle, sure, but maybe now they can be about high level relaxation and low level contentment, too? -SHS
LOW: Post Malone ignoring #Free21Savage.
Post Malone performed "Rockstar," his song with 21 Savage, from the catacombs of the Staples Center, and, just before he joined Red Hot Chili Peppers on stage, you could hear, ever so briefly, the "21" adlib that would have kicked off 21 Savage's verse had he not been detained by ICE agents last week. It was a glaring moment of silence amid a show marked by glaring moments of silence toward a guy who could name a good number of performers and nominees as a friend and collaborator. Doing the bare minimum shouldn't be this difficult. -SHS
HIGH: Cardi B's piano woman
Were you expecting Cardi B to bring a classically-trained pianist to the Grammys to steal the show? Probably not! And that's the beauty of Cardi B and, sometimes, the Grammys: They want its nominees to move away from expectation. Which brings us to Cardi performing "Money" with a woman named Chloe Flower, who, as it happens, has been covering Cardi songs on the piano for months. Thank Cardi later for putting you on. -DL
HIGH: Alicia Keys's piano covers medley.
Big night for pianos! But, of course, leave it to Alicia Keys to show up every other pianist who'd taken the stage before her. Using her hosting duties to bring "Club Keys" to the Grammys, she performed a jukebox medley of random hits from Juice WRLD to Coldplay, playing on two (2!) pianos. Sure, the whole bit might've been filler for Ariana Grande's cancelled performance, but you'd never know the difference. -DL
HIGH: Drake telling the Grammys they don't matter.
Drake's love-hate relationship with the Grammys went from "back on" to "it's complicated" in a matter of seconds when he made a surprise appearance to accept Best Rap Song for "God's Plan." Midway through a loose sports analogy about how the Grammys are more about popularity than stats, and so you shouldn't take it personally when they inevitably ignore you, the Grammys played him off stage. He can last be heard saying "you don't need this right here" and then left hanging on a "but." But what?! To be continued probably never. -DL
LOW: The deafening silence around 21 Savage's arrest.
Though he was a Record of the Year nominee and "Rockstar," his song with Post Malone was performed on the broadcast, not a mention of 21 Savage's current ICE detention was made until the eleventh hour. And it came from one of the night's least recognizable faces: Swedish composer Ludwig Göransson, who accepted Record of the Year for "This Is America" on Donald Glover's behalf. Thanking Savage among the song's featured artists in his speech, Göransson correctly noted that he "should be here." It also shouldn't have taken almost four hours into the broadcast for one of Savage's peers to get on stage and say it. -DL
LOW: Travis Scott's performance was fine, but didn't translate well.
Astroworld is a fascinating album. It's a coronation of Travis Scott — the moment when he was able to step out of the shadows of all of his influences and create something that felt like his own, even as it drew from a lot of very obvious people and places. All that said, Scott's live performance is a huge factor in his popularity. The guy has a lot of energy on stage, and he's thus far been able to scale it up as his shows get bigger and bigger. His Grammys performance, on the other hand, while technically fine and even interesting (why not climb around on a cage if you can?), felt a bit hollow — an attempt to bring some edge to a stage that goes out of its way to negate the very concept of unpredictability. -SHS
LOW: Jennifer Lopez doing a Motown tribute.
If you spent your entire life in an isolation chamber devoid of access to any media ever, and then you came out of said chamber long enough to see Jennifer Lopez's Motown tribute, you'd probably think it was pretty good, because without context it was. But you're reading this, so presumably you've only been in a sensory deprivation chamber, or some other kind of chamber, for a brief period of time, which means you know about pop culture and history and where Jennifer Lopez, a very good pop artist, sits in relation to Motown. Knowing all this, you've got to ask: "Is Jennifer Lopez really the best person in recorded music to do a Motown tribute?" You know the answer and so do we. -SHS
HIGH: Cardi B's entire speech.
We've had a whole lot of chances to see Cardi B accept well-deserved awards this year, which also means we've had a lot of time to think about Cardi B: celebrity and Cardi B: award winner. Sure, Drake might be right about the Grammys as an institution, but it doesn't mean that Cardi's moment wasn't worth celebrating. Her speech, easily the most genuine (and genuinely surprised) of the night captured that fleeting feeling we're searching for when we watch these things. -SHS
HIGH: Dua Lipa and St. Vincent impregnating me.
It was in that moment when Dua and St. (may I call you, St.???) touched shoulders and locked fingers that I felt their force cause my IUD to dislodge. Next year, might I propose an honorary Grammy exclusively for the person who dreamt this collaboration up. -DL
HIGH: Alicia Keys's cape.
Capes! -SHS