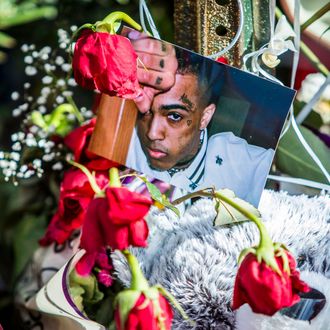 XXXTentacion.
Photo: Ian Witlen/REX/Shutterstock
Though XXXTentacion wasn't nominated for a Grammy, many fans still expected to see the late rapper's name recognized during the show's in memoriam segment. Instead, he went ignored, and according to Variety, his absence was intentional: His team had reportedly sent multiple requests that the Grammys at least acknowledge XXXTentacion's death during the broadcast in its in memoriam package, but were turned down due to the allegations concerning his alleged violent past. XXXTentacion was murdered at 20 last June, and had been awaiting trial at the time of his death on charges that he brutally assaulted his then-pregnant girlfriend. As Vulture originally reported, his reps launched a campaign to get XXXTentacion nominated at the Grammys, submitting him for multiple categories, including Best New Artist. He was ultimately deemed ineligible for technical reasons for BNA and received no other nominations.
Recording Academy president Neil Portnow was asked last December if XXXTentacion would be included in the in memoriam segment and described the decision as a "difficult task." He continued, "We track those that we lose in our industry in any given year and then we have a process by which we go through it. Our on-air in memoriam — we're lucky if we wind up [featuring] 10 to 15 percent of those we lose. Because it's always hard choices." He noted that any artist who was "prominent and well-known by the public," would likely be recognized, but that he'd have to see how the XXXTentacion situation "played out." Though he was not mentioned on the broadcast, XXXTentacion's name is included on a longer list of "those we lost" on the Grammys site.