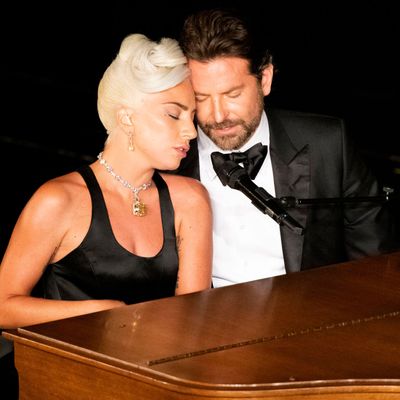 The Academy Awards didn't quite live up to its promise of keeping the ceremony under three hours this year, but without a host, things felt brisker than ever. Still, between Lady Gaga and Bradley Cooper's extremely earnest performance of "Shallow," and Bohemian Rhapsody and Green Book sweeping the night, there was some tonal whiplash along the way. Here are the highs, lows, and whoas of the 91st Academy Awards.
HIGH: Billy Porter arriving on the red carpet dressed as every character at a murder-mystery party at once.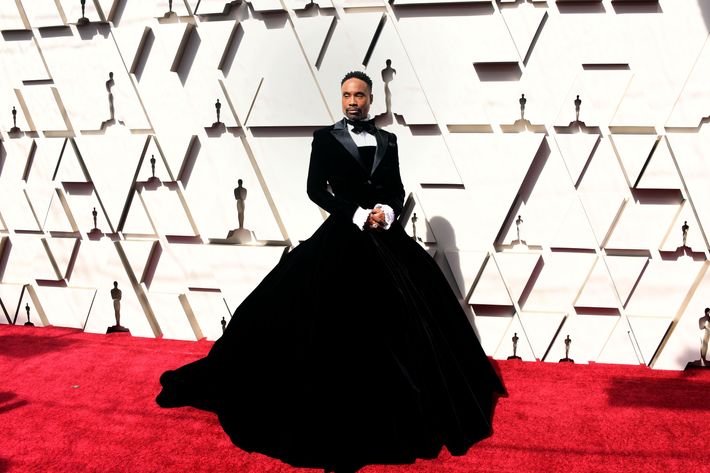 WHOA: The hostless ceremony opening with Queen (and longtime touring buddy Adam Lambert) belting out "We Will Rock You" and "We Are the Champions." Did we dig their groovy tunes? Yes. Did it also remind us of Bohemian Rhapsody and Bryan Singer? Also … ugh, yes.
HIGH: Maya Rudolph, Tina Fey, and Amy Poehler presenting the first awards of the night — joking about how they aren't technically the hosts, but delivering better jokes than any other hosts would.
LOW: Whiskey Cavalier? (Seriously, there were so many ads for this show, which we think is about how Scott Foley can still get it?)
WHOA: Melissa McCarthy and Brian Tyree Henry celebrating the "nuance and sophistication" of costume design by wearing [squints] an elaborately cartoonish animal gown and behatted antebellum look. "These artists create a pastiche of textiles with authenticity, yet never distract from the story," McCarthy reminds us, as a rabbit hand-puppet appears out of thin air.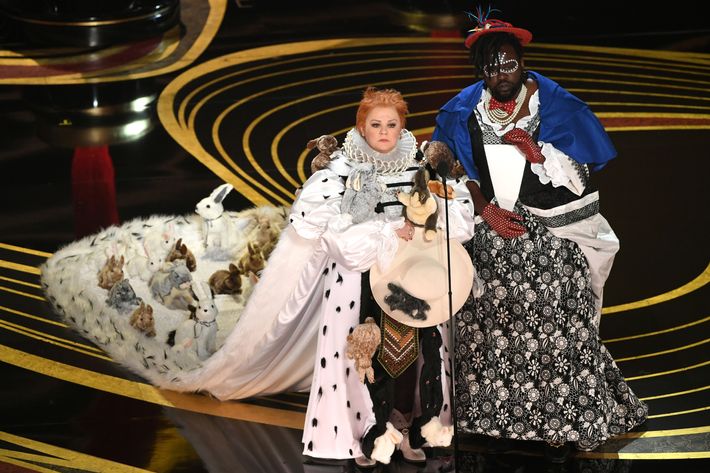 HIGH: Keegan Michael-Key Mary Poppins-ing himself into the ceremony. That's a showbiz entrance, baby!
HIGH: Pretty much every extremely over-dramatic moment and gesture and gaze and shudder and wail Bradley Cooper and Lady Gaga performed during "Shallow," but especially the extremely sensual nuzzling that occurred at the end. (1) We really need a more thorough backstory to all of this. (2) Where was this energy for the rest of awards season?
HIGH: Spike Lee, channeling Waluigi as his sartorial inspiration, jubilantly celebrating his first Oscar win (after five previous noms) for BlacKkKlansman for Best Adapted Screenplay. "Before the world tonight, I give praise to our ancestors who helped build this country," he said, after a brief dalliance with ABC's censors. (He said "don't turn that motherfucking clock on," by the way.) "We all connect with our ancestors, we will have love and wisdom regained, we will regain our humanity, it will be a powerful moment." Awards season wouldn't be half as fun without Lee.
LOW: Rami Malek wins Best Actor for Bohemian Rhapsody, and gives a nice-enough speech about how Freddie Mercury inspired him and how we can inspire many other people, but avoids mentioning Bryan Singer, the still-credited director that was fired from the movie, who been accused of sexual abuse and molestation. If there were ever a time to take a stand and say anything remotely brave to support actively victimized people, that would have been a good one!
HIGH: Barbra Streisand and Spike Lee connecting from the stage to the audience as Streisand shouts out "Brooklyn!" while presenting BlacKkKlansman. Name a more iconic duo.
HIGH: In a surprise (but very welcome) upset, Olivia Colman wins Best Actress for The Favourite, coming up to the stage in shock and announcing "this is hilarious." She's come a long way from Brit-coms, and really, this should happen again, because she should be giving all the speeches.
LOW: Green Book wins Best Picture, an awkward cap to a ceremony with some thrilling and baffling choices, and its producers expound further in speeches that manage to shout out Steven Spielberg, and somehow, Carrie Fisher — which, leave her out of this!
WHOA: With no host to close the ceremony, Julia Roberts is forced to come back to the microphone and wrap things up by herself. It's very much a custom haute couture PTA chaperone at the school dance vibe.