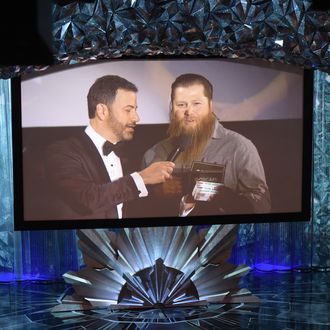 Photo: Kevin Winter/Getty Images
Owing to a spectacular amount of criticism from Hollywood insiders, people you really don't want to piss off if you wanna work in this business, kid, the 2019 Oscars are back to being super long all over again: The Academy of Motion Picture Arts and Sciences reversed its decision to relegate the cinematography, editing, live-action short, and makeup and hairstyling categories to commercial breaks, which means we'll have to deal with about 20 more minutes of winners getting cut off by the orchestra when they talk too long. Despite the Oscars being a mere six days away, though, little is known about what to expect with the ceremony, as a slough of other drama has plagued the Academy since earlier this year. Lucky for us, the New York Times was able to chat with the ceremony's lead producer, Donna Gigliotti, about her vision, and she's making one thing clear about the easiest cut to make: Non-famous people.
"I love everyday people," explained Gigliotti, noting how Jimmy Kimmel frequently did Oscars vignettes involving ordinary folks. "I ride the subway with them every day in New York. Everyday people don't get me ratings." What Gigliotti believes will deliver ratings is a new approach to the lead-up to Best Picture, which will feature speeches from non-actors sprinkled throughout the ceremony. "Eight people from outside the world of entertainment will give the presentations," the Times reports, "speaking about what the films mean to them." Serena Williams is confirmed to do such a thing for A Star Is Born, so let's see who calls dibs on Green Book.