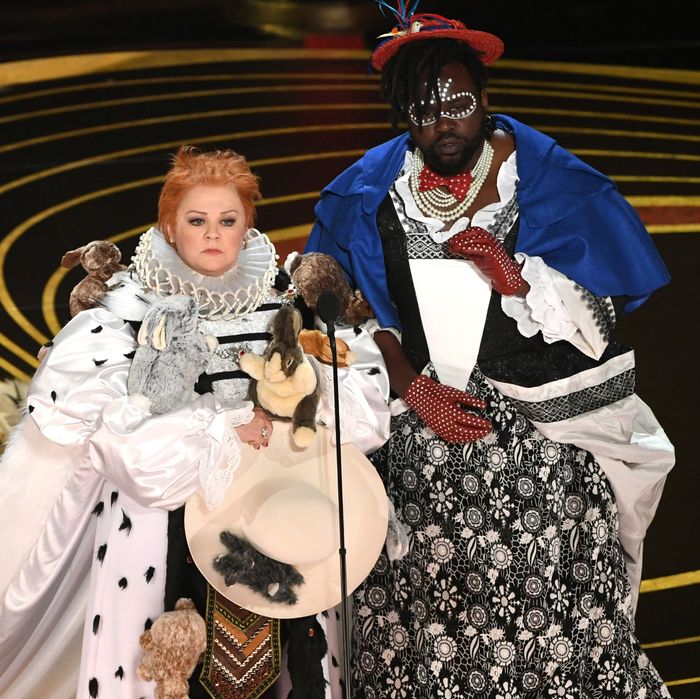 Melissa McCarthy and Brian Tyree Henry presenting Best Costume Design.
Photo: Kevin Winter/Getty Images
Whither the host-less Oscars?
That was the question in the minds of viewers who followed the behind-the-scenes melodrama leading up to Sunday's ABC telecast, which also included an ill-fated push to add a "Best Popular Film" award and relegate four competitive categories to commercial breaks. The Academy of Motion Picture Arts and Sciences, ABC, and the show's production team caved on all of those proposed changes and more, but the decision to proceed without an emcee (following the exit of previously announced host Kevin Hart over past homophobic statements) actually proceeded, to the surprise of many. There were last-minute rumors that Whoopi Goldberg, cohost of ABC's The View and a previous Oscar emcee, might step up at the last minute, but that didn't happen, either. Producers Donna Gigliotti and Glen Weiss (the latter returning for his fourth go-round as director) went ahead with a ceremony that felt stripped-down and more elegantly paced than the usual, despite running about the same three-hour length as other recent Oscar broadcasts.
An opening musical appearance by the surviving members of Queen plus Adam Lambert at first seemed a harbinger of a clusterfuck for the ages. "Hey, a movie about Queen is up for a bunch of Oscars," it declared, displaying about the same level of sophistication as Bohemian Rhapsody, a small-minded biopic half-directed by accused pedophile Bryan Singer and apparently finished by his longtime editor (John Ottman, whose Best Editing win amounted to a gold-plated thank you for rescuing a troubled movie). But once the show started handing out awards — the action that movie buffs, star-watchers, and gamblers had tuned in to see — the telecast settled into a pleasingly laid-back groove and never left it.
This year, we were spared the familiar ritual of half-smiling, half-squirming through an opening monologue (and often, an opening video skit as well) by hosts who either knew how to read the room (Johnny Carson, Billy Crystal, Ellen DeGeneres) or prided themselves on not trying (David Letterman, Seth "I Saw Your Boobs" McFarlane). And it was now easier to recognize that committing to a host also meant committing to a series of human-shaped speed bumps that must be surmounted between categories, after ad breaks, and deep into the telecast, when it invariably became clear that things were running long again and that, according to tradition, someone would have to go onstage and make a self-deprecating joke about how things were running long again.
Not having to put up with any of that was like being surgically relieved of obstructions that you didn't realize were making your body work harder than it needed. Call it a host-ectomy. Or maybe a Kevin-otemy?
Don't misunderstand: I'm not saying Hart deserves a thank you for helping lead us to this discovery, but it does seem fair to describe the discovery itself as a silver lining. The absence of a host allowed the whole broadcast to feel less like an attempt to pack a suitcase before the house burns down and more like an intimate, mutually supportive evening among hundreds of well-dressed and well-off artists. Some of them were notching historic wins, such as Black Panther's costumer Ruth E. Carter and its production designer Hannah Beachler, the first African-Americans to win Oscars in either category. And it was nice to be able to experience their moments without picturing an invisible clock counting down.
With a host eating up anywhere from 15 to 30 minutes of telecast time, would Spike Lee, co-winner for Best Original Screenplay for BlacKkKlansman, have been able to warn the producers, "Do not turn the motherfucking clock on," and then (seemingly) be permitted to give a heartfelt, informal-sounding, very Spike-ish speech putting his own family's history within the context of four centuries of American discrimination? At that point in the evening, the two-thirds mark, probably not. In any case, the musical numbers likely wouldn't have felt like little gifts nestled in between the acceptance of statuettes. And we might not have had the mental bandwidth to savor smart directorial touches, like the decision to favor wide shots during Gillian Welch and David Rawlings' performance of "When a Cowboy Trades His Spurs for Wings" from The Ballad of Buster Scruggs (the better to let viewers appreciate the depth in that "frontier" backdrop), or the one-take choreography of Bradley Cooper and Lady Gaga performing eventual Best Song winner "Shallow" from A Star Is Born (the camera placed behind Gaga's piano, looking out at the audience, a vantage point seemingly inspired by the film itself). And we might've felt more impatient with the sight of Alfonso Cuarón going up to the podium to accept three different awards for Roma — for Best Foreign Language Film, Best Director and Best Cinematography — even it's churlish to begrudge such an obviously brilliant person multiple turns in the spotlight.
Of course, none of this could take the sting out of Green Book winning for Best Original Screenplay and Best Picture—as my colleague E. Alex Jung noted, condolences to Spike Lee for losing to Driving Miss Daisy twice. But at least it suggested that this yearly broadcast, which had been characterized by its own stewards as a musty, long-winded relic in need of drastic revision, wasn't broke and didn't need fixing, except in one area that nobody had considered until after it was all over.