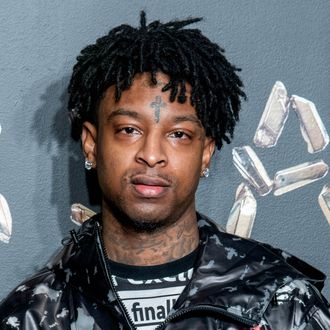 21 Savage.
Photo: Roy Rochlin/Getty Images
Last weekend, fans felt slighted on 21 Savage's behalf when the Grammys came and went with barely a mention of the double nominee or his detainment by ICE officials over his immigration status. (Producer Ludwig Göransson was the only person to mention 21 Savage by name, and you might not have even spotted Post Malone's "Free 21 Savage" shirt, as it was under his jacket.) Following his release on bond after nine days in custody, the British-born, Atlanta-raised musician says he honestly wasn't bothered by the fact most of his peers didn't offer any verbal support. "Nah, I was stressed about getting out," he tells the New York Times in a new interview. "The Grammys is the Grammys, but when you in jail, the Grammys is nothing."
"I don't care what nobody say — everybody in that building who's connected to this culture, I was on their mind in some type of way," 21 Savage continues. "That's all that mattered. They didn't have to say it 'cause everybody knew it. It was in the air. All the people that was there, they said the words in other places and that matter just as much. All the big artists was vocal about the situation, so I was appreciative."
Instead, the rapper, who says he became aware he lacked legal status as a teen, "probably like the age when you start to get your driver's license," after overstaying his visa, is focused on staying in the country. "My situation is important 'cause I represent poor black Americans and I represent poor immigrant Americans," he says. "You gotta think about all the millions of people that ain't 21 Savage that's in 21 Savage shoes." He is currently reportedly waiting for an expedited hearing.
Oh, and despite how hard you all went, 21 Savage says he even liked your memes about how British he is. Or, at least, he acknowledges them. "Some of them was funny — I ain't gonna lie," he jokes. "I was appreciative of that."