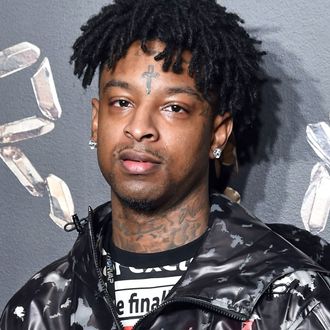 Photo: Stephen Lovekin/WWD/REX/Shutterstock
After being arrested and detained by ICE, 21 Savage has been released on bond. His attorneys told TMZ that the rapper has been granted an expedited hearing. "21 Savage asked us to send a special message to his fans and supporters — he says that while he wasn't present at the Grammy Awards, he was there in spirit and is grateful for the support from around the world and is more than ever, ready to be with his loved ones and continue making music that brings people together," his lawyers told the site. "He will not forget this ordeal or any of the other fathers, sons, family members, and faceless people he was locked up with or that remain unjustly incarcerated across the country. And he asks for your hearts and minds to be with them." 21 Savage was arrested by ICE on Super Bowl Sunday, and was detained for nine days.
At Sunday night's Grammy Awards, only one winner — Childish Gambino producer and Black Panther composer Ludwig Göransson — mentioned the rapper's arrest. (Post Malone reportedly wore a "Free 21 Savage" shirt, according to photos released after he performed his 21 Savage collaboration "Rock Star.") After the lack of mention of Savage sparked outrage online, his co-manager Kei Henderson wrote on Twitter, "We reached out to several artists to perform Savage's verse and/or stand in solidarity on stage on his behalf." ICE says 21 Savage was arrested for overstaying his visa.
Update, February 13: 21 Savage is officially out of ICE detention and heading on a private jet back to his Atlanta home with his mother, as seen in a photo obtained by TMZ. His lawyer, Alex Spiro, told TMZ, "That's how we take people home when they win." 21 Savage will now reportedly meet with family and friends as he awaits his expedited hearing where, according to TMZ, his lawyers plan to fight ICE's claims that he is a convicted felon.