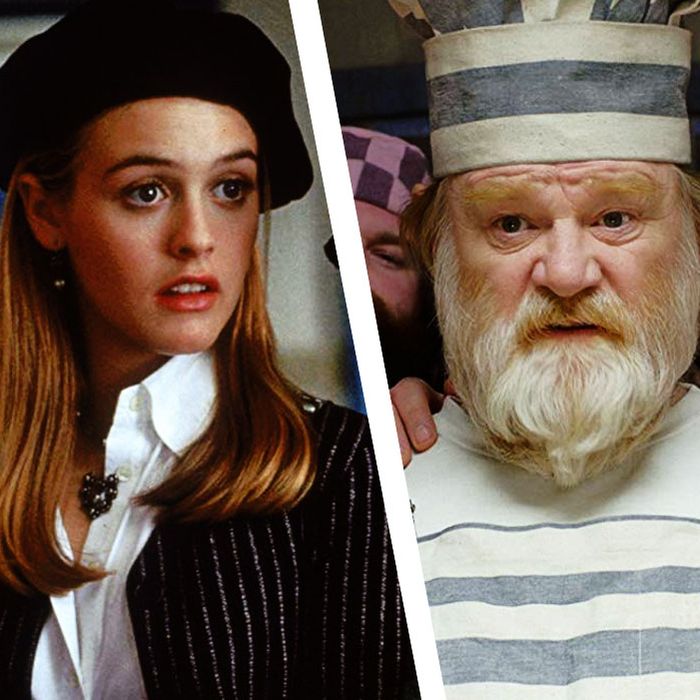 Why do the Oscars hate comedy? Is it because the ceremony is for Serious Prizes for Serious Films, and comedy is, by nature, not serious? The underrepresentation of comedy at the Oscars remains a persistent oversight, especially since some of the finest, most memorable performances in film feature actors being funny. Comedy is just as valid a lens through which to explore the human condition as drama, yet the Academy Awards rarely acknowledges this, an omission that applies to films and directors as well as to comedic performances.
We went back 30 years to give out some retroactive Oscar nominations — one per year — for some dazzling comic performances. Here's who we'd nominate if we had a time machine (à la Michael J. Fox in Back to the Future, who would be our nominee for 1985 if we were taking this conceit back that far).
1989: Meg Ryan, When Harry Met Sally
Best Actress nominees: Jessica Tandy (winner, Driving Miss Daisy), Isabelle Adjani (Camille Claudel), Pauline Collins (Shirley Valentine), Jessica Lange (Music Box), Michelle Pfeiffer (The Fabulous Baker Boys)
When Harry Met Sally is a perfectly crafted film, and every element is impeccable. The cinematography. The lighting. Harry Connick Jr.'s soundtrack. The irresistible love story. It's the Lord of the Rings of romantic comedies, and Meg Ryan is its Frodo. The whole movie rests on Sally's being able to charm the audience into falling in love with her as much as Harry does — while also convincingly falling for the vaguely odious Harry (Billy Crystal, in sweatshirts and dad sneakers). In doing so, Ryan is at times flighty, selfish, hilarious, sad, lovable, hard to love, and in one famous scene, faux-orgasmic. In other words, Ryan has to do a lot, and play that character as she matures and changes over the course of more than a decade, which becomes nothing less than an epic journey through the ridiculous human heart. But still — no Oscar nomination. Hey, at least the Golden Globes recognized Ryan. Despite the Globes' many failings, it's at least got those extra categories for lead performances in a comedy (or musical), so funny actors and actresses can be guaranteed some acknowledgement during awards season.
1990: Macaulay Culkin, Home Alone
Best Actor nominees: Jeremy Irons (winner, Reversal of Fortune), Kevin Costner (Dances With Wolves), Robert De Niro (Awakenings), Gérard Depardieu (Cyrano de Bergerac), Richard Harris (The Field)
John Hughes's screenplay for Home Alone convincingly depicts how a kid could feasibly be left alone on Christmas and what a kid might do in such a situation. But the actor playing young Kevin McAllister still had to be beyond great in order to carry the entire movie without coming off as too cute or obnoxious. Culkin gets it exactly right. He's charming and funny, whether he's talking to himself, goofing off, or defending the house against genuinely scary criminals. Perhaps most impressively, Culkin carries large chunks of the movie solo. Tom Hanks and James Franco got recognized for their one-man shows Cast Away and 127 Hours, respectively. Why not Culkin? It might be because Home Alone was written off as a blockbuster, or a kids' movie, or a Christmas movie, or all of the above. But really the lack of a nomination speaks to an underestimation of child actors. (The Golden Globes, at least, got it right, nominating Culkin for Best Actor in a Comedy or Musical.)
1991: Raúl Juliá, The Addams Family
Best Actor nominees: Anthony Hopkins (winner, The Silence of the Lambs), Warren Beatty (Bugsy), Robert De Niro (Cape Fear), Nick Nolte (The Prince of Tides), Robin Williams (The Fisher King)
The Addams Family helped kick the trend of making movies based on boomer-beloved TV shows into high gear, paving the way for lightweight movie versions of agreeable fluff like Maverick and The Flintstones. The Addams Family is still the best of the bunch, however. It's darker, weirder, and creepier than the TV show, coming much closer to the spirit of Charles Addams's cartoons. Raúl Juliá is a delightful ray of goth sunshine, portraying Gomez Addams as a joyful, lustful, devoted family man who just loves to live. It's the kind of effervescent performance that's just as life-affirming (and worthy of recognition) as a heartbreaking one.
1992: Whoopi Goldberg, Sister Act
Best Actress nominees: Emma Thompson (winner, Howards End), Catherine Deneuve (Indochine), Mary McDonnell (Passion Fish), Michelle Pfeiffer (Love Field), Susan Sarandon (Lorenzo's Oil)
Although she won an Academy Award for being the best thing in Ghost, Sister Act is why everyone loves Whoopi Goldberg. Goldberg stars as a nightclub singer who brings a joyful noise by pretending to be a nun in a throwback to classic farces and movies set around churches — both of which were plentiful in Hollywood's Golden Age. Also, people got Oscar nominations for church-set movies back then. Jennifer Jones got one for playing a nun in The Song of Bernadette, and Bing Crosby won Best Actor for his role as Father Chuck O'Malley in Going My Way. And the Bingster is one of the all-time greats in terms of all-around entertainers, much like Goldberg.
1993: Bill Murray, Groundhog Day
Best Actor nominees: Tom Hanks (winner, Philadelphia), Daniel Day-Lewis (In the Name of the Father), Laurence Fishburne (What's Love Got to Do With It), Anthony Hopkins (The Remains of the Day), Liam Neeson (Schindler's List)
Popular opinion holds that Bill Murray entered his phase as a melancholy actor and elder statesman of comedy when he hooked up with auteurs who knew how to use him, like Wes Anderson and Sofia Coppola. But this arguably started with Groundhog Day, with a performance that required him to go beyond the smarmy, sarcastic persona he'd perfected in films like Ghostbusters and Scrooged, and which was also arguably more dynamic and deliberate than his turns in Rushmore and Lost in Translation. In those two movies, Murray's characters are rich dudes who quietly become slightly better men; in Groundhog Day, he has to survive and somehow escape a hellish nightmare of a time loop occupied by the likes of Ned Ryerson and "I Got You, Babe" — so, you know, much higher stakes.
1994: Johnny Depp, Ed Wood
Best Actor nominees: Tom Hanks (winner, Forrest Gump), Morgan Freeman (The Shawshank Redemption), Nigel Hawthorne (The Madness of King George), Paul Newman (Nobody's Fool), John Travolta (Pulp Fiction)
Martin Landau got a Best Supporting Actor award for playing Bela Lugosi in Tim Burton's biopic about the famously terrible director Ed Wood. But, for his work as Wood, Johnny Depp got nothing. Yes, Landau is great and subtle as the dying Lugosi, but Depp is all exhilaration and enthusiasm as Wood, a filmmaker whose passion far outstrips his abilities. It could come off as a joke, this delusional and untalented man who also wears pink sweaters and skirts — but Depp plays it with love and respect.
1995: Alicia Silverstone, Clueless
Best Actress nominees: Susan Sarandon (winner, Dead Man Walking), Elisabeth Shue (Leaving Las Vegas), Sharon Stone (Casino), Meryl Streep (The Bridges of Madison County), Emma Thompson (Sense and Sensibility)
Clueless is based on Jane Austen's Emma, and it's not only the best adaptation of that book, it's among the best Austen adaptations ever. A modern-day Los Angeles high school stands in for Regency England, an inspired and practical choice for writer-director Amy Heckerling, who previously helmed Fast Times at Ridgemont High. It all hinges on an exceptionally charming performance by Alicia Silverstone as teenage life-improver Cher Horowitz, a role that may have been underestimated by the Academy because most of Silverstone's previous parts had been in Aerosmith videos.
1996: Robin Williams, The Birdcage
Best Actor nominees: Geoffrey Rush (winner, Shine), Tom Cruise (Jerry Maguire), Ralph Fiennes (The English Patient), Woody Harrelson (The People vs. Larry Flynt), Billy Bob Thornton (Sling Blade)
Once Hollywood realized the Juilliard–trained Robin Williams could do more than stand-up, silly voices, and Mork, he was a revelation in dramas like The World According to Garp and Dead Poets Society. But he could actually do everything, including all kinds of comedy. It's clever casting that in the English-language remake of the French drag farce La Cage aux Folles, Williams does not play one of the broad, zany characters — Nathan Lane and Hank Azaria portray Albert and Agador, respectively, and quite well — but instead Armand, the most conventional member of the bunch, a man trying to hold it all together but slowly coming undone. His restraint and self-control is remarkable and extremely funny.
1997: Minnie Driver, Grosse Pointe Blank
Best Supporting Actress nominees: Kim Basinger (winner, L.A. Confidential), Joan Cusack (In & Out), Minnie Driver (Good Will Hunting), Julianne Moore (Boogie Nights), Gloria Stuart (Titanic)
On the rare occasion that the Academy does nominate a comedic performance, it's almost always in the supporting categories. It's a roundabout way of acknowledging an indelible, much-talked-about actor or actress in a commercially successful, slightly edgy film. Take Joan Cusack, who very much deserved her nomination for her broad role in In & Out as a jilted bride whose fiancé (Kevin Kline) realizes he's gay. (Another real-deal comic nominee in a similar vein: Melissa McCarthy in Bridesmaids.) Minnie Driver's work in Grosse Pointe Blank was simply too subtle and strange for the Academy to handle. Like Cusack's Emily in In & Out, Driver's Debi Newberry must face the fallout of the male protagonist's journey. After leaving her on prom night to start his life as a professional killer, Martin Blank (John Cusack) returns to town ten years later. Driver, who should have been nominated for Grosse Pointe Blank instead of Good Will Hunting, is bewildering, fascinating, and powerful, flirting with Martin to disarm him, then confronting him about what he did. The actress makes a lot of odd choices, talking in funny voices and mumbling, all of which bring a natural, lived-in chemistry to her scenes with Cusack.
1998: Jason Schwartzman, Rushmore
Best Actor nominees: Roberto Benigni (winner, Life Is Beautiful), Tom Hanks (Saving Private Ryan), Ian McKellen (Gods and Monsters), Nick Nolte (Affliction), Edward Norton (American History X)
Teens on film often seem a bit flat. As the monologue from The Breakfast Club observes, they tend to be broadly characterized as jock, brain, princess, etc. Then there's Max Fisher, who's played with winning idiosyncrasy and unpredictability by Jason Schwartzman — you know, like how actual teens behave. In one scene he's petulant, in another he's vulnerable, but he's always clever to a fault and way too confident. He seems cool in those signature Wes Anderson slo-mo sequences set to British Invasion songs, but then Schwartzman flashes Max's awkward toothy grin, and we see the messy human being behind all those clubs at Rushmore Academy.
1999: Reese Witherspoon, Election
Best Actress nominees: Hilary Swank (winner, Boys Don't Cry), Annette Bening (American Beauty), Janet McTeer (Tumbleweeds), Julianne Moore (The End of the Affair), Meryl Streep (Music of the Heart)
Ugh, Tracy Flick. You hated Tracy Flick. You admired Tracy Flick. You wanted Tracy Flick to win her relatively unimportant Nebraska high school election, but you also didn't want her to, simply because she wanted it too much, this thing she deserved and was willing to do anything (too much, really) to achieve. The kind of familiar, frightening, and laughable goody two-shoes who's just soooo perfect that even the teachers resent her.
Reese Witherspoon made us feel many uncomfortable, conflicting emotions via some extraordinarily confident comic acting, and that's a lot of lanes she had to weave in and out of — or drive in all at the same time. Witherspoon's work as Tracy Flick is a career-making performance. What else was she capable of if she could turn out such a layered, fascinating — and very, very dark and funny — turn at age 23? This kind of star-is-born moment almost always leads to an Oscar nomination or win (Jennifer Lawrence in Silver Linings Playbook rings a bell)… so long as it's for a drama.
2000: George Clooney, O Brother, Where Art Thou?
Best Actor nominees: Russell Crowe (winner, Gladiator), Javier Bardem (Before Night Falls), Tom Hanks (Cast Away), Ed Harris (Pollock), Geoffrey Rush (Quills)
How did a handsome, A-list movie star grasp the unique tone and weirdness of a Coen brothers movie on the first try? And a musical set in the Great Depression and based on the Odyssey, no less? O Brother, Where Are Thou? was the strangest, hardest sell of a Coen movie to date when it arrived in 2000, and it helped to have the charming, self-aware Clooney holding the audience's hand. He's a Dapper Dan man, man.
2001: Thora Birch, Ghost World
Best Actress nominees: Halle Berry (winner, Monster's Ball), Judi Dench (Iris), Nicole Kidman (Moulin Rouge!), Sissy Spacek (In the Bedroom), Renée Zellweger (Bridget Jones's Diary)
Terry Zwigoff's adaptation of Daniel Clowes's coming-of-age story centers on Enid Coleslaw, a character many of us have been at some point in our lives: not knowing what to do with ourselves after high school and/or stuck in a sterile, too-familiar town. Birch nails the character, a brutally sarcastic teenager and critic of everything whose putdowns are as accurate as they are withering. But now that she's on the cusp of adulthood, she's starting to realize her behavior isn't cute anymore, and that it's begun to leave a toxic residue on her life. A late example of an archetypal '90s movie character (the sort often portrayed by Janeane Garofalo), Enid is really funny, yet Birch understands the deeply sad reasons she has to crack wise all the time.
2002: Hugh Grant, About a Boy
Best Actor nominees: Adrien Brody (winner, The Pianist), Nicolas Cage (Adaptation), Michael Caine (The Quiet American), Daniel Day-Lewis (Gangs of New York), Jack Nicholson (About Schmidt)
About a Boy is a lighthearted but moving story about an immature man-child (Hugh Grant) who finally grows up after making friends with a sensitive kid (Nicholas Hoult) who's had to grow up too fast. Grant's character, Will, an idly rich bro living off the royalties from a Christmas song his father wrote, isn't so much comic relief as the sole purely comic character in the midst of many unhappy people going through some stuff. Grant is his usual charming, delightful self, yet About a Boy also marked a turning point; it's when he stopped being known for playing charmingly shallow handsome guys and started playing flawed, complicated characters, a transition he makes over the course of the movie, as well.
2003: Will Ferrell, Elf
Best Actor nominees: Sean Penn (winner, Mystic River), Johnny Depp (Pirates of the Caribbean: Curse of the Black Pearl), Ben Kingsley (House of Sand and Fog), Jude Law (Cold Mountain), Bill Murray (Lost in Translation)
Will Ferrell is infectiously joyous as Buddy, a man who's grown up at the North Pole believing himself to be an elf. Buddy traveled through the Candy Cane Forest to wind up on this list and he loves you. Also, Ferrell understands the humanity-conveying possibilities of comedy. Unlike other mostly comic actors — your Bill Murrays, your Steve Carells — he's rarely attempted serious dramatic work (Winter Passing? Anyone?). There's nothing wrong with that, but he just doesn't need to, because he can bring sympathetic characters to life who also happen to be funny.
2004: Rachel McAdams, Mean Girls
Best Supporting Actress nominees: Cate Blanchett (winner, The Aviator), Laura Linney (Kinsey), Virginia Madsen (Sideways), Sophie Okonedo (Hotel Rwanda), Natalie Portman (Closer)
Mean Girls serves as a starring vehicle for Lindsay Lohan, but hers isn't the performance we talk about 15 years later. Instead, that honor belongs to McAdams, who plays off of Lohan's nice girl in the role Regina George, a ruthless, and popular, high-school bully. McAdams relishes the part, bringing depth and darkness to what could easily have been a one-note character.
2005: Steve Carell, The 40-Year-Old Virgin
Best Actor nominees: Philip Seymour Hoffman (winner for Capote), Terrence Howard (Hustle & Flow), Heath Ledger (Brokeback Mountain), Joaquin Phoenix (Walk the Line), David Strathairn (Good Night, and Good Luck)
Carell is now an awards darling. He got his first Oscar nomination for playing a frightening wrestling patron in Foxcatcher — a radical departure from Michael Scott — and he likely almost got nominated for his role as the anguished dad of a drug addict in Beautiful Boy. His career as a big-screen leading man began in earnest with an award-worthy role in the definitive Judd Apatow movie, a blend of wild, gross humor and genuine, earned emotion. Carell plays the untouched Andy as a man with dignity who hasn't had sex because he believes in love, not lust … but also because he's an awkward nerd. Apatow found in Carell his perfect muse, a performer up for anything in the extreme comedy column — Carell had his chest waxed, for real, onscreen, for instance — while also never losing the dramatic core of his character.
2006: Sacha Baron Cohen, Borat
Best Actor nominees: Forest Whitaker (winner, The Last King of Scotland), Leonardo DiCaprio (Blood Diamond), Ryan Gosling (Half Nelson), Peter O'Toole (Venus), Will Smith (The Pursuit of Happyness)
Borat, the clueless, wildly grotesque reporter from Kazakhstan, has become firmly ingrained in the culture (some people still think it's hilarious to say "my wiiiiiiiiife"), but let's not forget the audacity and impact of both the movie and the character. What Cohen did was original and extremely risky — artistically risky, sure (he played a broad, ugly stereotype to satirize broad, ugly stereotyping) but also risky risky. He went out into the real world as Borat, and interacted with real people, improvising masterfully while making a thesis and moving the plot forward. In the end, the largely unscripted Borat curiously received an Oscar nomination for its screenplay, but nothing for Cohen's deep undercover work.
2007: Amy Adams, Enchanted
Best Actress nominees: Marion Cotillard (winner, La Vie en Rose), Cate Blanchett (Elizabeth: The Golden Age), Julie Christie (Away From Her), Laura Linney (The Savages), Ellen Page (Juno)
Adams is one of the most versatile actresses in Hollywood. She can do doe-eyed small-town lady (Junebug), grieving scientist in a sci-fi epic (Arrival), charismatic '70s con artist (American Hustle), and Lynne Cheney (Vice). She's been nominated for Oscars often, but not for Enchanted, a role for which she deserved the honor; she demonstrated formidable talent, here, but she'd have to go serious to get the Academy's attention. The part of Giselle is a tall order. Adams has to play a Disney princess (and sing Disney princess songs) lost in America, and be true and honest to the character's cheery disposition without descending into camp or becoming the butt of the joke.
2008: Jason Segel, Forgetting Sarah Marshall
Best Actor nominees: Sean Penn (winner, Milk), Richard Jenkins (The Visitor), Frank Langella (Frost/Nixon), Brad Pitt (The Curious Case of Benjamin Button), Mickey Rourke (The Wrestler)
Segel also co-wrote the screenplay for this Nicholas Stoller–directed relationship comedy, and he was not afraid to write from experience or look bad on screen. Forgetting Sarah Marshall is the story of a breakup in which Segel resists the temptation of either making the ex (Kristen Bell) look like the 100-percent-at-fault monster or treating his own character as a lovable innocent. Peter is kind of a loser, and he mopes around as an unbearable sad sack until a nice vacation and some nicer strangers help him out of it. Along the way he bares both his body (as in full frontal nudity) and soul (he performs a Dracula puppet musical). Nonsexual nudity and a musical number? That's an Oscar movie.
2009: Matt Damon, The Informant!
Best Actor nominees: Jeff Bridges (winner, Crazy Heart), George Clooney (Up in the Air), Colin Firth (A Single Man), Morgan Freeman (Invictus), Jeremy Renner (The Hurt Locker)
It's tricky to make a real-life story with major consequences into a comedic film. We tend to think of life as serious, probably so we can fool ourselves into think that there's some kind of meaning to everything. But, seen from a different angle, big events — in the news and in our personal lives — can look farcical, such as the real events that inspired Steven Soderbergh's The Informant! Matt Damon plays an ever-so-slightly dimwitted version of Mark Whitacre, an Archer Daniels Midland employee who became a whistleblower on the company's price-fixing activities in the '90s. Damon is always down for whatever when he hosts SNL and he developed his comedic skills in Kevin Smith movies, so it's a minor shame that he doesn't do more comedy, particularly intelligent comedies like this.
2010: Emma Stone, Easy A
Best Actress nominees: Natalie Portman (winner, Black Swan), Annette Bening (The Kids Are All Right), Nicole Kidman (Rabbit Hole), Jennifer Lawrence (Winter's Bone), Michelle Williams (Blue Valentine)
Easy A arrived in 2010 and immediately stood out as one of the most innovative, original teen movies in years. It drew from the hand-wringing slog that is The Scarlet Letter and made it fun, with a lot help from Emma Stone in a breakout performance that could just as easily have won her a prize as her work in La La Land. Here she's funny, crusading, clever, and wise — all things we wished we could be as teens but almost certainly were not.
2011: Charlize Theron, Young Adult
Best Actress nominees: Meryl Streep (winner for The Iron Lady), Glenn Close (Albert Nobbs), Viola Davis (The Help), Rooney Mara (The Girl With the Dragon Tattoo), Michelle Williams (My Week With Marilyn)
It takes skill to keep an audience engaged in a movie built around a wholly unlikable character, but Charlize Theron (in a film written by Diablo Cody and directed by Jason Reitman) pulls it off as Mavis, a bitter, arrogant, hard-drinking, and mean YA author who heads back to her Minnesota hometown to seduce her now-married-with-kids high-school boyfriend (Patrick Wilson). Theron is sardonic and funny, but she also conveys the pain and regret that make Mavis act the way she does.
2012: Jack Black, Bernie
Best Actor nominees: Daniel Day-Lewis (winner for Lincoln), Bradley Cooper (Silver Linings Playbook), Hugh Jackman (Les Misérables), Joaquin Phoenix (The Master), Denzel Washington (Flight)
In a fact-based film directed by Richard Linklater, Jack Black plays to type — gregarious, open-armed — and simultaneously against it as likable gadabout Bernie Tiede, a mortician who befriends a small-town Texas widow named Marjorie (Shirley MacLaine). Long story short, she's possessive and overbearing, and Black's subdued, rolls-with-the-punches Ned Flanders type slowly lets darkness and violence overtake his toothless fussiness. He murders Marjorie, but then covers it up quite poorly, which is when the comedy comes in. It's also the point where the film puts viewers in the difficult position of kind of sympathizing with Bernie, simply because he's portrayed by Jack Black.
2013: Emma Thompson, Saving Mr. Banks
Best Actress nominees: Cate Blanchett (winner for Blue Jasmine), Amy Adams (American Hustle), Sandra Bullock (Gravity), Judi Dench (Philomena), Meryl Streep (August: Osage County)
Saving Mr. Banks recounts the story behind the making of the 1964 film Mary Poppins as a light, comical war between Walt Disney (Tom Hanks) and the author of the books that inspired the film, P.L. Travers, who was adamantly opposed to the making of the film. It's deeply entertaining to watch someone push around Uncle Walt, and Thompson imbues Travers with unwavering dignity and fierceness. That's informed by the flashbacks to Travers's relationship with her troubled father, and how she exorcised those demons by writing Mary Poppins. Few performers could do what Thompson does in the movie's climactic scene, loudly sobbing through the premiere of the Poppins film while making the moment equally gut-wrenching and hilarious.
2014: Taika Waititi, What We Do in the Shadows
Best Actor nominees: Eddie Redmayne (winner for The Theory of Everything), Steve Carell (Foxcatcher), Bradley Cooper (American Sniper), Benedict Cumberbatch (The Imitation Game), Michael Keaton (Birdman)
2014's big winner Birdman, claimed to be a comedy, even though it isn't funny at all. You know what 2014 movie actually is hilarious? What We Do in the Shadows, Taika Waititi's mockumentary about a group of ancient vampires living a banal existence in modern-day New Zealand. Jemaine Clement of Flight of the Conchords is the film's most famous face, and scene-stealer as 862-year-old Vladislav. But it's Waititi who anchors the movie as sweet, smiley, lovelorn Viago.
2015: Amy Poehler, Inside Out
Best Actress nominees: Brie Larson (winner for Room), Cate Blanchett (Carol), Jennifer Lawrence (Joy), Charlotte Rampling (45 Years), Saoirse Ronan (Brooklyn)
In Inside Out, Amy Poehler portrays the personification of an emotion — Joy — which is only possible through (1) comedy and (2) animation. Poehler distills all the manic energy and admirable empathy of Leslie Knope and combines it with a SpongeBob-esque sense of innocence and wonder to help create one of Pixar's greatest and most heartbreaking movies about the sting of growing up. It's an astonishing feat. (It's probably time the Academy Awards established a voice-acting category, too.)
2016: Rachel Weisz, The Lobster
Best Actress nominees: Emma Stone (winner for La La Land), Isabelle Huppert (Elle), Ruth Negga (Loving), Natalie Portman (Jackie), Meryl Streep (Florence Foster Jenkins)
There has never been a movie like The Lobster and there has never been a character like Short Sighted Woman, as portrayed by Rachel Weisz. It would be a mistake to reveal too much about the complicated conceit of The Lobster, but suffice to say that Weisz is extraordinary in this weird dystopian comedy that plays by such a complicated set of its own rules that she can't even talk naturalistically. (The Lobster also marks the first collaboration between writer-director Yorgos Lanthimos and Weisz, who'd reteam for this year's equally weird and original The Favourite, so maybe it just took the world a while to get onboard with this particular brand of comedy.)
2017: Aubrey Plaza, Ingrid Goes West
Best Actress nominees: Frances McDormand (winner for Three Billboards Outside Ebbing, Missouri), Sally Hawkins (The Shape of Water), Margot Robbie (I, Tonya), Saoirse Ronan (Lady Bird), Meryl Streep (The Post)
Since we all got addicted to our phones and social media about ten years ago, numerous films, TV shows, and social commentators have sought to smugly point out that we are all addicted to our phones and social media. Ingrid Goes West is about the only insightful entry in this trend. In an updated-for-the-Instagram-age, pitch-black comic version of Single White Female, Aubrey Plaza stalks an influencer (Elizabeth Olsen) and insinuates herself into her life, wrecking both of their existences in the process. The film's dark, scary, and uncomfortably satiric, and it all rests on Plaza, who takes her usual role of "dark, weird young woman" to its absurd, logical conclusion.
2018: Brendan Gleeson, Paddington 2
Best Supporting Actor nominees: Mahershala Ali (Green Book), Adam Driver (BlacKkKlansman), Sam Elliott (A Star Is Born), Richard E. Grant (Can You Ever Forgive Me?), Sam Rockwell (Vice)
A sequel to a family film about a talking bear should not have been this good, but here we are — Paddington 2 nailed 99 percent on Rotten Tomatoes. It shouldn't even work at all, seeing as how it's a prison movie for children that finds Paddington wrongfully convicted of a crime, and sent to the most brutal lockup in England. But it doesn't destroy his spirit; rather, he single-handedly reforms the prison via musical numbers and marmalade sandwiches. Every man becomes a better man, and even Brendan Gleeson, as imposing, immovable prison cook Knuckles, softens under the compassionate influence of the sweet bear. Good, meaningful comedy appeals to our need to laugh — as opposed to films that make us rage, cry, or ponder what it all means. But they all have the same end in mind, to reveal some kind of truth, and a great comic performance can leave us at least a little bit changed, happier or more optimistic, even. And Brendan Gleeson as a man in a pink prison uniform whose soul is lightened by a cuddly bear and jam is that exactly.