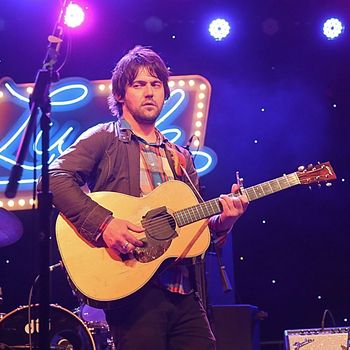 Conor Oberst and Phoebe Bridgers as Better Oblivion Community Center.
Photo: Gary Miller/Getty Images
Though he earned a bit of a reputation as an enfant terrible during his reign as the sullen face of aughts indie rock, the truth is that Conor Oberst has always played well with others. Chalk it up to a combination of midwestern friendliness and his predilection for leftist community-building, but Oberst has spent more than 20 years finding friends to bounce ideas off of.
His best-known — and currently dormant — group Bright Eyes had a revolving lineup (that in addition to Oberst also included multi-instrumentalist and producer Mike Mogis, and trumpet and piano player Nate Walcott), which gave him plenty of opportunities to work with pals from back home, alt-rock contemporaries, and country-music legends. Additionally, his career is filled with side projects and one-off collaborations that have seen him team up with precocious Swedish balladeers, indietronica pioneers and songwriters that grew up with his music. On the occasion of the self-titled release by his new outfit Better Oblivion Community Center, a full-length collaboration with supergroup specialist Phoebe Bridgers, we've looked back on Oberst's history of musical team-ups.
1998: Neutral Milk Hotel and Of Montreal
At the beginning of 1998, Oberst released his first official album as Bright Eyes, A Collection of Songs Written and Recorded 1995–1997. For the follow-up, Letting Off the Happiness, Oberst and Mogis decamped to Athens, Georgia, to record a few songs. Like many people in the indie-rock underground of 1998, Oberst had become obsessed with Neutral Milk Hotel's landmark portrait of time-traveling empathy In the Aeroplane Over the Sea. (He would later tell Uncut magazine that "it made me want to make better music".) Neutral Milk Hotel went dormant for years as soon as the album was released, so drummer Jeremy Barnes had plenty of time to add his signature carnival mutant drums and accordion across the album, hinting at the expansive arrangements Oberst would soon come to favor. Kevin Barnes's ever-morphing glam-folk outfit Of Montreal was also just getting started around this period. He showed up to play keyboards on "The Difference in the Shades" and add backing vocals to "A Poetic Retelling of an Unfortunate Seduction," the latter a time capsule of two songwriters still figuring it out at the end of one decade before going on to help define the next.
2002: Rilo Kiley, the Faint, Cursive, and Basically Everyone in Omaha
Letting Off the Happiness and its 2000 follow-up Fevers and Mirrors earned Oberst an underground following, setting the stage for a mainstream breakout for him and his label Saddle Creek. And for his breakthrough album [deep breath] Lifted or The Story Is in the Soil, Keep Your Ear to the Ground, Oberst invited seemingly every musician from his hometown of Omaha, Nebraska, to get involved. Faint lead singer Todd Baechle and Rilo Kiley ringleaders Jenny Lewis and Blake Sennett provided backing vocals and choral uplift, and members of Cursive added mournful cello accents and bass and guitar buttresses. Members of the Athens-bred duo Azure Ray also dropped by to add extra orchestral accouterments. The result was a grand portrait of coming-of-age in an irony-scared, post-9/11 age that announced Oberst as a talent to watch and Omaha as the next great music incubator.
2004: Britt Daniel
The Bright Eyes catalogue is stuffed with low-key EPs where Oberst stopped to catch his breath. One of the rarest (at least before the advent of digital media) was Home, Vol. 4, a four-song collaboration with Spoon front man Britt Daniel that peaks early with "Spent on Rainy Days," a sing-along far more ragged than the ever-fastidious Daniel normally allows himself.
2005:  Emmylou Harris
Lifted earned Oberst no small amounts of "New Dylan" and "Voice of a Generation"–type accolades, which he reportedly hated. But Oberst was admirably outspoken against the Bush administration and America's slide into endless warfare in a way that few of his contemporaries were. For his folkier follow-up I'm Wide Awake, It's Morning, Oberst made a generation-crossing flex and recruited country icon Emmylou Harris to provide backing vocals on a few songs, adding world-weary, "How did it come to this?" gravitas to state-of-the-nation cardiograms "Land Locked Blues" and "We Are Nowhere and It's Now."
2005: Nick Zinner and Jimmy Tamborello
Perhaps a bit wary of being pigeonholed as a neo-folk troubadour, Oberst set out to prove he was just as influenced by Robert Smith as he was Elliott Smith on Digital Ash in a Digital Urn, a black-mascara-smeared journey into wheezing New Wave synths and jittery drum machines. He brought in a few ringers to help him achieve peak 120 Minutes melodrama, getting Yeah Yeah Yeahs guitarist Nick Zinner to add Disintegration-worthy guitars and keyboards all over the place and Jimmy Tamborello (an electronic-music producer best known for his work with the Postal Service) to provide sighing beats on the single "Take It Easy (Love Nothing)." Oberst would repay the favor by guesting on "Breakfast in Bed," a woozy lullaby from Tamborello's project Dntel.
2006:  Jenny Lewis, Ben Gibbard, and M. Ward
When you are constantly compared to Bob Dylan, a surface-level intellect would devise that there are two options: Run away from the comparison, or lean into it. Oberst, ever the galaxy brain, took an adjacent track, joining his fellow soldiers in The O.C. wars for the Jenny Lewis–led run-through of Traveling Wilburys's "Handle With Care," an ode to the travails of sweet success. But rather than covering Dylan's screed-y section, Oberst tackles George Harrison's resigned verse, serving up believable "seen it all in the industry" repose.
2007: All of NPR, Basically
2007 saw the release of Cassadaga, the seventh Bright Eyes album. An ambitious, orchestral album concerned with the nature of faith in a secular age, Oberst recruited singer-songwriter Rachael Yamagata and members of the indie-pop group Eisley to add lush harmonies, and Sleater-Kinney's Janet Weiss (the best drummer indie rock has ever produced) brought her customary thunder. Cassadaga was greeted with rave reviews that further cemented Oberst as one of the top songwriters of his era. To celebrate, Bright Eyes played a week's worth of shows at the New York venue Town Hall. He invited alt-country titans Gillian Welch and David Rawlings to open for him, often joining them onstage, and each night featured special guests ranging from old friends Daniels and Gibbard to singer-songwriters Steve Earle, Ben Kweller, Norah Jones, Ron Sexsmith, and even Lou Reed, proving that Oberst had the adult indie game on lock.
2009: M.Ward and Jim James
Gauzy folkie M. Ward and My Morning Jacket front man Jim James had guested on Bright Eyes albums before and the trio had toured together. In 2009, the trio and Mogis joined together as Monsters of Folk, cutting an album of searching, experimental twang. The Roots covered album highlight "Dear God (Sincerely M.O.F.)" a year later.
2012: First Aid Kit
The Swedish folk-pop duo First Aid Kit grew up listening to Oberst's music, which probably made him feel both honored and ancient. Klara and Johanna Söderberg have excelled at warm and inviting harmonies from the beginning, and Oberst fit right in when he guested on their song "King of the World." He also had them back him up on an appropriately gentle cover of the White Stripes' "We're Going to Be Friends," a charity single that was one of the last releases by Bright Eyes.
2014: Dawes
After retiring, at least for now, the Bright Eyes name, with the sleek 2011 album The People's Key, Oberst released the rootsy Upside Down Mountain on Nonesuch Records, his first release on a major label. The album saw a guest appearance by Blake Mills, and for the tour, Oberst was backed by Laurel Canyon revivalists Dawes.
2014: Alt-J
The pleasant if anonymous British group Alt-J are one of those groups that are way more popular than you might realize, so when Oberst dropped by to sing on "Warm Foothills" from their second album This Is All Yours, it was a bit of a case of the trio introducing Oberst to a broader audience and him giving the critically maligned act a bit of credibility and a touch of grit.
2019: Phoebe Bridgers
The past several years have seen Oberst operating squarely in the Americana, singer-songwriter mold. While this has not been without its highlights (his pared-down 2016 album Ruminations is one of his most quietly rewarding releases), it has been a bit frustrating for longtime fans to see him stick so narrowly to one lane. Self-confessed emo kid Phoebe Bridgers first recruited him to guest star on "Would You Rather?" And based on his uncharacteristically goofy dancing in the video, she seems to have a knack for getting him to loosen up. The pair toured together and later formed the band Better Oblivion Community Center, which features plenty of lovely, harmony-rich ballads but also sees Bridgers nudging Oberst to wild out like it's 2005, especially on the Zinner-assisted romp "Dylan Thomas."