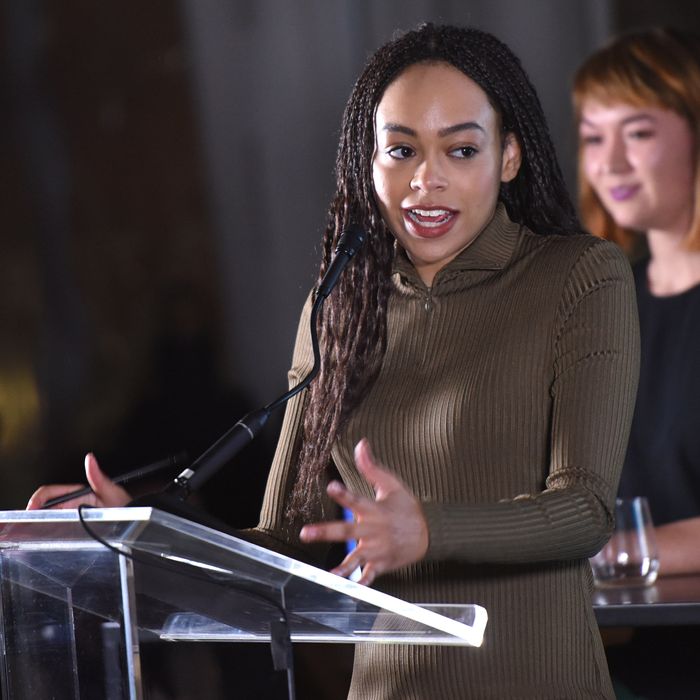 Photo: Vivien Killilea/Getty Images for New York Magazine
Just days before this year's Academy Awards, a trio of Vulture writers — Emily Yoshida, Hunter Harris, and Nate Jones — gathered in Los Angeles to debate the impending Oscars with three house favorite comics: Joel Kim Booster, Demi Adejuyigbe, and Jamie Loftus. Over the course of an evening, the Hollywood NeueHouse was home to Vulture Presents Comedians vs. Critics, during which time host Sasheer Zamata lead contestants through heated showdowns about who should win Best Picture, who should be the final face in the annual In Memoriam segment, who can sing the Star Is Born song "Shallow" better, and more. Read along to take a look back at what you missed, and see whether or not the critics or comics fared best compared to the actual Oscar results. First, let's meet the panelists:
In addition to no-holds barred combat, critics and comics alike shared their hot takes before engaging in official debate. Joel Kim Booster, for example, made a late case for a non-nominee to win Best Supporting Actor.
While Vulture's Oscar guru Nate Jones gave his write-in selection for best picture.
Once the very serious and intellectually stimulating debate got under way, Associate Editor Hunter Harris made one of the night's most passionate cases for who should win Best Actor. Surprising no one who spends even a small amount of time on Twitter, Harris advocated for Bradley Cooper in A Star Is Born and why he is the untouchable nominee for three reasons: Hair. Body. Face.
Later in the night, Booster got heated while advocating for his pick to close the In Memoriam segment. Going against Jones, who chose Stan Lee, Booster demanded the Vulture writer "Rebut Carol Channing bitch!" and planted his flag for the legendary actress.
Getting back into the major awards categories, Vulture critic Emily Yoshida did her best to advocate for Spike Lee as Best Director for BlacKkKlansman, while Adejuyigbe demanded recognition for Roma director Alfonso Cuarón — who may or may not have done every single job on his film, but who's to say?
Winners for each round were determined by a combination of crowd applause and Zamata's own discretion, and after a tie set up a lightning round finale, Team Comedians ultimately triumphed. But when two people engage in a karaoke duet sing-off of "Shallow," does anyone really lose?