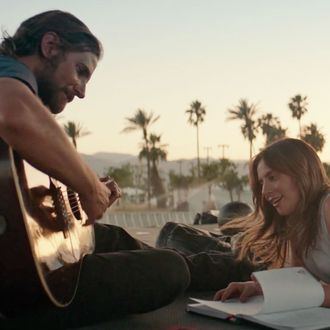 Jackson and Ally writing "Clover."
Photo: Warner Bros.
Now that A Star Is Born is an Oscar-winning movie, director-with-a-vision Bradley Cooper and his Warner Bros. overlords have decided to grace us, the general public, with more of Jackson and Ally's story. Who's to say what led to this unexpected gift of fate, but one thing is for certain: The studio announced today that the film is being rereleased this Friday, in 1,150 theaters in North America, and it includes 12 minutes of brand-new footage.
The new minutes reportedly include "never before seen" footage, extended performances, and Jackson and Ally writing a new song together called "Clover." The extended cuts show more of "Black Eyes," "Alibi," and Ally's impromptu "Shallow." The new scenes show Ally singing "Is That Alright?" to Jackson at the wedding, Jackson in the studio singing "So Far Gone," and the aforementioned new song.
If you'll recall, the original movie clocks in at 134 minutes. Twelve more minutes makes the movie 8 percent longer. That's statistically significant!
Maybe it was excitement over the new gold hardware, which the movie picked up on Sunday night for Best Original Song, or maybe it was the reaction to the steamy performance of "Shallow" that lead Warner Bros. to realize there's still money to be made on this movie. Either way, someone, somewhere, is blessing us with 12 more minutes of A Star Is Born, and we're not asking questions.
Check out footage below of Jackson and Ally writing the new song "Clover," released by Variety.