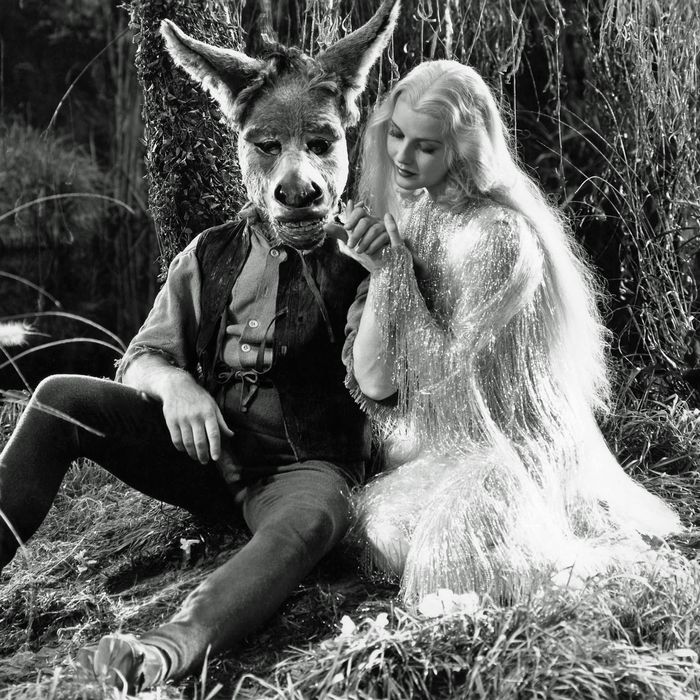 The limited space on an Oscar ballot means that every year, someone gets left out — and whether it's Emily Blunt or a documentary about Mr. Rogers, all those overlooked can really do is sigh and move on. Unless, of course, fans raise the call for an extreme but familiar measure: the write-in campaign.
The Academy doesn't recognize write-in votes. In fact, it's bolded in the rules for this year's ceremony. But that doesn't stop people from trying. While a lot of advocates are just doing it for the Twitter joke, the conversation has occasionally skewed serious. In 2013, industry experts wondered if Ben Affleck could score a surprise directing win via write-in for his work in Argo, after the star-producer-director was shut out of the category. The Dark Knight and Michael Moore fans have also tried this tactic in the past, to no avail.
That's because the Academy had to take a hard-line stance on the issue after a 1930s shocker. In 1936, cinematographer Hal Mohr won an Oscar for his work on A Midsummer Night's Dream. He was not on the ballot, and in fact one of several write-in candidates that year. His victory would be the first and last write-in win in Oscar history, capping off an unusual two years when the Academy allowed members to vote for anyone they liked, regardless of who was nominated. None of this would have happened if weren't for Bette Davis.
By 1934, Davis had already appeared in nearly two dozen movies, but few in Hollywood took her seriously as an actress. Studio executives at Universal and Warner Bros. claimed that she just didn't have screen presence — or, frankly, sex appeal — and had slotted her into small roles, which often had a childlike quality. Of Human Bondage would change all that. Davis's performance as the crude waitress Mildred Rogers was widely and wildly praised in raves from the New York Times, Photoplay, Film Weekly, and many other outlets. Life would later call it "probably the best performance ever recorded on the screen by a U.S. actress." Davis had taken a risk on Mildred, a willful and selfish character who defied every feminine ideal of her era. It was a distinctly villainous role, and it earned Davis all the more credibility as an actress. As her director John Cromwell observed in Fasten Your Seatbelts: The Passionate Life of Bette Davis, "Mildred was a role that many actresses of the time backed off from in horror. She was a slatternly sadist, unsympathetic in the extreme, and her clothing and her postures and her general look were all seedy, pathetic, and sleazy-looking in the way no 1934 glamour girl would ever deign to approximate. Bette Davis didn't give a damn about any of that! She wanted to give honest characterizations."
But Davis's onscreen honesty did not translate into Academy recognition. When the Oscar nominations were announced in February of 1935, Of Human Bondage was overlooked. The Best Actress nominations included just three names, as was customary for the time: Claudette Colbert for It Happened One Night; Grace Moore for One Night of Love; and Norma Shearer for The Barretts of Wimpole Street. Fans were dismayed to see Myrna Loy — as the witty amateur detective Nora Charles in The Thin Man — absent from the list. They were downright livid, however, over the Davis snub.
Movie Classic printed an indignant reader letter questioning whether the Academy voters were "near-sighted" or simply terrified of Davis's "bad-girl" performance. The outrage extended to the industry, which rallied around its newly minted talent. "Hollywood championed her so vigorously that for a while the whole town seemed to be one giant indignation meeting," Kirtley Baskette wrote in Photoplay. "Editorials, articles, telegrams, telephone calls bombarded the austere Academy until, I am sure … its members eventually concluded that 'It couldn't all be a typographical error.'"
In an attempt to quell the widespread criticism, the Academy announced an extraordinary revision to the rules: Voters could now write in their own Oscar picks. It was anyone's game and, with that, the campaign for Davis was officially on. Despite the wave of publicity she received, Davis still lost to Colbert, whose It Happened One Night swept the Big Five categories of Best Picture, Director, Actor, Actress, and Screenplay. Davis's win would have to wait, though not for long. She would win the next year for her performance in Dangerous, in what many considered a consolation prize.
While Of Human Bondage was an RKO production, Bette Davis was under contract with Warner Bros., which had watched her write-in campaign with great interest. If you no longer needed an Oscar nomination to win, the studio reasoned, why wouldn't you pencil your films into every available category? The following year, Warner Bros. went all-in. According to Variety, the studio campaigned "for write-ins in all classes where one or more of their candidates had not been nominated through regular channels for final balloting." The effort nearly pushed Paul Muni and Michael Curtiz to respective wins in Best Actor and Best Director, despite their absences from the ballot. These attempts failed, as did most of Warner Bros.' maneuverings, but one of its write-in campaigns managed to break through. Hal Mohr — an industry veteran who had served as president of the ASC and shot the landmark "talkie" The Jazz Singer — won his first Oscar for cinematography on the Warner production A Midsummer Night's Dream. He was not an official nominee, and his victory sparked an immediate call for change.
"Widespread feeling exists among Academy members that the participation of one major lot in a campaign to throw strength to its own candidates for various honors as openly as occurred this year, will depreciate the value of the annual awards and may result in the discontinuance of the voting," Variety reported. Members of the technical branch, who had been blindsided by Mohr's win, led the charge for reform. They were successful, and by the next year, write-in voting had been eliminated. Mohr would be the only write-in winner in history, a forever asterisk and source of annual Oscar trivia.
But his unprecedented win taught the Academy a valuable lesson in studio greed and manipulation. Even if the intention was to honor overlooked talent, write-in voting made it too easy to game the system and undercut the prestige of an Academy Award. The rigid post-Mohr rules that followed might have left snubbed stars with no path to victory, but they also closed an important loophole that allowed studio executives to shortcut their way to Oscar gold.