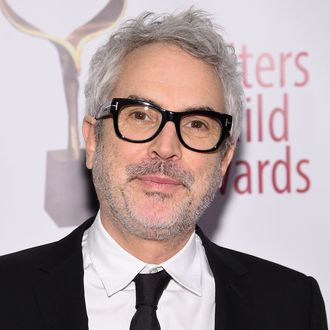 Alfonso Cuarón.
Photo: Jamie McCarthy/Getty Images
Alfonso Cuarón has been promoting Roma on the Oscar circuit for months now, and the race is a week away from the finish line. Who's his favorite person to run into on the awards circuit? "I always get a big smile when I see Spike Lee. I've been very lucky because we've been going to a lot of events together lately," Cuarón told Vulture at the Writers Guild Awards' east coast ceremony held in Times Square on Sunday. "We go way back, kind of. There's a connection in terms of ways in which we see film, in the sense that film is both personal and social."
Who's the biggest party animal? Once upon a time, Cuarón said, it was him. "In my old days, yeah! Definitely," he grinned. "The thing is that after each event, I have to fly back to my family, to my kids. I finish events and then I'm already on a plane back home. I'm missing all the parties!" Don't worry, we'll have a shot for you at Vanity Fair's after-party.