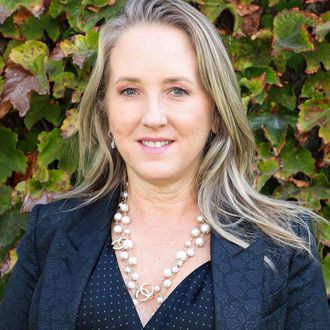 Amazon Studios boss Jennifer Salke.
Photo: Chelsea Lauren/Variety/REX/Shutterstock
Order something on Amazon and you'll usually be given multiple choices as to how quickly you want your item to arrive: one- or two-day shipping, one-hour delivery via Prime Now, even a "no rush" option to wait a week or so in exchange for a small credit. But since jumping into the movie game in 2015 with Spike Lee's Chi-Raq, the company's feature film unit has operated under a one-size-fits-all philosophy for distributing its titles. While rival Netflix defiantly bypassed theaters and opted to premiere all but a handful of its films via streaming, Amazon Studios projects unspooled in multiplexes first and didn't make their way to Prime Video subscribers until months — sometimes many months — later. That's about to change.
Over the course of the past week, Amazon Studios chief Jennifer Salke has given a flurry of interviews in which she's made it clear that a significant portion of the company's film slate going forward will be given Netflix–style, streaming-first (or streaming-only) releases. "I think you'll see more and more movies that [go direct-to-service]," Salke told IndieWire last week, following her presentation to the winter Television Critics Association press tour. She underscored that point again in an interview published this week in Variety: "Direct-to-service is really important for us. We want a really strong pathway toward that." Amazon is looking to increase its movie output from a handful of projects to about 30 movies per year, according to this week's reports. About one-third of its projects will resemble the kinds of wide-appeal, sometimes awards-worthy films Amazon has been making — like The Big Sick or Manchester by the Sea — that debut first in theaters. The other 20 or so titles will go directly to Amazon Prime Video.
While Salke's media blitz has served as a de facto announcement of Amazon's strategic shift in regards to releasing movies, the company has actually been hinting at a new direction since last fall. In November, it signed a deal with horrormeister Jason Blum, in which, under his Blumhouse banner, he would produce, per a press release, "a series of eight elevated thriller/darkly-themed feature length productions that will be released direct-to-service on Amazon Prime Video." Even though the deal was the first of its kind for Prime Video, it was not widely reported on at the time as indicative of a paradigm shift, perhaps because the agreement was made with Blumhouse Television, not Blum's feature unit. But in her recent remarks, Salke made it clear that she very much considers those Blumhouse projects to be part of Amazon's feature portfolio.
Similarly, Salke said the company's direct-to-streaming roster will include a batch of "sexy date night" films, according to reports in both Deadline and the New York Times. The Times says these movies will start popping up on Prime this summer, perhaps dropping on Saturdays.  "Nicole Kidman started this idea with me," Salke told Deadline. "One week into the job, I met her, and she was like, 'Where are the movies like Basic Instinct and Cruel Intentions and No Way Out, those movies that you want to watch at home?' She and a few other producers are working with us on a slate of movies that will go direct-to-service in that genre." (Kidman and her Blossom Films signed a first-look deal with Amazon Studios last summer.) Salke also told Deadline that Amazon is looking to get into the young adult space, an area where Netflix has been particularly successful with movies such as To All the Boys I've Loved Before and The Kissing Booth. "I'm talking about partnering with a few prolific producers in that area on a couple movies each," she said.
While Salke has drawn a bright line between Amazon's slate of "traditional" releases (think $13 million Sundance acquisition Late Night from Mindy Kaling) and the newer crop of Prime-first projects (Blumhouse, Blossom Films), that line could yet to prove a bit blurry. Even though its biggest-budgeted films will likely get a theatrical run, Salke says Amazon won't rule out shrinking such films' exclusive theatrical windows down to just a couple of weeks, much in the way Netflix has done this awards season with high-profile contenders such as The Ballad of Buster Scruggs and Roma. "Flexibility is at our core," she told Variety. In other words, Amazon will decide which movies get what kind of distribution strategy by talking to various constituencies (producers, Amazon marketing, etc.) and figuring out the best model on a case-by-case basis. "If we feel like it's warranted to have a theatrical release that's a full theatrical release, we'll do that," she said. "If it exists somewhere in between, [we'll do that]. We have the ability through our own distribution to adjust those [releases] anywhere in between."
Amazon is not alone in recently shifting its approach to how it releases films, of course. Netflix's decision last fall to put its awards players in theaters weeks before they began streaming represented a huge about-face for the company, which had theretofore insisted that its global subscribers would have access to its films on the same day-and-date of any theatrical releases. Netflix reluctantly tweaked its strategy to appeal to the film purists who populate the various bodies that hand out trophies. Amazon, meanwhile, is going in the opposite direction by admitting it needs to make more first-run movies available to its subscribers, and sooner. Its rationale: It needs more original content in order to both drive new subscriptions and hold on to existing customers. That's particularly true now that Disney and Apple are getting ready to launch streaming services of their own, and that both have announced plans to make feature films for said platforms. With competition poised to get a lot more intense, it's no surprise Netflix and Amazon are suddenly being a lot less dogmatic about how they release their movies.