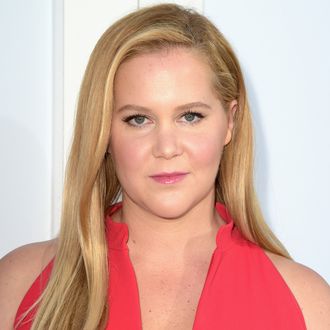 Amy Schumer.
Photo: Kevin Winter/Getty Images
The remainder of Amy Schumer's cross-country comedy tour has been canceled because her hellish pregnancy "complications" have rendered her too sick to travel. As detailed in an Instagram post, she has been plagued with acute morning sickness throughout the majority of her pregnancy — but now, it's reached a new level of severity, so much so that her doctor has not cleared her to fly. "I am in my 3rd trimester and I am still nauseous all the time and vomiting. I vomit mostly every time I ride in a car even for 5 minutes," Schumer wrote. "I have a pretty good attitude about it and some days I feel good for a couple hours. But mostly it sucks. I wanted to push through and do my shows. Because I hate letting people down and I love stand-up and money! But more than that I have to think about my health and the baby."
As People notes, Schumer was previously hospitalized and canceled a Texas tour stop in November due to hyperemesis, which occurred weeks after she cleverly announced her pregnancy on social media.