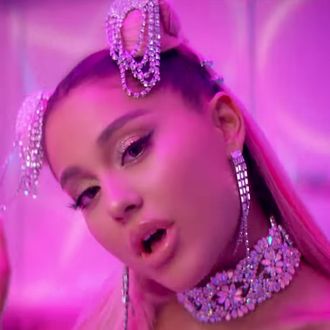 Ariana Grande.
Photo: Republic Records
Though Ariana Grande may be riding a high, a recent controversy threatened to knock the wind out of her sails. After dropping her single "7 Rings" ahead of her new album, artists like Princess Nokia, Soulja Boy, and 2 Chainz were tipped off that the song bore more than a little resemblance to their own work. Nokia posted a video of her song "Mine" side by side with "7 Rings" to point out lyrics that she believed were lifted from her original song despite being written about celebrating black hair, not a white girl's extensions.
Others accused Grande of even greater theft of both Soulja Boy's "Pretty Boy Swag" flow and 2 Chainz's pink trap-house motifs in the song's video and the hook to his song "Spend It." Those collective similarities led to Grande being accused of cultural appropriation, specifically miming hip-hop and black culture. (Grande later released a remix to the song featuring 2 Chainz, seemingly as damage control.)
But, according to the song's co-writer Tayla Parx, Grande shouldn't be singled out for borrowing from other genres. "I highly doubt those artists would want me to go through their catalogue and go through all of the songs that they've written or they were inspired by," Parx told Vulture on the Grammys red carpet Sunday night, where Grande was a no-show after a heated disagreement with producers over her performance.
Parx went on to explain how most modern popular music now imitates hip-hop cadences, so genre-blending has become fair game in the music industry, with Grande being no exception. "We're at a time in music where all of these lines are being blurred. Now we're able to break through what we thought hip-hop music was or pop music was and kind of ignore all of those," she said. To her mind, it's also good for diversity.
Parx continued, "[Ariana's] allowed to fuse everything. I think it's important. It's important to fuse all of these things to really bring us
together, so we can look left and right at these award shows and see different kinds of artists."
Reporting by Taylor Ferber.