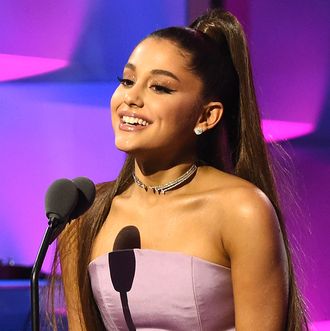 Ariana Grande.
Photo: Kevin Mazur/Getty Images for Billboard
The Grammys may have kept Ariana Grande from performing by severely pissing her off (and, worse, lying about it!), but, per usual, she's won the war. Though Sweetener is now old news just six months later, it has won Grande her first-ever Grammy, for Best Pop Vocal Album, effectively declaring Taylor Swift's long Grammy reign over by beating out Reputation in the category during the pre-show ceremony. Grande had previously been nominated four times, and lost her other nomination of the night to Lady Gaga for Best Pop Solo Performance.
Going into the night, Grande had publicly sparred with the main show's producer, Ken Ehrlich, who claimed that Grande declined to perform after running out of time to perfect her set. Grande took to Twitter to declare Ehrlich's claims poppycock, saying that she can pull a performance together overnight in her sleep and "you know that Ken," but that the truth was he stifled her creativity by attempting to control her song selection so she said thank u, next. (Ehrlich later said her tweets were a "surprise" to him.) As such, Grande has elected not to attend tonight's show and will celebrate her new shiny gold toy with her new album as she damn well pleases, Ken.
Update: Ari has given her acceptance speech from her Instagram podium.